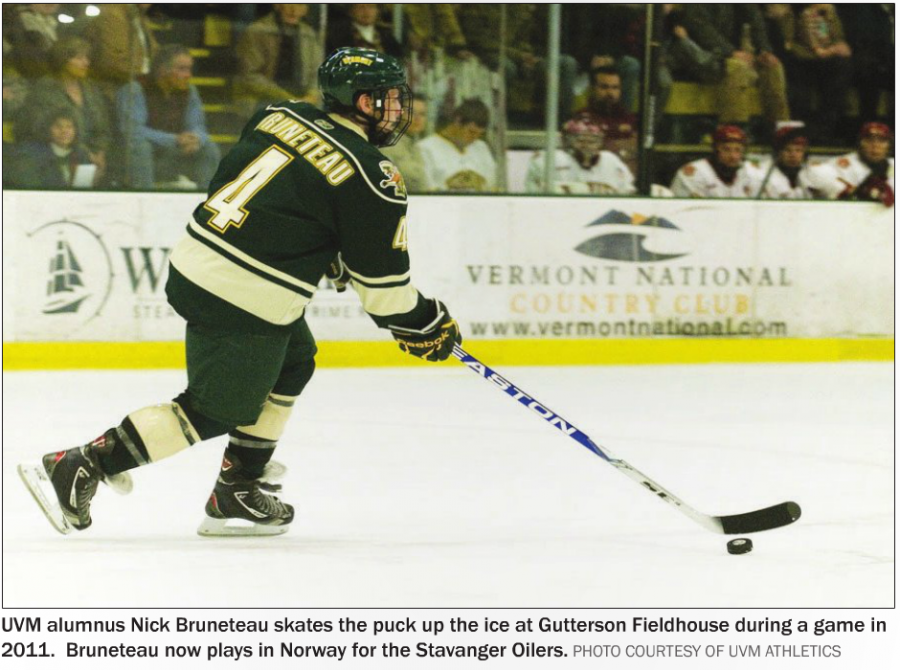 Though hockey season hasn't begun in North America, many former Catamounts have already kicked off their seasons overseas.
Three alumni will be playing in the Champions Hockey League, which is the International Ice Hockey Federation's equivalent of the Union of European Football Associations' Champions League.
The league was founded in 2013.
Though Martin St. Louis '97 has ended his career, his former teammate and fellow All-American at UVM, Éric Perrin '97, is still going strong.
The forward, who finished second in scoring in the Finnish Liiga last season with 55 points, moved teams in Finland from JYP Jyväskylä to TPS Turku this offseason and played a part in TPS winning Group G of the CHL.
Despite his age, 39, Perrin is still producing points.
Over four seasons with JYP, Perrin played 227 games and amassed 208 points.
When the Liiga campaign kicked off, Perrin continued to score — he notched six points in his first six matches for TPS.
Perrin isn't the only ex-Catamount playing in the CHL.
Nick Bruneteau, who spent last season with Indy Fuel in the ECHL, joined the Norwegian Stavanger Oilers this summer.
Playing defense with alternate captain Dennis Sveum, Bruneteau didn't produce a point in the group stage, but played an active role in a defense that won Group L.
He broke out offensively when the domestic league started, with six points in his first three league matches.
This didn't carry over into the first leg of the CHL playoff against German side Eisbären Berlin.
Instead of points, he racked up 14 penalty minutes, including a 10-minute misconduct and a minor that led to Eisbären's opening goal in a 3-0 defeat in Germany.
While Viktor Stålberg prepares for his first season with New York Rangers, his brother, Sebastian Stålberg, has his sights set on European glory with last year's CHL runner-up, Swedish giants Frölunda HC.
Stålberg joined the team from Rögle BK this offseason after helping Rögle win promotion to the Swedish top division and played on the top line for Frölunda in the group stage, playing in all four games.
While not all Catamount hockey alums are in the national spotlight in the U.S., many still make an impact on the game overseas.
You can follow the CHL at championshockeyleague.net.