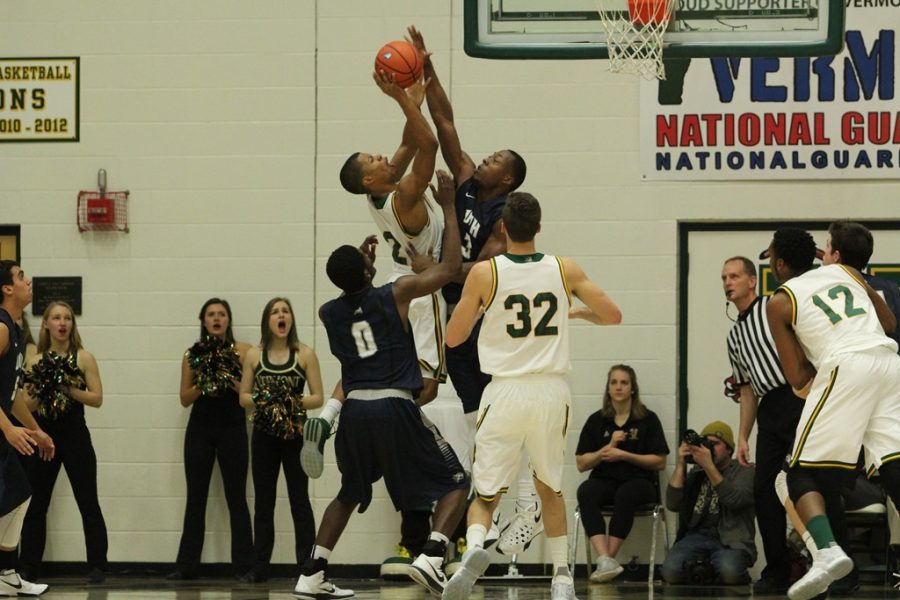 The University of Vermont men's basketball team ended its bid for the NCAA Tournament after losing to Stony Brook University 80-74 during the America East Championship game March 12, according to UVM athletics.
However, this marks the eighth consecutive year the team has appeared in the postseason College Basketball Invitational Tournament, said head coach John Becker.
The team advanced to the CBI quarterfinals with a 79-44 win over the Western Carolina Catamounts March 16.
The Catamounts finished the 2015-2016 season with 22 wins and 13 losses, two more wins than the team had during the 2014-2015 season, according to UVM athletics.
The Catamounts had a conference record of 11-5 this sea- son.
Highlights of the 2014-2015 season include a rivalry win over Dartmouth College Dec. 2 in Hanover, New Hampshire.
The Catamounts came back from a five-point deficit in the second half with a huge stop with 16 seconds left in the game, according to UVM athletics.
Vermont took the game with a 68-63 win over Dartmouth, improving their overall record to 4-4.
The Catamounts continued their winning streak with a Dec. 17 win over Fisher College, 84- 37 and hosted a key America East game against the University of Maine Feb. 3.
The Catamounts won this match 85-68 and headed to Stony Brook, New York Feb. 27, coming away with a 76-62 win before heading into the America East conference tournament.
The Catamounts continued their season to lock up a topfour seed in the America East playoffs after a strong 78-64 win over Binghamton University Feb. 17 at Patrick Gym.
For the third time in the last five years, the Vermont men's basketball team played in the America East Championship thanks to a 63-56 win over the University of New Hampshire in the semifinals, according to UVM athletics.
The Catamounts won seven straight games heading into the championship.
Senior forward Ethan O'Day played his final home game at Patrick Gym during the semifinals against UNH, leading the way with 19 points and seven rebounds, according to UVM athletics.
Junior forward Kurt Steidl finished with 13 points.
Steidl said playing in the CBI tournament was obviously not the outcome the team was hoping for, but, "anytime we can keep playing basketball, we're excited."
Head coach John Becker said the team was disappointed after falling to Stony Brook in the America East championship game before hosting Western Carolina in the CBI tournament.
"That's how life goes," Becker said. "It's postseason, and when it's been eight years in a row, I hope nobody takes that for granted, especially the guys. It's an honor to be in this tournament and we're going to play as long as we can."