As the outdoor temperature drops, the tension in college soccer rises, a sign that it is play- off time. For the reigning America East tournament champion, the Vermont Catamounts, it is no different.
After a 1-4-1 midseason slump, head coach Jesse Cormier's side enters the playoffs riding the momentum of a three-game winning streak, in which they have not allowed a single goal.
Cormier said he believes the period of struggle helped the team learn how to deal with adversity.
"The slump was important for us," he said. "There were things that we weren't doing; we were kind of casual at times, some of our defending wasn't good and our attack sort of fell asleep, so we needed to pick it up and find our form in the last three games."
The recent surge has seen a boost in excitement within the locker room, graduate student midfielder Charlie DeFeo said.
"I think there's some excitement about the team," DeFeo said. "There was a goal scored in practice the other day where somebody got nutmegged and everyone went wild and practice was over after that. It's that time of the year where you want to enjoy your soccer and enjoy the good moments."
During their current winning streak, the Catamounts defeated Binghamton University 2-0, the University of Maryland Baltimore County 3-0 and the University of New Hampshire 2-0.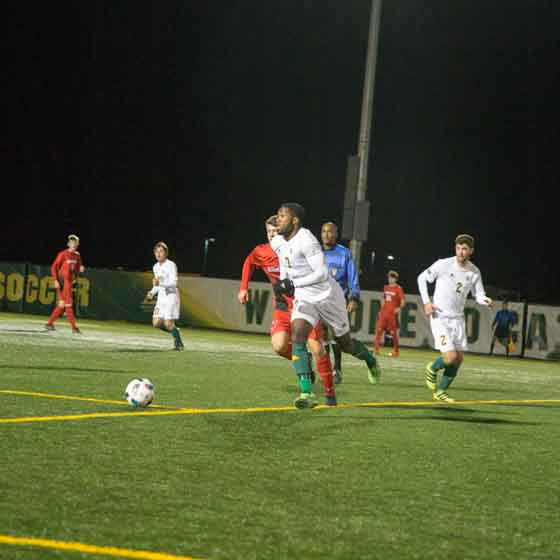 The Catamounts hosted Binghamton Nov. 5 in the America East quarterfinals. The match was a rematch of last year's America East championship game, which UVM won 1-0 on a goal 33 minutes into the game by current senior forward Brian Wright.
"Binghamton has always been a team that posed many challenges to us," Cormier said prior to the game. "They're a very, very defensive, tough-minded [team], and they've got some really skilled players. We're not taking anything for granted."
Cormier said he believes there are some advantages to having won the title the previous year, but that it isn't as important as one would think.
"I think to have some older guys who have been through some things is important to help the younger guys understand how you prepare [and] go about your business," he said. "But I think every year's a new year; I think sometimes when you go through and you have the bull's eye, it's a bit harder."
Going into the playoffs, DeFeo said he believes the Catamounts are ready for any challenge that comes their way.
"We're excited," he said. "I think that these last three games, shutting out the last three teams, scoring a lot of goals, has definitely given us a lot of confidence, and we feel like we can take on anybody."
The Catamounts defeated Binghamton 2-1 in the America East quarterfinals. Brian Wright scored the winning goal in double overtime, after Bernard Yeboah had equalized for Vermont in the 87th minute.
UVM travels to Albany to face the number two seeded University of Albany in the America East semifinals on Wednesday, Nov. 9.