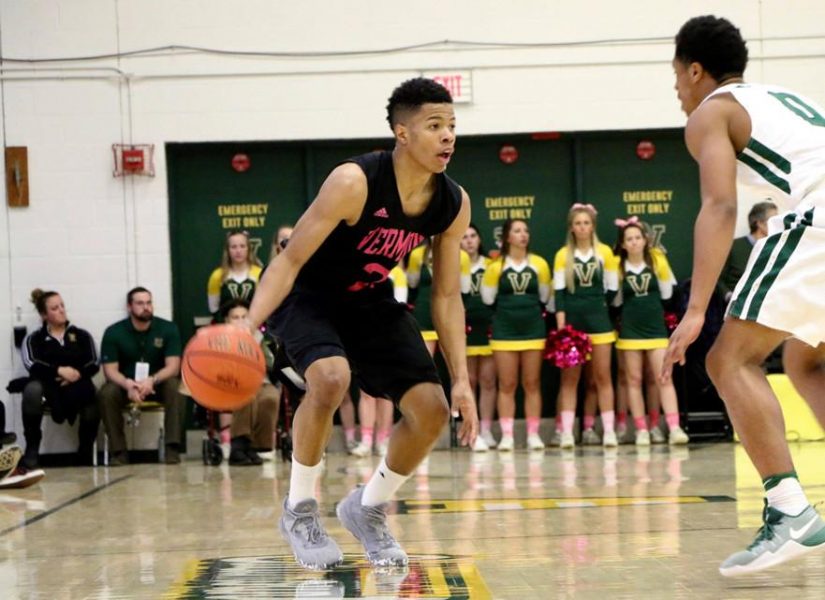 Vermont men's basketball has enjoyed a very successful start to their season thus far with a record of 23-5.
The skill that the team has acquired over the years has gotten stronger with each class.
The class of 2018 has lived up to the hype that surrounded them in the fall of 2014.
With their 82-74 win over University of New Hampshire Feb. 9, the team set the record for the best start in program history, according to UVM athletics.
Junior Trae Bell-Haynes, a 6'2" guard from Toronto, Ontario, reached a career milestone Jan. 28 against Stony Brook University, scoring his 1000th career point, according to UVM athletics.
Bell-Haynes has started all 28 games for the Catamounts this season, averaging 11 points and four assists per game, according to UVM athletics.
Sophomore Ernie Duncan, a 6'3" redshirt guard from Indiana, suffered a back injury his first year, forcing him to sit out that entire season.
Duncan has started all 28 games from the team this year, and set a career high in points against Hofstra Nov. 22, scoring 33 points.
Junior Drew Urquhart, a 6'8" forward from Vancouver, British Columbia, did not play his senior season in high school, due to transfer eligibility issues, according to UVM athletics.
This season, Urquhart has played in 27 games for the Cats, starting 11 of them, and averaging four rebounds per game.
Junior Cam Ward, a 6'2" forward from Marshall, Wisconsin, ranks sixth all time for the state of Wisconsin in career points, according to UVM athletics.
This season, Ward has played in all 28 games for the team, and dropped a season high 17 points in a win over UMass Lowell Jan. 19.
These four players all came to UVM in the fall of 2014, and immediately bonded as a unit.
"Coming in as a big first-year class, living together on campus helped us jell off the court as well," Urquhart said.
Head coach John Becker has gotten high praise from players and the media for his ability to recruit over the years, keeping the program as a consistent contender for the conference championship.  
"The whole staff does a great job of finding and evaluating good players," Bell-Haynes said. "The pitch they made to us was that they not only wanted to find good players, but they wanted to find good people. Our class shows that good mix."
As a program, they are riding a 15 game winning streak, and are undefeated in their conference.
The players were confident that with the level of talent that committed to UVM in 2014, the program would eventually help the existing team compete at the level they are this season.
"I knew I was going to come play with some really good players," Ward said. "We all worked really hard this offseason to get the job done for this University."
The team had a good 2015-2016 season, going 11-5 in conference play, according to UVM athletics.
But ultimately, the Catamounts lost to Stony Brook in the finals of the conference tournament, according to UVM athletics.
The class of 2018 is determined to right the ship this season, not only for the school, but also for the senior class that has mentored them every step of the way.
"They've never made it to the tournament," Ward said. "We want to send them off the right way."
The Catamounts go for another win tonight, as they travel to play UMass Lowell at 7 p.m.