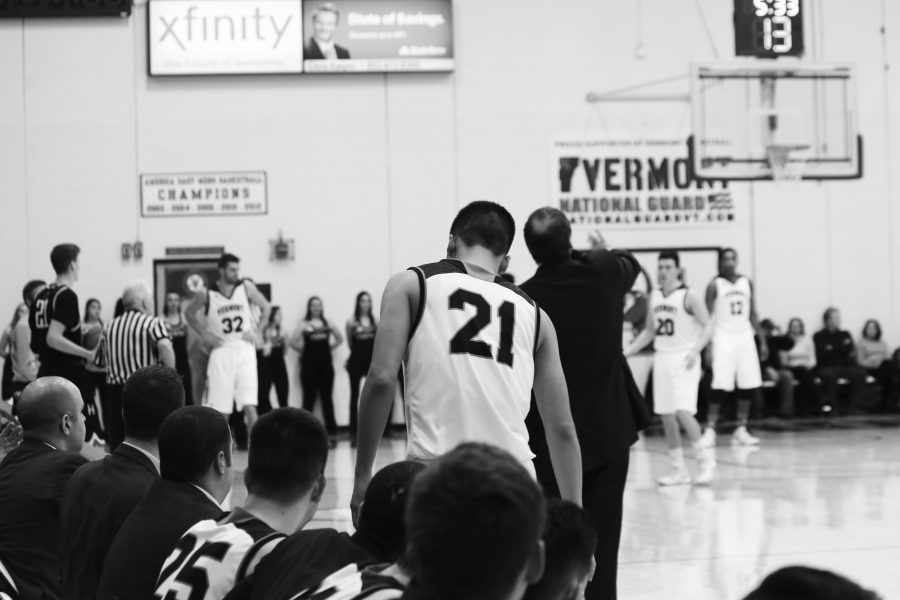 A UVM basketball recruit was greeted by a standing ovation in Patrick Gym Jan. 30.
Josh Speidel was seriously injured in a car crash in Indiana Feb. 1, 2015.
Though he will not be able to play basketball for the Cats, UVM has obtained an NCAA waiver to allow him to sit on the bench with the team, according to Fox 59.
For men's basketball players Ernie and Everett Duncan, also from Indiana, the friendship with Speidel goes back much further.
"When I first heard about the crash from coach [John] Becker, I thought that he wasn't going to make it."
Those were the words of UVM basketball redshirt first-year Ernie Duncan, recounting the memory of when he learned of the events of Feb. 1, 2015.
Before the Stony Brook game, Speidel received a standing ovation from the record crowd of 2,658, according to the Burlington Free Press.
Ernie and his brother, first-year Everett Duncan have known Speidel since before the three were recruited to Catamount basketball.
"I always saw Josh around [Amateur Athletic Union] events in middle school, but the summer of our [first year of high school], he joined Indiana Elite for a tournament in Las Vegas," Everett Duncan said. "It kicked off from there."
Speidel is from the town of Columbus, Indiana, about three hours northeast of the Duncans' hometown of Evansville.
However, this distance didn't disrupt their friendship and friendly rivalry.
"We would follow each other's games through social media, and we'd be the first to give each other a hard time when one of us lost to a poor team," Ernie Duncan said.
"We played in the highest class in Indiana, so we would always keep up with who was ranked higher and give each other a hard time," he said.
When it came to competition, the three would put their friendship aside and go all out on the court.
"We played his high school team my junior year in the Hall of Fame Classic in Indiana, and we were great friends, but once the game started we went at it," Everett Duncan said.
"His style was a little bit of everything," he said.
"He was a beast down low but was able to stretch it out and knock threes down," Everett Duncan said.
Ernie Duncan cited Speidel's work ethic as a huge part of his game.
"He gave it his all in every game and didn't back down from any challenge," he said.
At the time of the crash, Speidel was averaging 25.6 points per game in his senior year at Columbus North High School, according to ESPN.
Speidel had just entered U.S. Route 31 from a side road when another car, that had just exited Interstate 65, struck his car from the side.
Firefighters had to cut him out of the car, and he was immediately hospitalized, according to the Indianapolis Star.
"To know that he was near death and to see where he is now is a miracle," said Ernie Duncan, who was the first to inform Everett of the crash.
"I was watching the Super Bowl when I received a call and I broke down right away," he said.
The outpouring of support from the Indiana high school community was massive and immediate, Everett Duncan said.
"Every community jumped in and did what they could to contribute," he said.  
Speidel was in his senior year at Evansville Harrison High School at the time.
"Especially the closer you got to Columbus, but even all the way down south to Evansville we were #JoshStrong," Everett Duncan said.
"During the halftime of one of our home games, our student body and the opposing student body came together and took a group 'JoshStrong' picture at midcourt, and I did not realize they were doing it," Duncan said.
"After the game I saw the picture and it almost had me in tears."