Cycling club driven on success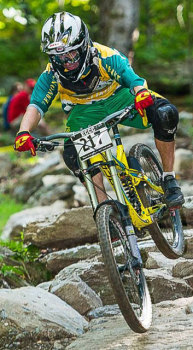 Last month, the UVM club cycling team finished its fall season at the top of its conference with a sixth-place finish at the U.S. Collegiate Nationals. Such success, however, has become common within UVM cycling.
The team consistently wins its conference and seriously competes at the national level, and every year its members seem to do so with a positive attitude.
The club divides its seasons into three disciplines: mountain biking, cyclocross and road biking. In each season, the Catamounts are often the favorite to win their conference.
The program is a yearly national contender; however, its winning mentality is driven by a common dedication to having fun. Junior Libby White cited the team's "high energy" as one of its greatest qualities.
White, who is the vice president of the club and a top-five finisher at nationals, noted that the Catamounts have a reputation for both their success on the course and their positive energy off the course.
"I knew they were kind of crazy because I had been doing racing for a while and had seen them at races, and they always looked like a really energetic and fun team. They've lived up to that," White said.
The junior laughed and smiled when talking about getting involved in UVM cycling. The optimistic club places an emphasis on community. Although men and women race separately, they work together to improve.
"We train together. We ride together… At any level of racing, I think everybody supports each other," she said.
White sees the team's club status very different from other varsity teams around the country.
"When you see the varsity teams…there's a lot of pressure. I don't think that would be as much fun as just messing around on your bike," she said.
White's teammate senior Jeff Meyer-Lorentson shared her commitment to winning and having fun while doing so. Meyer-Lorentson is the president of the cycling club. He commented on his experience with Catamount cycling and the program's presence on the national stage.
"We compete in the Eastern Collegiate Cycling Conference.  And just two weekends ago, we sent a team of nine to mountain bike nationals," Meyer-Lorentson said.
"We finished sixth overall in the nation, which is extra cool because we're racing against varsity teams," he said.
Meyer-Lorentson seems to be embracing the team's ability to succeed while enjoying the experience.
"It's the cheapest racing any of us will ever do," he said.
The motivation of the team is absolutely derived from having fun Meyer-Lorentson  said. The senior is excited to watch the program grow ­— first-year interest is especially high.
"We're actually running into some problems with having enough people who are over 19 to get van certified to drive the vans to get to races, so that's awesome. It's a good problem to have," he said.
After UVM, many cyclists have made their way to the professional stage.  
Former Catamount riders Jamey Driscoll, Will Dugan and Katheryn Curi Mattis have all had esteemed professional careers, among others.
For years, the UVM cycling club has been a dominant presence in collegiate cycling and a starting block for numerous professional careers. The identity of a Catamount rider, however, can always be traced back to one motivation: having fun.