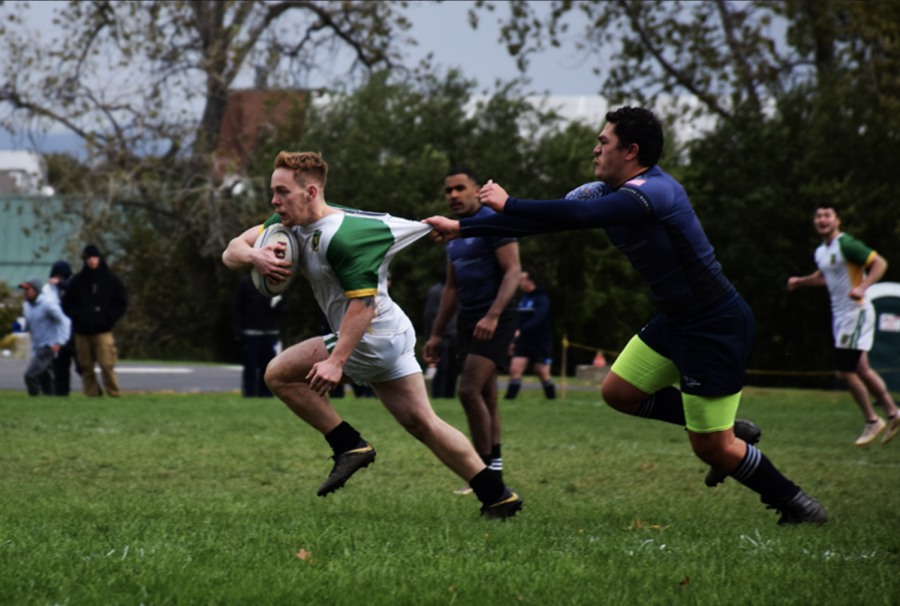 Stephan Toljan
If you have ever witnessed a student in Harris-Millis dining pour copious amounts of salt into his blue Powerade, it is most likely a rugby player.
Off-field strategies like this have helped drive the UVM men's club rugby team to its  No. 1 rank in the New England Wide Collegiate Rugby Conference, according to the NEWCRC website.
President Nolan Joyce, a senior, said the team has been successful because of its unity.
 "We've all been on the same page since the start," he said.
Joyce and senior Henry Brandeis have been playing rugby since high school.
"I didn't have a spring sport, but I wanted to play one and my school offered rugby," Joyce said.
 Brandeis said that although he started playing at the same time, his introduction to the sport was slightly different.
"I was a big, fat kid, so it was natural to play rugby," he said.
Brandeis recruited senior Phil Nicolescu during their first year, he said.
Nicolescu said that the dedication from the players has been key to the team's success.
"Everyone has been invested," he said.
UVM defeated the No. 4 ranked Quinnipiac Oct. 21 with a final score of 68-15.
Head coach Declan Connolly is in his 20th year coaching the team.
"We get better every week," Connolly said. "We need to keep that momentum going."
The Quinnipiac victory pushed the team to the Tier 1 men's championship game against Sacred Heart University Oct. 27.
UVM felt comfortable about their chances against No. 2 ranked SHU, Brandeis said, prior to the match.
The team ended up defeating SHU 68-0.
The Oct. 27 victory will send the team to the National Division II rugby tournament in Charlotte, North Carolina.
The first round of the tournament, informally known as the 'Sweet 16', includes 16 teams from around the country, Connolly said.
"We go to the Sweet 16 every two or three years," Connolly said.
He said he knows some of the difficulties the team may face at this tournament.
"It's harder for us to win a championship because of how small of a team we are," he said. "We play teams like the University of Wisconsin-Whitewater, who have huge players."
He said that he is confident in the team's ability to perform.
"If these boys can stay fit, stay injury free, we'll do fine," Connolly said.
When asked about next season, he said his team will absolutely be better next year if they are boasting a national championship victory.