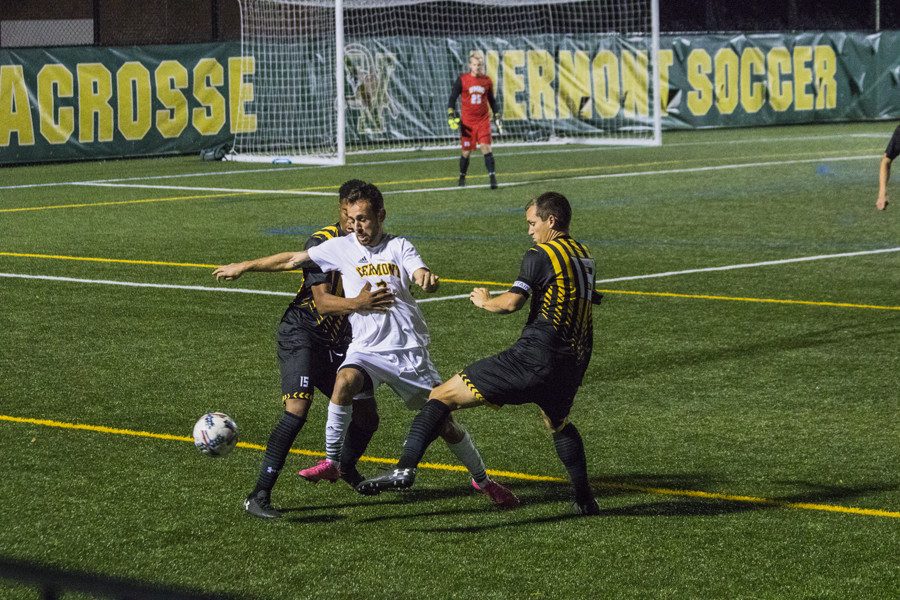 Alek Fleury
The men's soccer team pulled ahead early on Saturday night, and never fell behind, defeating University of Maryland, Baltimore County 3-1.
The win took their overall record to 9-6 and their conference record to 4-1.
Head coach Rob Dow tied the record for most wins as a rookie coach on Saturday as well, marking a milestone, but he was giving all credit to his team last night, even after they had the week off.
"They were ready to play tonight," Dow said.
In the fourth minute, UVM junior forward Justin Freitas scored his first goal of the night off of an excellent set-up from sophomore forward Geo Alves and sophomore midfielder Dani Rovira.
Freitas said the team "spent a lot of time this week doing some finishing," and it certainly showed.
On the 20th minute, UMBC sophomore defender Jon Bell scored the equalizer, but it took the Catamounts less than 30 seconds to retake the lead.
It was Freitas yet again, who, coming off a long ball from sophomore defender Ivan Orn Arnason, managed to put it right above the keeper, into the back of the net.
Six minutes later, Alves scored with an assist from sophomore midfielder Dadi Baerings Halldorsson. Alves celebrated his ninth goal of the season with an impressive backflip.
The second half was all defense for the Catamounts, as UMBC's attacks were stopped again and again. This all went along with the Dow's gameplan.
"We are being productive early," said Dow. "We're getting goals in the first half and our defense is already so strong they've been able to close out games."
Dow also mentioned the confidence that scoring early gives to the team, which is why Dow wanted to see the strikers shooting early. And, with 11 shots in the first half alone, the team did just that.
With only three more games in regular season, the pressure is on the Catamounts to finish strong.
"Every game is a big three points," said Freitas. "We want to be league champions this year."
Vermont travels to Boston, Massachusetts to face Northeastern University Tuesday, Oct. 24, and Dow hopes to see more of what he saw on Saturday.
Vermont will play their last game of regular season Saturday, Oct. 28 against Binghamton University.
"They're always tough," Dow said of Binghamton. "When they come here they are ready. So we gotta be ready."
Vermont is tied with University of New Hampshire for first in America East standings. Both teams have two conference games to play.