UVM club football ends season with a No. 2 ranking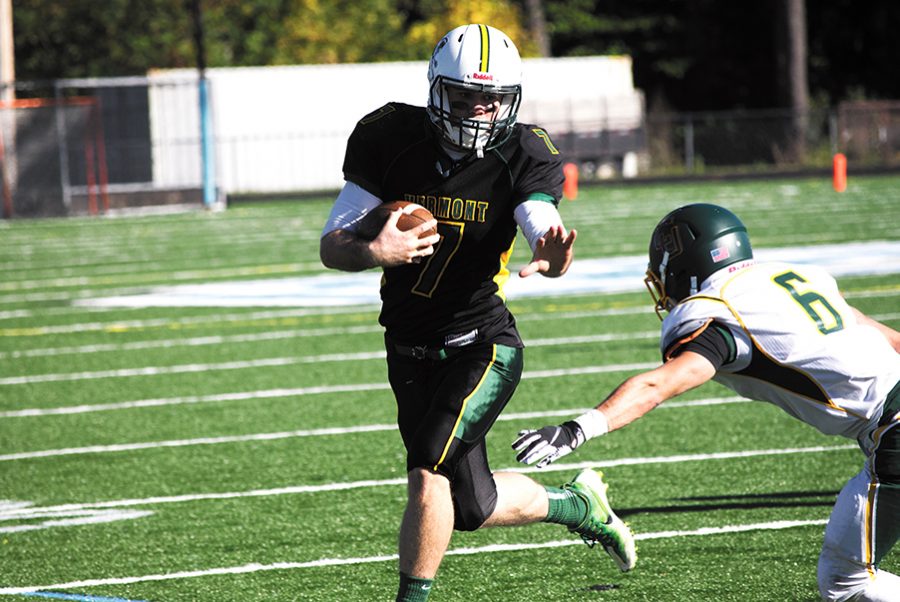 Stephan Toljan, Senior staff writer
November 6, 2018
The UVM men's varsity football team has been undefeated since 1974. It's hard to lose games when the team doesn't exist.
Although varsity football hasn't been at UVM for 44 years, Catamounts who want to pad-up and hit the field can still do so with the men's club football team.
The team has 31 players from different graduating classes, according to its website.
The Catamounts are led by head coach Jeff Porter, who has been with the team since 2011. The team has changed a lot in the past eight seasons, he said.
"We are playing much, much better," he said. "[The] new group of guys has made a big difference."
UVM has a conference record of 2-1-0, earning them a No. 2 ranking, according to the National Club Football Association.
The team's success can be attributed  to the players and the enthusiasm that they bring to the field, Porter said.
"[We have] a great team leader in Eddie Hockenbury," he said.
Hockenbury, a senior, has been with the team since his first year at UVM. He is a running back and is also the program's president, Hockenbury said.
Hockenbury has spent 15 years as a football player in Burlington, according to the team's Facebook page.
"My town had a good youth program," he said. "So I started playing and I fell in love."
Hockenbury agrees with Porter on the reasons for the team's success, he said.
"Over the last few years there has been a real attention to detail," Hockenbury said. "Attendance is sometimes spotty, but the guys who show up care about the program and want to do well."
Wide receiver Logan Park, a first-year, said he discovered the team from the club fair at the beginning of the year.
"I've always loved sports and I've always wanted to play football, but my school was too small to have a team," he said. "When I walked by the table the guys told me to come play, so I said, 'sure.'"
Park said he has loved his experience on the team.
"The team's awesome," he said. "People are really invested."
The team played North Atlantic conference  champion Sacred Heart University Nov. 3.
The Catamounts were defeated by SHU 37-6, which ended their season.
According to UVM club football's Facebook page, the team had a number of injuries during the second half.
Although UVM will not have the opportunity to compete at a national level this year,  Porter said that he is proud of his team.