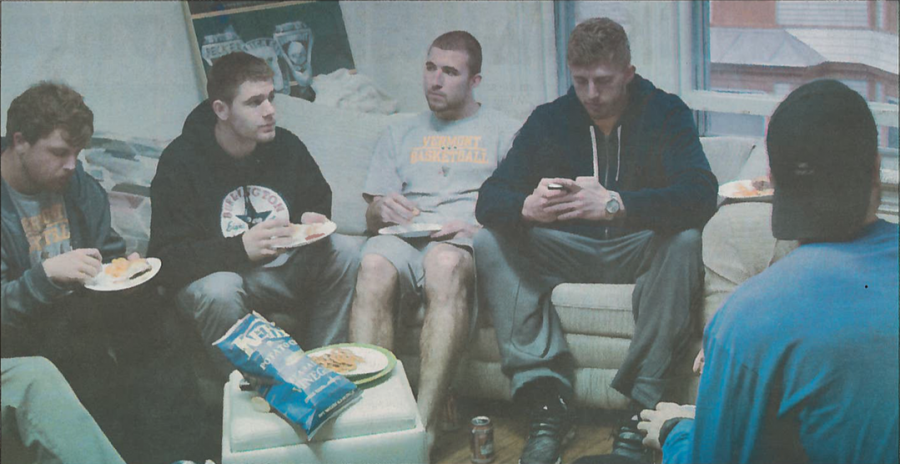 Up the porch steps of 28 South Willard, the grill sent a bellowing cloud of smoke toward the street where one would have to strain their neck to greet members of the men's basketball team.
Some members of the team welcomed the Cynic upstairs where players, parents and coaches gathered for a barbecue.
Redshirted first-year Harrison Taggart, junior Hector Harold and seniors Brian Voelkel and Josh Elbaum agreed to sit down in the living room with the Cynic for a few questions about their experiences living at the house that has sheltered players for years.
Cynic: What is the best room of the house?
Harrison Taggart: "Definitely Brian's room, because of its cleanliness. It's a really nice spot to hang out. It is decorated very well, shout-out to B."
Brian Voelkel: "I would probably say Hector's room. Me and him are really good friends, and we just talk a lot about just different things, like life. So I would have to say Hector's room."
Josh Elbaum: "Well, my room on occasion. I do have a walk-in closet."
Cynic: What is your favorite part of the house?
Hector Harold: "That's a tough one. Uh, I'd say the bathroom. Yeah the bathroom, we got a pink tub. We have a lot of closets, that's probably the best thing. Two living rooms as well. Big hallways too, just in case we have people over. Maybe we can fill up the space a little bit. We have a nice big kitchen, too."
Cynic: Is there a favorite place for to hang out with groups of people?
Harrison Taggart: "It's definitely the living room. We got the TV, we got the nice sound system, Brendan Kilpatrick on the music, of course. Just hang out, watch the football, ya know."
Cynic: Any funny moments while being here?
Harrison Taggart: "We had a fruit -fight once at two in the morning."
Josh Elbaum: "Hector Harold was thinking about opening his own food stand, but that pipe dream was shut down pretty fast."
Brian Voelkel: "He goes to Costco once a week and buys six to eight pounds of frozen fruit."
Josh Elbaum: "That's correct."
Cynic: What is the rent?
Harrison Taggart: "Josh, our financial accountant, handles most of that so I can't tell you much about that. I'll pay whoever's room I'm staying in."
Brian Voelkel: "Going on the rent, Josh is the financier, so no one really knows who pays what, and if we're actually paying the right amount. He actually, I think, has an off-shore account."
Josh Elbaum: "I do in the Caymans."
Brian Voelkel: "So we always gotta keep an eye on him, and make sure everything is on the up-and-up."
Josh Elbaum: "He'll never know though, he'll never know."
Cynic: Why did you choose this house over others downtowns?
Harrison Taggart: "It's a really good location. It is close to class and downtown, it is good to have all the guys together, it is good for team chemistry. And we are a close group of guys that like to hang out a lot."
Hector Harold: "Location, I would say. Historically this has been the basketball house in the last decade. Starting off with our coach, he has passed it down from generation to generation."
Brian Voelkel: "It's just a great atmosphere, you always got your friends around, and if you ever need anything, you are always close, and you can all kinda stay together, along with pretty much best friends."
Cynic: How are your neighbors?
Hector Harold: "They're friendly, they're very patient with us. You know, we may cause disturbances every once in awhile but we tend to maintain peace with them."12