Aftermath of the Waterman Takeovers
March 2, 2016
At one point, Davis walked out into the hall and said to the protesters, "You are disrupting the flow of business in this wing," according to the magazine.
All seven protesters were arrested by Burlington Police Department officers, according to the issue.
Before arresting them, the police officers warned the students they would be forcibly removed, to which Jagbandhansingh said he and the other students were not creating a disturbance and would leave peacefully as soon as the police officers explained why the two student protesters had been dismissed from the University, according to the 1991 issue.
David Jamieson '92 was one of the African-American students who participated in both takeovers, Megan O'Rourke '04 said.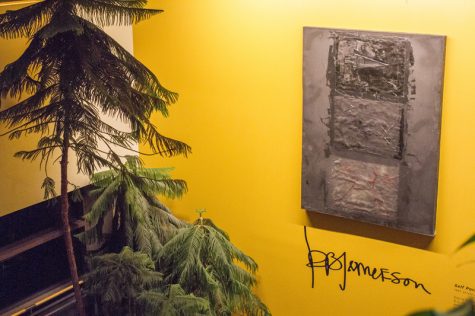 Jamieson had been a leader in the first Waterman takeover and was one of the founders of the original Black Student Union at UVM, according to UVM's history of diversity. He died of AIDS in 1992, leaving a collection of artwork that is privately curated in Washington, D.C., according to his collection's webpage.
"David Jamieson was a beautiful man who was at the University for a long time, had one of the deepest hearts and spirits that I knew," O'Rourke said. "He spent a long time just painting outside the takeover, and that was his support."
In the Davis Center, on the wall opposite to the stairs leading up to the fourth floor, a piece of Jamieson's art is on display. Beneath the art is his signature and story.
"I don't think we did very much because we were only there for four years and we were out of there," Griefendorf said.
This is a common problem with student activism because after four years, everybody who is involved in the process of whatever was being worked on is gone, he said.
"It's very challenging to pass the torch from one generation to the next in four-year terms," Griefendorf said.
In 2011, on the 20th anniversary of the 1991 Waterman Takeover, alumni who participated in the occupation, along with current and past faculty and staff at UVM, got together to reflect on the event and what has changed at UVM since then, according to the April 23, 2011 video from CCTV.
T.J. Whittaker '91 was at UVM for both of the Waterman occupations, he said at the April 23, 2011 event.
The 1988 Waterman Takeover "awakened" him and led him to become more involved in the Black Student Union in 1990 and 1991, Whittaker said.
"We had kind of come into our own then as activists, and the rest is history," Whittaker said.
Pat Brown, now the director of Student Life , talked about his role as a University employee during the time of the second Waterman takeover in the video reflections.
"Sometimes I'm not quite sure what role I played," Brown said.  "Trying to work with students, trying to work with staff, trying to work with faculty.  There were people who worked in this building who were very scared because they didn't know things."
Jagbandhansingh said in a 2006 interview with Matrix Magazine the problem was the "unresponsive" administration.
"When we would talk with them, [the University] would agree with all the stuff we were saying, would agree that racism was bad, would agree that there needed to be racism awareness classes," he said, "but when push came to shove they would always drop our stuff because it cost them money."
The experience was "eye-opening" for the students involved, Jagbandhansingh said.
"A lot of us were really naive in thinking, 'Okay this is an institution that's supposed to be about higher education' and really it's a big business," he said in the interview. "And we were lucky enough to be able to go back in history and look for a solution to our dilemma."
Race at UVM was a "tortuous issue," Coor said in a Sept. 15, 1991 Burlington Free Press article about him receiving a honorary doctor of laws during UVM's bicentennial convocations in 1991.
"Vermont is the whitest state in the nation… [and that] is a complicating factor at UVM," Coor said in the 1991 article.  "I continue to believe that's the largest single barrier to diversity here.  There isn't a natural environment because minority populations haven't been here historically."