Diversity Growth in Enrollment
March 2, 2016
From 1995 to 2014, the overall undergraduate population at UVM has grown by roughly 75 percent, with an increase of about 2,400 undergraduates, according to the UVM Sourcebook.
Despite this, the "multicultural" population at UVM has not increased beyond 25 percent of the undergraduate population, according to the headcount of multicultural students at UVM from 1995 to 2014.
In 2014, 425 undergraduate students identified as Hispanic/Latino, 240 as Asian, 104 as Black/African-American, 20 as Native American and two as Pacific-Islanders, according to information from the Office of Institutional Research. In addition, there were 273 students who identified as two or more races.
There were 7,978 white students, according to the sourcebook.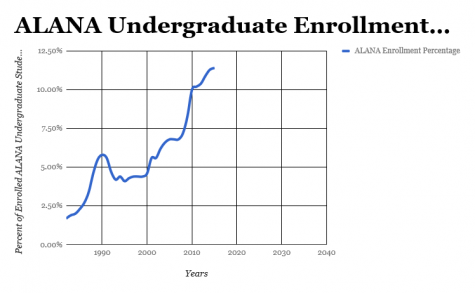 Wanda Heading-Grant '87, vice president of human resources, diversity and multicultural affairs, also spoke at the 20th anniversary of the 1991 Waterman Takeover in 2011.
Heading-Grant was first made an administrator in 1991 when she became the assistant director of affirmative action at UVM, where she would handle grievances and complaints regarding racism, according to the October 1991 issue of the Vermont Collegian.
She has not yet responded to request for comment, but in the 2011 video said UVM has a long history with diversity.
"We currently have a lot of work to do, I have said that over and over again," Heading-Grant said in the video.  "But with strong leadership, we can do it.  We can advance diversity here.  We will move far away from the painful past and closer to an institution that embodies its mission and all that it means to be an institution that embraces multiculturalism."
This article is published exclusively online and is an addition to the Cynic's three-part series examining the past, present and future of the University of Vermont's racial climate.

Reporting by: Sarah Olsen, Bryan O'Keefe, Cole Wangsness, Kelsey Neubauer and Craig Pelsor.
Additional reporting by: Meghan Ingraham and Ryan Thornton.
Videos from CCTV website, filmed by Nat Ayer of CCTV.  You can access the full video here
Featured photo taken by Bryan Agran.  It was originally published in the April 25, 1991 issue of the Cynic.