The mid-90s Hunger Strikes
March 2, 2016
Many who were not in the Waterman Building during the 1991 takeover showed their support through a hunger strike, refusing to eat anything until the administration and the student protesters came to an agreement, Griefendorf said.
In December of 1995, Shontae Praileau '96, began another hunger strike in protest of the lack of cultural diversity at the University.
About 4.1 percent of undergraduate students enrolled at UVM were multicultural, according to a report by the Office of University Research.
In 1995, three women of color received death threats in their respective residence halls, which was one of the factors that led to Praileau's decision to go on a hunger strike, according to a Jan. 25, 1996 Cynic article.
One of Praileau's demands was that the ALANA students be able to choose the director of the Office of Multicultural Affairs, and the current director be fired.
It took 35 days before Salmon or anyone else in the administration responded to her protest, according to the article.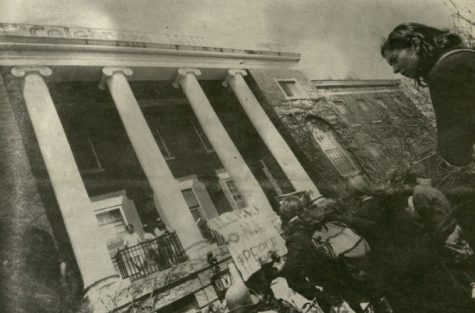 In the 56th day of the hunger strike her demands had still not been met, according to the article.
"Telling me they refuse my demands won't work for me either," Praileau said in the 1996 article.  "I did not start this for them and I will not end it for them.  This does not revolve around you.  There are bigger issues at UVM."
Praileau's hunger strike lasted a total of 64 days, at which point Kei Kurihara '96 "picked up the torch," according to the Cynic article.
Praileau declined to comment, saying she never did it to be in the spotlight and the hunger strike was never about her.  She said commenting 21 years later would only negate that.
Kurihara was unable to be reached for comment.