Blue Penis Gate: Wellness Environment Investigation
January 17, 2018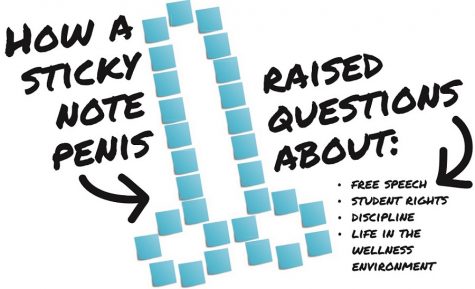 A blue sticky note penis has left eight first-years fearing they will lose their housing in the Wellness Environment.
It was mid-September when the students sat in their new dorm watching a ribbon-cutting ceremony in the courtyard below.
They were messing around with sticky notes on the window and put them into the shape of a penis.
As quickly as they'd put it up, they took it down.
But they weren't fast enough.
A resident adviser came upstairs and told the students to disband. One of the students in the room reported the names of the other students to Wellness Environment staff.
The next morning, the students got an email from WE directors summoning them to talk about what they would later call "Blue Penis Gate."
First-year Helena Weisskopf and her friends received the email from Dr. Jeff Rettew, associate director of the Wellness Environment. The meeting the students were called to was officially called a WE Moment, a time for WE officials to address WE member misconduct.
Weisskopf ultimately had to attend 10 WE-sponsored events. She was told that if she missed an event she would be kicked out of her building.
The Wellness Environment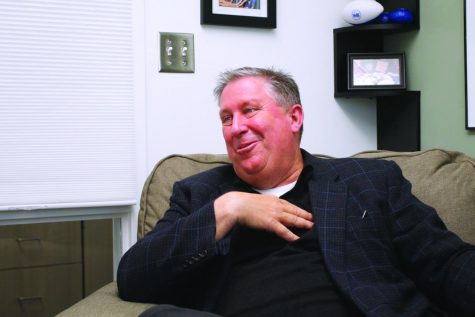 WE is the brainchild of Dr. Jim Hudziak, founder and director. He envisioned a living space free of drugs and alcohol, where student lives were focused around nutrition, mindfulness, fitness and mentorship.
According to the WE website, "the UVM Wellness Environment is a university-wide, neuroscience-based, behavior change program with a residential component."
When students sign up for housing, they have the option to live in a Wellness Environment dorm.
WE students have free access to a gym; they get violin lessons, cooking demos and yoga classes that the rest of the student body doesn't have access to. The newest dorm on campus, Central Campus Residence Hall — the site of Blue Penis Gate — is all WE-programmed housing.
The program has grown since it began in 2015. The number of students in WE housing has risen from 100 to 1,100, said Annie Stevens, vice provost for student affairs.
WE has brought UVM national attention. It's been covered by the Associated Press, CBS, NBC and the Boston Globe.
Sophomore WE resident Jackie Kho said that many students joined WE exclusively for new, nicer dorms and access to amenities.
Weisskopf said she joined because she wanted to live somewhere with less of a party scene than other dorms.
To get access to new dorms and wellness amenities, students had to sign a special housing contract called the WE code.
When students join WE, they meet Hudziak. He asks them to shake his hand, look in his eyes and sign the WE code of conduct, said first-year WE resident Lindsay Hallowell.
WE Code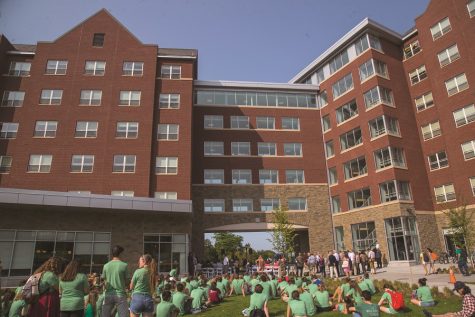 Residents of WE dorms sign a code that states that they will follow WE rules in exchange for living in the Wellness Environment. In the code, students agree not bring drugs or alcohol into the dorm, to attend a class taught by Hudziak and participate in the WE-defined pillars of wellness.
Unlike in other dorms, WE students aren't allowed to have paraphernalia such as shot glasses in their rooms because they're considered neural triggers.
Hudziak said that the presence of a shot glass could be a neural trigger, a stimulus that could prompt others to want to take part in activities involving drugs and alcohol.
Students are asked to use their judgment in terms of what items they think could be a trigger, Hudziak said.
Some students are unclear on what is considered a neural trigger. Weisskopf said her resident adviser told her not to wear a Snoop Dogg t-shirt that said "gin and juice" on it in the dorm.
Weisskopf has a pair of socks with cannabis leaves on them, but doesn't wear them outside of her room because she's afraid she'll get in more trouble.
The WE code states that students can't have alcohol, drugs and paraphernalia — and "their influence" — in WE residence halls.
Weisskopf, Kho and senior and SGA President Chris Petrillo think the code is vague.
Banning posters and clothing that contain references to alcohol or drugs violates students free speech rights because it is restrictive on the basis of content and viewpoint, said Daniel Burnett, Communications Manager for the Foundation for Individual Rights in Education.
FIRE, an organization that defends individual rights at America's colleges and universities, states that these bans, by virtue of their vague wording, can be used to control protected expression.
"You do sign a contract to live in the Environment. The agreement limits some of your actions," Petrillo said. "It's tricky because you're part of WE, but you're still a student as well."
What happens when students break the WE code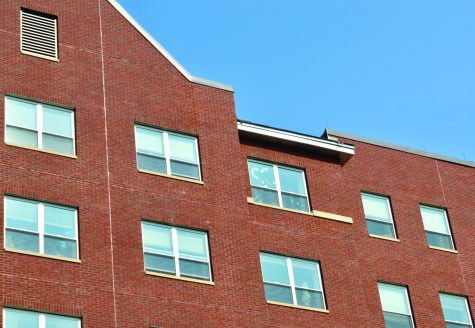 If they fail to follow the code, students agree that they "may be removed from [the] program and/or relocated to another residence hall."
WE has a different disciplinary process than other residence halls. Hudziak and Rettew determine on a case-by-case basis if residents have violated the code and what their punishment is, Weisskopf said.
If a student is accused of breaking WE code, they get an email that states they must attend a WE moment.
If it's the student's first violation — with the exception of having drugs or alcohol in the residence hall — WE staff creates a "wellness plan" for the student, Hudziak said.
In the case of Blue Penis Gate, Weisskopf's wellness plan was to attend 10 WE-sponsored events. Another woman in her group has to attend a WE-sponsored event every week for the rest of the year.
If Weisskopf misses any of those events without a good reason, she risks losing her housing in WE residence halls, she said.
"They're at super inconvenient times," Weisskopf said. "Basically if I can't make WE relate on Thursday, I have to go to a WE relate Friday at 7 a.m.
"They're once a week, and not regularly scheduled."
Others in the group were let off without punishment.
Kho was caught smoking marijuana by UVM Police. She was called to a meeting with Rettew, which she said she missed by accident.
When she eventually met with Rettew, she said he told her she was getting "one get out of jail free card."
Next time, she'd lose her housing, she said.
Kho's punishment was to attend five WE-sponsored events — or risk losing her housing.
The effect of WE discipline
In Blue Penis Gate, it was a fellow student who reported the group of eight to WE staff, Weisskopf said.
Weisskopf said this culture of peer reporting is popular in WE residence halls.
"Students should not feel uncomfortable around their peers," Petrillo said. "They should be supporting one another in a positive way.
"That, to me, is an indicator of an unhealthy environment."
After her experiences this year, Weisskopf is not sure if she will live in WE next year.
"There's this constant fear that people are going to snitch on you," she said. "I've been living in this heightened state."