Advertising
Kaysie Smith
Advertising manager
Email: [email protected]
Phone: (802) 371-7937
You can now advertise with the Cynic in print or online! If you're interested in connecting with online readership, we offer a number of different rates to meet your needs. The ad rates below cover a full week online in a number of different locations. If you have any questions, feel free to reach out.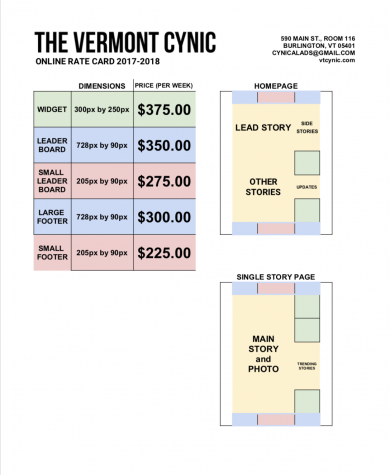 The Cynic is always looking for businesses, organizations and individuals to advertise with us. Please reach out to our advertising manager Kaysie Smith with any questions or to place an ad.  On this page you'll find a map of distribution locations and advertising rates.
The Vermont Cynic distributes 3500 copies around the University of Vermont campus every Tuesday while UVM is in session. Use this map to find a paper.
For inquiry about ad prices, please contact us at [email protected]
Disclaimer: The Cynic reserves the right to refuse any advertisement.