Jam scene returns to Burlington
September 30, 2021
Alongside the nostalgic crunching of fallen leaves and the soft whistling wind, this autumn hosts another exciting sound.
From basements, to bars, to backyards, Burlington's live music is back and vibrant. Characterized by jam-heavy, funk and blues inspired rock and roll, student bands are undergoing a resurgence after a year of COVID-19 lockdown.
No Showers On Vacation, Moondawgs, Lazy Bird, The Rose McCann Band, Dead On Arrival, All Night Boogie Band and Russian Dolphin Pool Fight, are just a few of the names one might overhear in the bustles of late Friday and Saturday afternoons. 
On Friday, Sept. 11, Russian Dolphin Pool Fight, known as RUDOLPH, opened for No Showers On Vacation at an underground venue known as "The Tub."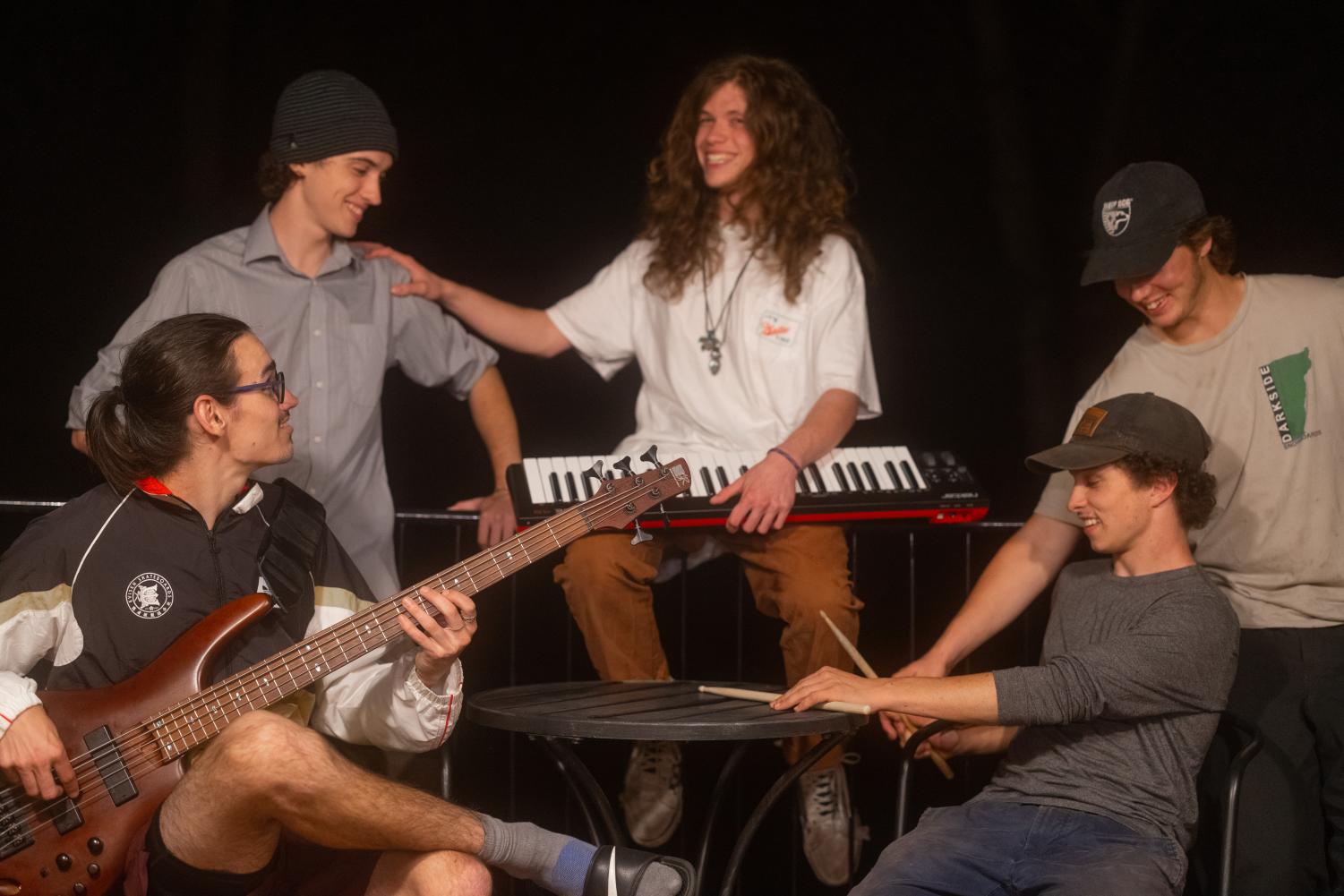 As groups of party-goers flocked to the cellar door and into the basement, a sax and groovy bassline could be heard from the backyard, pouring out over the commotion of those mingling outside.
Bands supporting bands is a characteristic of Burlington's underground scene, as illustrated by lead guitarist and vocalist of Lazy Bird sophomore Jackson Bower attending the show. 
"It was nuts, it was like a six hour show, too," he said. 
Listeners packed the basement to its capacity and the remainder gathered outside enjoying the atmosphere.
Senior Sam Lyons, drummer and songwriter for No Showers on Vacation, said the band found success in the underground venues of Burlington's college houses after the release of their Feb. 26 2021 jazz-fusion album "Aquaband." 
At the Friday show, the band played a cover of the 1969 song "Cissy Strut" by The Meters, a laid-back, funkadelic tune. While not a party song in any recent decades, the groovy bassline and tightly syncopated rhythms fired up the crowd. 
"I think it says [something] about UVM kids or Burlington's open mindedness toward music," Lyons said. 
Bower said student interest in the culture, and more specifically, the music of the 70s has greatly increased. 
Senior Will Sturcke of Moondawgs and Dead On Arrival said this trend is exemplified by student crowds supporting extended jam sessions, a signature derivative of 70s inspired music.
"With [Dead On Arrival], people were down to come and dance while there was a five minute guitar solo," Sturcke said. 
This jam-heavy atmosphere is a current staple of Burlington's basement show scene, and something Vermont musicians are known for – producing the likes of jam bands such as Phish and Twiddle.
However, Sturcke said this performance style just recently came back into vogue.
"Before the pandemic, it was a much more punk-dominated scene," Sturcke said.
One of the newer jam bands on the scene, Lazy Bird, solidified its popularity among students at their Sept. 11 backyard show on South Williams Street.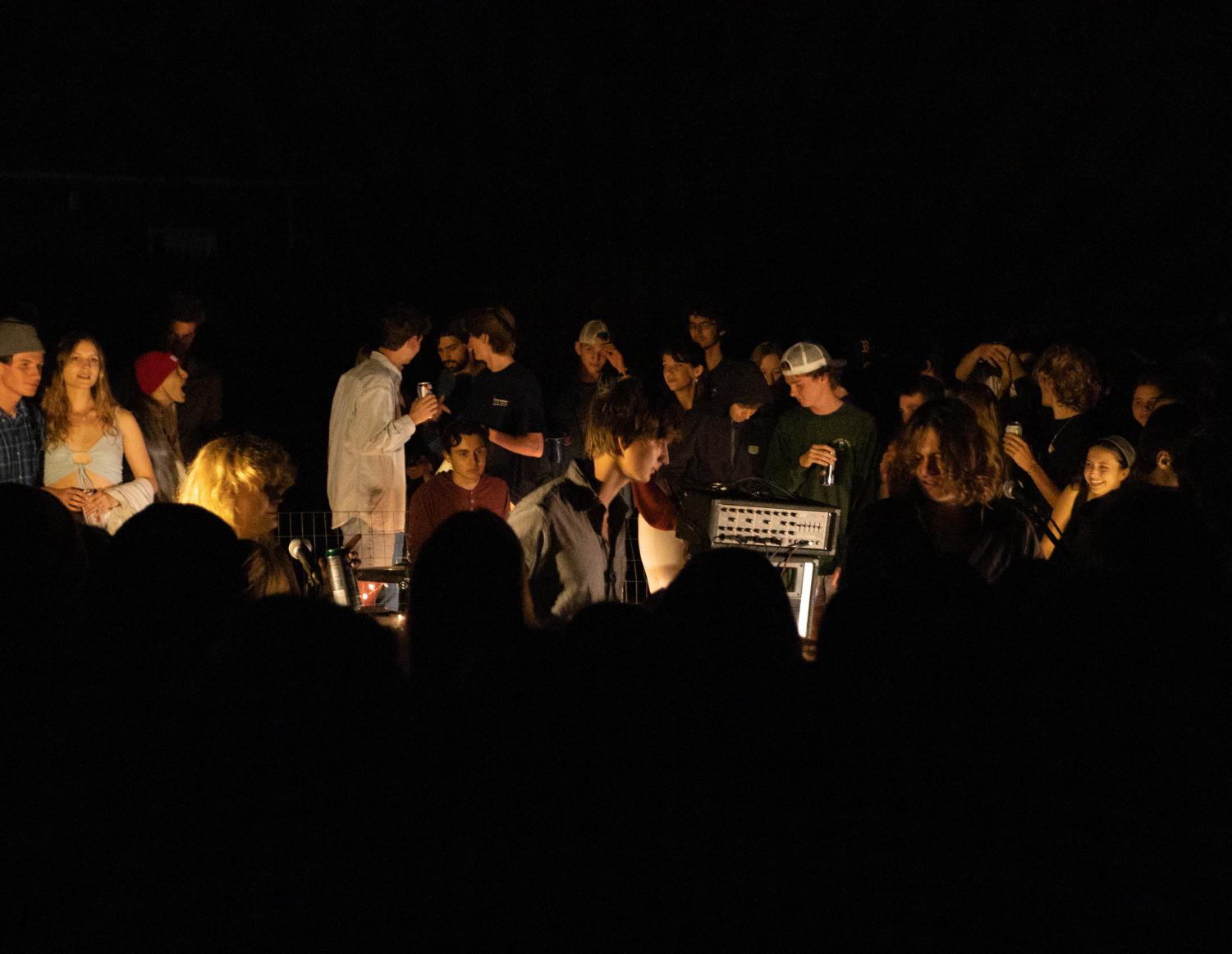 Junior Van Garrison is the keyboardist for both RUDOLPH and All Night Boogie Band.
"Not everyone listens to jam music," Garrison said. "But a good number of us are pretty big [Grateful Dead] fans and really appreciate the whole live music experience." 
With the overlapping of genre and band members themselves across these acts, Burlington's music scene may seem to focus on one genre at a time. This is indicative of the relatively homogenous cultural background among students at UVM. 
Regardless, there are only so many basements in Burlington. 
Jazz, funk, blues and rock are all quite different in isolation, but from a listener's perspective, a jam-band sound can seem somewhat invariable.
Thus, jam-bands are often characterized by the social environment they provide listeners with rather than stark variations within or between songs. 
"We're trying to create a fucking sick atmosphere," Garrison said on the subject of jamming.
Local bands' ability to host events where students can meet new people or gather with friends is telling of their success in a post lock-down world. These renewed opportunities to play shows are special according to Bower.
"When you facilitate a good time, which all these other bands are doing, that's a cool feeling," Bower said. 
While each of the bands – out of humbleness – adamantly deny any notion that they are "the next Phish," the connection is there.