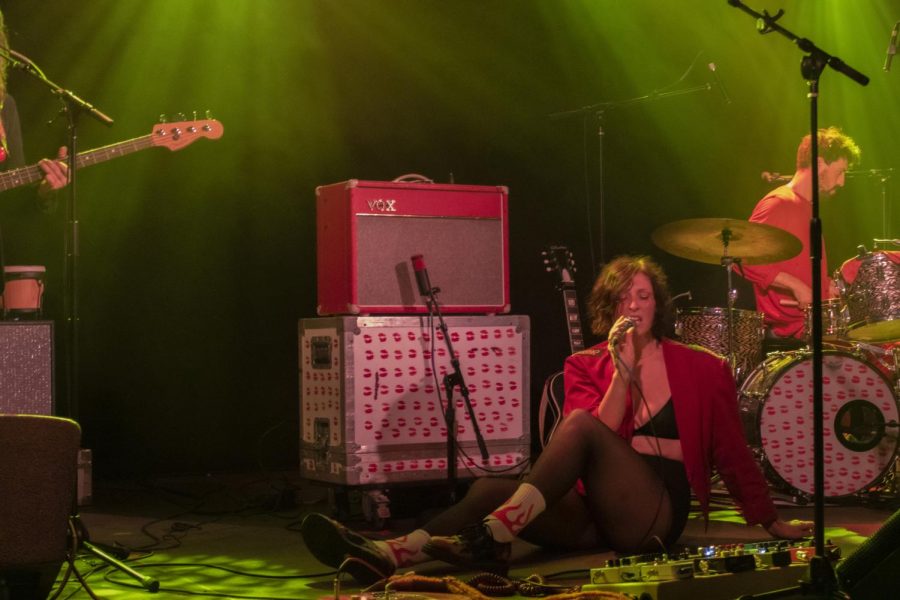 Liz Cooper brings "Hot Sass" home to Burlington
October 4, 2021
Illusory soundscapes and hot lights swept over the mossy rafters and rumbling crowd.
Folk-rock artist Liz Cooper performed her new record "Hot Sass" at Higher Ground with supporting act New Madrid Sept. 30.
"Hot Sass," Cooper's sophomore record, follows her 2018 debut "Window Flowers," and was recorded over the past year in Burlington's Little Jamaica, the private recording space of producer and sound engineer Benny Yurco. The album was released Sept. 3.
"Window Flowers" was critically hailed for its psychedelic-folk fusion, but three years later, Cooper subverts expectations and dives into psych-rock head first. 
With a tighter, more carnal sound, "Hot Sass" reflects Cooper's 20s – the good and the ugly, she said in a Sept. 1 American Songwriter article.
A small crowd lined up against the stage barricade, at times peeling off towards the bar.
New Madrid, based out of Athens, Georgia, warmed the stage for Cooper with a rich shoegaze sound. The band was dressed in black t-shirts and army pants, sporting Vans and, for bassist Ben Hackett, just bright orange socks.
Guitarist Graham Powers said the band connected with Cooper through their shared Southern foundation.
"Liz was based in Nashville and caught wind of us, another Southern act," Powers said. "We linked up with her in winter 2019 when she was Liz Cooper & The Stampede and just became good friends."
Red light washed the stage following the interlude after New Madrid's set, seemingly a recreation of the "Hot Sass" album cover where warm tones saturate Cooper's runny makeup.
Cooper and bandmates Ryan Usher, Joe Bisirri and Michael Libramento all dressed in red with amps and drum accents to match. Cooper wore a mask of pink glitter under her signature shaggy do with flame-printed socks and Mary Janes.
"Good evening," Cooper said. "It is nice to be back in Burlington."
Usher cracked his drumsticks together four times before the group broke out into a rush of fast, punky guitar riffs and hard drums. It ceased suddenly.
"Hot fucking sass," Cooper said.
As the band erupted back into the title track, a wall of sound rose between the band and the audience. 
"I laugh and cry at the same time, hopped up and hiding from everyone I may know," Cooper sang. "Wash them down with a bottle of red hot sass."
Cooper shifted her weight from one foot to another. Her hair fell over her eyes constantly, but it did nothing to stop her fingers from flying over the guitar frets. The drums were building, and the harder Usher hit them the wider he smiled.
"They were so creative with what they were doing between songs," sophomore Leslie Campbell said.
Cooper pulled out an oversized prop cigarette, which she pretended to try to light. She passed it around to her bandmates while introducing them, faking out the audience with sudden, acidic riffs between roll calls.
The band played several of the tracks off "Hot Sass," including "Lucky Charm," a psychedelic tune that shifts between her vocals and soft drumlines to bass heavy, distorted interludes. She also performed older songs like "Outer Space."
Cooper sings from the top of her nose, rising so high that at times it seems her voice might crack, but it never does. She never missed a note, even while adjusting her guitar pedal mid-song.
"Her voice is so unique to hear live," sophomore Maeve Cain said. "You don't get that experience just listening to an artist while you're walking somewhere."
For her encore, Cooper said she wanted to play a slow song since the Burlington audience had been so polite, and played a cover of Lou Reed's "Coney Island Baby."
"You're the fucking coolest," an audience member said.
"Fuck yeah," Cooper said. 
Cooper said that Burlington was the last place her band performed before the COVID-19 pandemic closed venues indefinitely, and she thinks of the city as a second home.
Cooper's set at Higher Ground solidified a new, edgier tone for her brand and proved to be a  transformative homecoming.