Street performers bring heart to commerce sector
October 14, 2021
It's a crisp autumn afternoon and Church Street is alive with tourists and townies alike.
Throughout fall weekends, Church Street comes to life with a variety of performances, ranging from magic shows to singing, and even the occasional mime. 
Jeff Nick, chair of the Church Street Marketplace Commission, said there is a vetting process for Church Street performers. 
"If you want to perform on Church Street you need to go to our staff and obtain a permit, and they will basically screen you for the quality of the performance," Nick said.
Nick said they take in every detail of a performer to judge whether or not they will fit what Church Street is looking for, which includes the type of their act, skill level, performance background and volume of their show. 
If a performer's application is accepted they pay a fee to officially obtain their permit, which ranges from $25 per venue performance to $75 per performer for an annual license, according to the 2021 Church Street Marketplace Street Entertainer Program Rules and Regulations.
Additionally, after signing the license they must comply with the Church Street Marketplace Street Entertainer Program rules.
Local Vermonter Evan David Warner writes and performs music individually, as well as with his band, The Apollos. He said he plays as a mix between blues, rock and funk.
Warner said he began performing on Church Street 10 years ago, evolving from acoustic guitar to electric. His music mixes rock and funk and can be found on Spotify.
"I've always known I've wanted to be a musician, and I'm very, very passionate and almost obsessive compulsive over it," Warner said. 
Warner said he feels wary of the fees required for him to perform.
"I believe street musicians shouldn't have to pay to play," he said.
He said he accepts tips, but the real reason he plays is not the money. 
"There's nothing better than seeing organic reactions on the street," Warner said. "People going about their day, they don't expect to walk into a concert."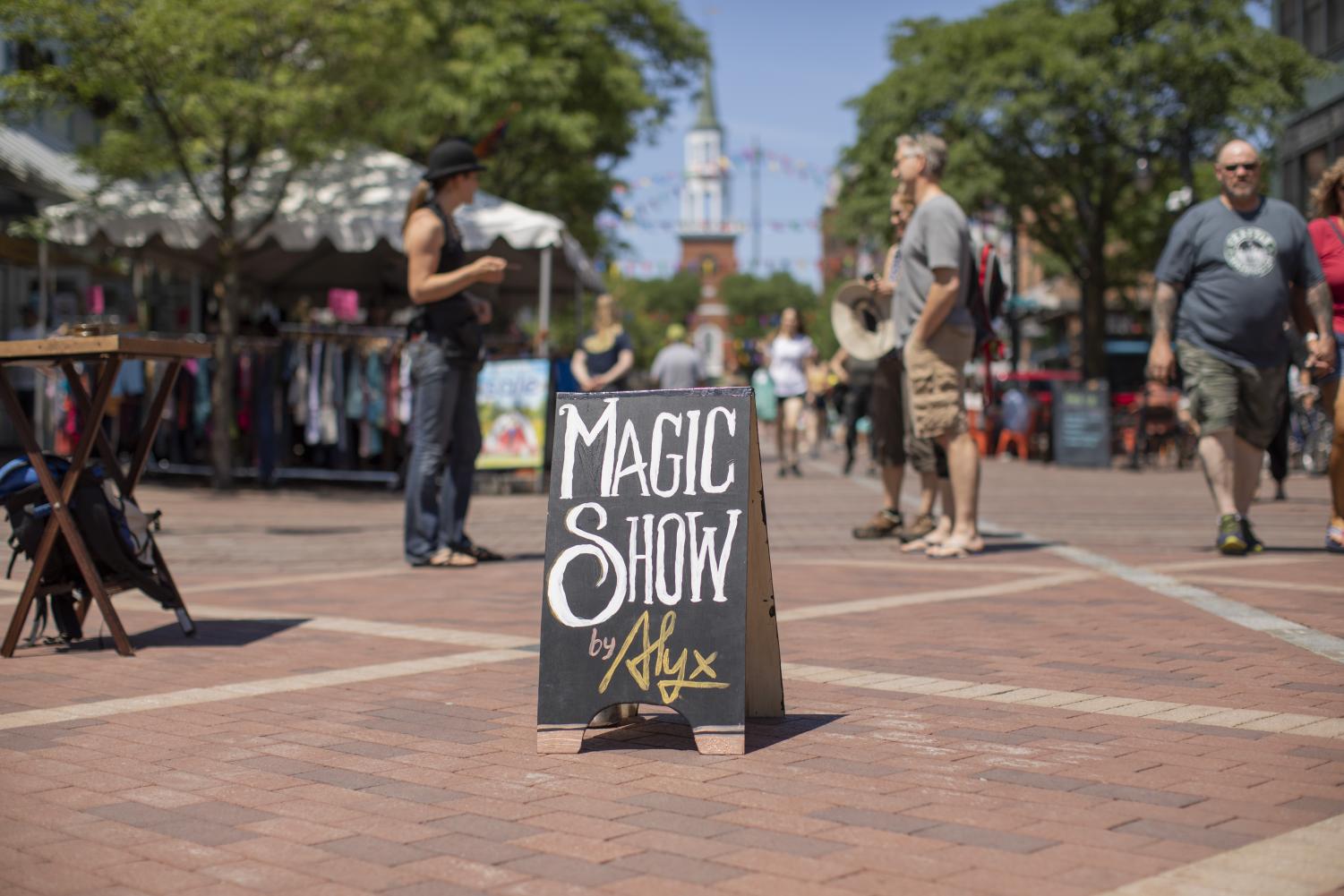 Alyx Hilshey, known as Alyx the Magician, performs sleight of hand magic on Church Street.  
Hilshey said she began performing magic shows at age seven, but says she honed her skills in college. 
In 2010, she began performing in the streets to help pay for her graduate school while simultaneously working as an electrical engineering instructor, she said. After a near death experience, she said she chose to follow her dream of being a performer and magician. 
She said she studied under an impressive list of magic directors, including those who had worked with both David Blaine and David Copperfield, two touring magicians. 
"I get my self worth by making people smile and laugh and feeling that sense of wonder that comes from magic," Hilshey said. 
Hilshey said her presence on Church Street is met with mixed reviews. Many viewers appear hesitant at first, unsure of what she may ask of them. 
"Once the first couple of people stop, then everybody feels safe and everybody stops and everybody has an amazing time," she said. "I hope that by doing that the next time they see a quality street performer, they're ready for an amazing performance." 
Sophomore Daria Ivanov said she experienced the Church Street performers for the first time recently.
"I have a lot of respect for street performers. It takes a lot of courage to get out and perform in front of a crowd of strangers, let alone for free," Ivanov said.
Nick said the street performers uplift the atmosphere of downtown Burlington.
"I love them," he said. "They really give the street a lot of character. It's not all shopping and commerce down here, it's a lot of fun going on too, so we get to kind of mix it up."