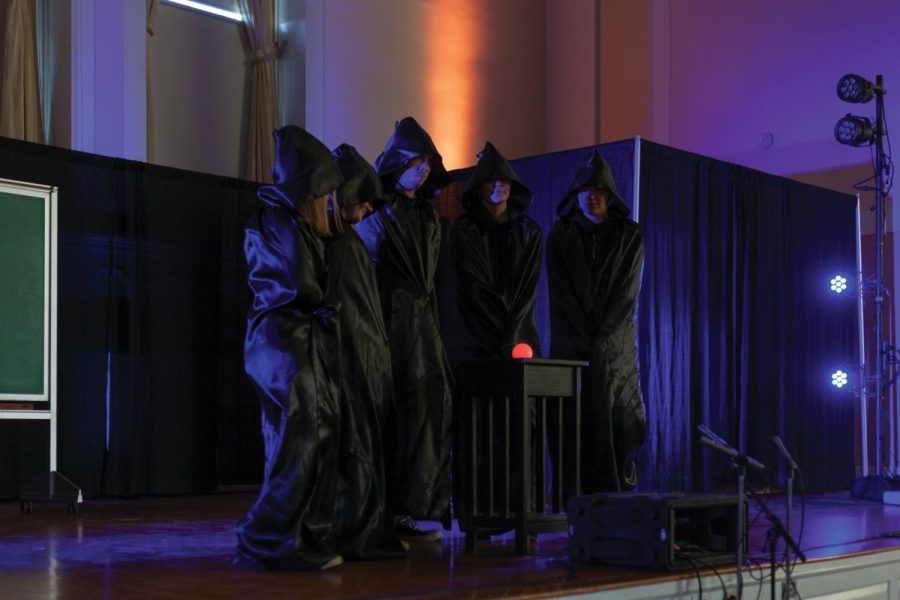 Students direct and perform plays at Fringe Fest
April 5, 2022
As the chandeliers in Ira Allen Chapel dimmed, colorful lights lit the stage for an evening of performances by the University Players.
The University Players, a student-run theater club, began preparing in January for its fourth annual Fringe Fest on April 2 in Ira Allen Chapel, said senior Ellie Guyon, coordinator of Fringe Fest and University Players public relations manager.
Fringe Fest gives students an opportunity to write, direct, produce and perform in a series of 10-25 minute one-act plays, Guyon said.
"You can get these kinds of segue experiences and figure out different roles," Guyon said. "It's a really good learning process for everyone and there's a lot of guidance."
Drawing from the traditional Edinburgh Festival Fringe, UVM Fringe Fest fosters a supportive environment in which students can explore various genres, styles and aspects of theater, Guyon said.
The original Edinburgh Festival Fringe first occurred at the Edinburgh International Festival in 1947 after eight theater groups staged their shows regardless of not being on the official program, according to the Edinburgh Festival Fringe website.
The spontaneity of the first Edinburgh Festival Fringe sparked a beloved annual tradition of experimental theater performed to celebrate and enrich European cultural life.
"We try not to approach the piece in any specific rigid way," Guyon said. "We work on our bodies and our physicality and our connection to each other."
Fringe Fest casts met to rehearse three times a week for an hour and a half to two hours, said Director Emma Brazinski, a first-year.
Productions with the University layers involve working were collaboratively, Brazinski said.
"No matter what position you are in — an actor, director or crew member — everyone is very supportive of each other," Brazinski said.
Directors who participate in Fringe Fest choose and cast student-written plays, Brazinski said.
"[Casting] is a difficult process, because you have to evaluate people in different ways and really determine who would best embody your characters," Brazinski said.
The University Players' Fringe Fest allowed sophomore Jordan Barbour to enjoy theater and the arts in a like-minded community, she said.
"Everybody who's doing this just really wants to have a good time," Barbour said. "If you like theater, this is the place to be."
The students held Fringe Fest unmasked for the first time since the beginning of the COVID-19 pandemic, Barbour said.
"It's been a struggle to act with masks because you can't always see people's expressions," Barbour said.
The transition back to pre-pandemic operations has posed its challenges, but the University Players have remained strong, Barbour said.
"COVID has really hurt a lot of participation," Barbour said. "Luckily, the theater community is a strong one."
First-year and first-time theatergoer Ava Lublin enjoyed the professionalism and talent demonstrated by the University Players, she said.
"I was really blown away," Lublin said. "It was a great first live theater experience."
First-year Emily Ninestein enjoyed the style of Fringe Fest, she said.
"This was the first time I've been to a performance that was several small acts," Ninestein said.  "The collation of multiple types of plays split with different writers was really awesome."
When the last show came to its end, cast members and directors assembled on stage to celebrate each other and commended the tech crew working behind the scenes.
Hand-in-hand, actors and directors took a final bow.
To join the listserv and get involved with the University Players, email [email protected]