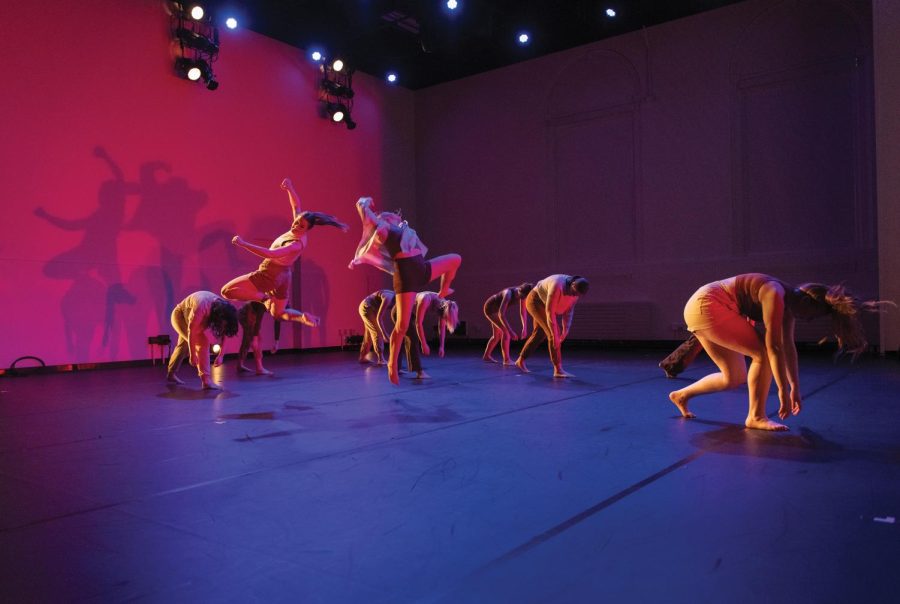 Dance seniors collaborate for capstone performance
April 28, 2022
Editor's note: This story was updated April 28 at 10:00 a.m. to correct an error made about the monetary figure of the grant and the time of the show.
All dance majors in the class of 2022 will come together April 29 and 30 to perform the first-ever senior capstone dance, a semester-long project.
All seven graduating seniors will perform "Illuminate: Senior Dance Capstone Show" at 7:30 p.m. in Cohen Hall both nights of the performance alongside 20 other student dancers from UVM, said senior Emma Askew, student organizer and choreographer. 
Six of the seniors organized the show for their capstone project in class DNCE 280, "Advanced Studies in Dance." Each of the six choreographed their own dance, and all seven members of the graduating class will perform in a final dance choreographed by visiting artist Millie Heckler. 
"Being able to say goodbye to UVM in this way and give what has always been my passion to give is something that I really appreciate," said senior Katie Corkum, student organizer and choreographer. "It's going [to] be very bittersweet."
The students had a choice to do a performance or a paper for their project, and they decided that a collaborative performance would be a better learning experience, Askew said.
One of the seniors decided to do a separate capstone project, but will still appear as a dancer in the final show, said adviser Paul Besaw, interim theater and dance department chair.
UVM's Office of Fellowships, Opportunities & Undergraduate Research awarded the project $2,800 in grants, Askew said. 
"The grant funded paying for the choreographer, videographer, photographer and somebody for costumes," Besaw said. "If you want to do something as an artist, you have to figure out some means of funding."
Besaw created the dance minor in 2010, he said. He introduced the dance major in 2020 after seeing increased interest.
The 20 students dancing in the show are dance majors or minors, said senior Isabel Hansen, one of the student performers.
"We're all pretty close, so it's really fun to be part of [the student organizer's] rehearsal process," Hansen said. "As a dancer, seeing the work that they create rather than just what the faculty in the department creates has also been really fun."
Each of the student choreographers based their dances on personal experiences, Askew said. 
Senior and choreographer Jordan Officer's dance, titled "My Mother's Advice," is based on their mother's supportive phone calls throughout stressful parts of their senior year, they said. 
Officer edited the music, a song titled "Anomalie bleue" by L'Impératrice, to suit the length of the dance. 
Officer also edited the music for Askew's dance, "Catharsis," which is an exploration of processing grief, trauma and information, she said. The piece will open with white noise before the main song, "New Light" by Gidge, comes in. 
"I also don't end my piece with the music, I continue to have my dancers moving in silence," Askew said. "I think it is empowering to hear my dancers just breathing at the end and repeating a movement that they do somewhere else in the piece."
Corkum draws from experiences of letting go of people who she's close to in her dance, "Conscious Unchoosing," she said.
Most of the seniors are not dancing in their own choreographed shows, Officer said. 
The choreographers held workshops where the dancers journaled about similar personal experiences, said Kat Coyne, a first-year student performer.
Senior choreographer Mary Kate Kennedy made a master Pinterest board with images of writings, costumes and art which conveyed the meanings of her piece, "Nocturne / Introspection," to her dancers, Coyne said. 
The final piece in the show, "Welcome to the Afterparty," will be a group dance with hip-hop influences that plays on the bittersweet nature of goodbyes, Askew said.
Heckler based the dance off one she choreographed after unexpectedly losing a close friend, she said.
"It feels like a funeral party; there's this idea of moving forward," she said. "Like, once we get through this shit we can go party."
The show will end with each of the seniors waving to the audience.
"That gives me chills every time," Askew said. "The feeling that that is a goodbye, literally."
Besaw expects to see future graduating classes continue to create collaborative capstone projects.