Nunyuns brings fresh foods to the North End
November 29, 2021
The smell of fresh-baked sweet breads and brewing coffee wafts across a colorful, open dining space.
Nunyuns Bakery sits on the corner of North Champlain Street and North Street in Burlington's Old North End. Run by husband and wife Paul and Kristine Harbour, the shop has served Burlington's North End with coffee and pastries since 2007.
Homemade treats such as muffins, cookies and bread sit in cases under a large chalkboard menu.
Customers who stop in before 11 a.m. can order from their breakfast menu which ranges from a simple eggs and toast meal to house naan.
"I like to get a new thing every time I go but one of my favorites is their cinnamon buns," junior Emily Mackay said.
Paul said his favorite menu item is their eggnog frosted snickerdoodle cookie.
The top selling item is a classic egg and cheese breakfast sandwich. At just $4.25, it comes as no surprise, he said.
Their walls are decorated with work from local artists that are replaced every two to three months, Paul said.
Currently, they display pieces with a creepy clown theme.
With plenty of room to sit and relax or do some homework, Nunyuns Bakery, a family-run business gives a level of comfort that is lost in many popular Burlington restaurants.
The exterior of the bakery is different shades of orange and red wood.
Windows stretch almost all the way around it, with two panels reading "Neighborhood Cafe and Bakery, a nice little place to have breakfast and lunch!"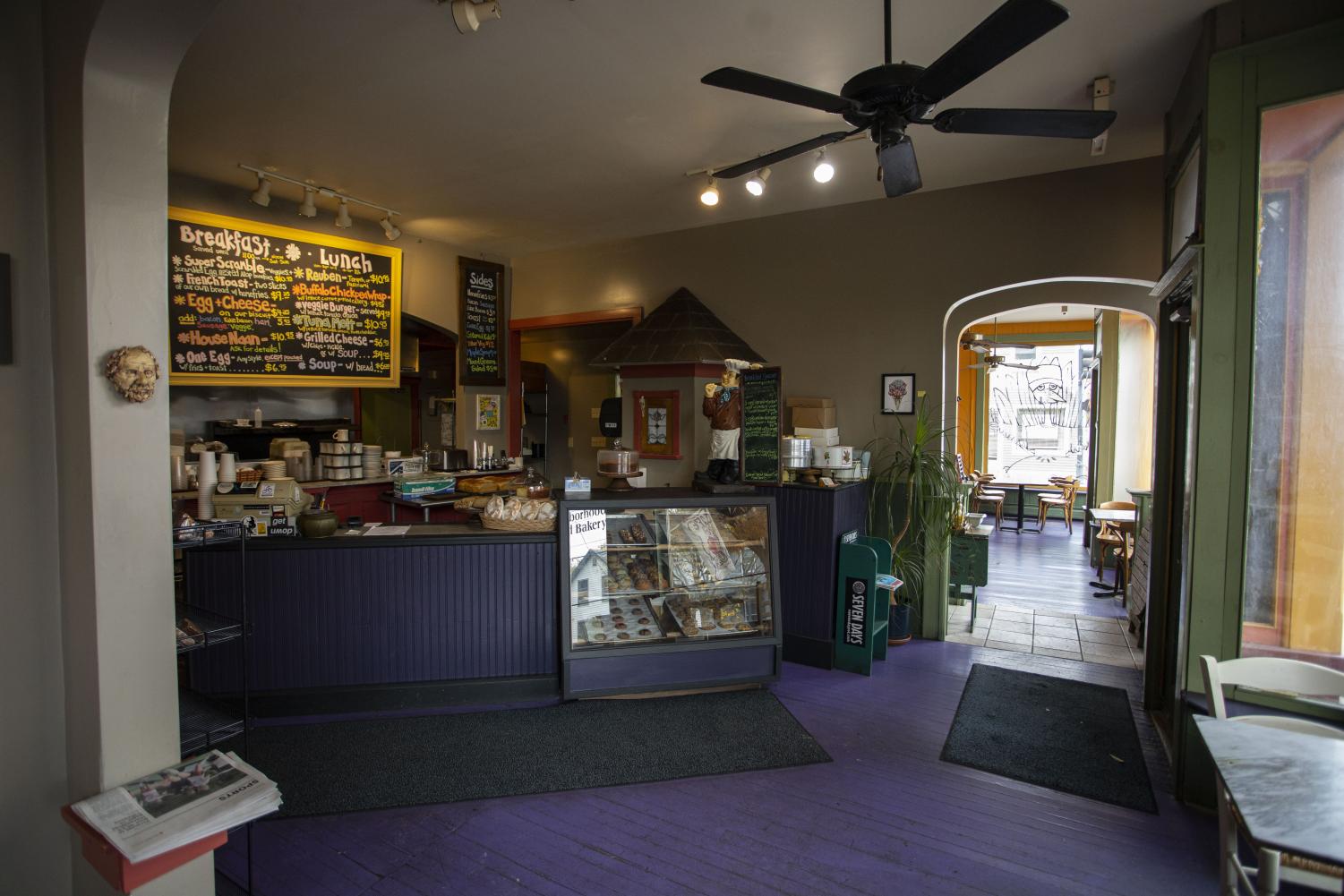 They also always have window art which Paul said he does himself. Right now, it is displaying a giant turkey.
The Nunyuns website features many of their past designs.
Paul said many of their ingredients come from local suppliers.
Especially in the summer months, they buy directly from Vermont farms such as Pitchfork Farm which is located in Burlington.
All of their food is baked fresh on-site, Paul said.
"I get here anytime between 3:30 and 4:30 a.m. and start mixing the bread dough and making muffins and biscuits and whatever else needs to get done," Paul said.
They try to be creative in the way they reuse products and manage waste, Paul said.
"We don't have a lot of stuff that just gets thrown out because you don't know what to do with it," Paul said. "We are using that tomato right down to the end, whether it goes into salsa or gets thrown into something else."
Many of their recipes get handed down through their families, like his grandmother's whoopie pie recipe, he said.
Nunyuns offers a flavorful and fun experience for students living in the Old North End or dorm residents looking to venture off campus.
Nunyuns is open Wednesday-Sunday 8 a.m. to 2 p.m.