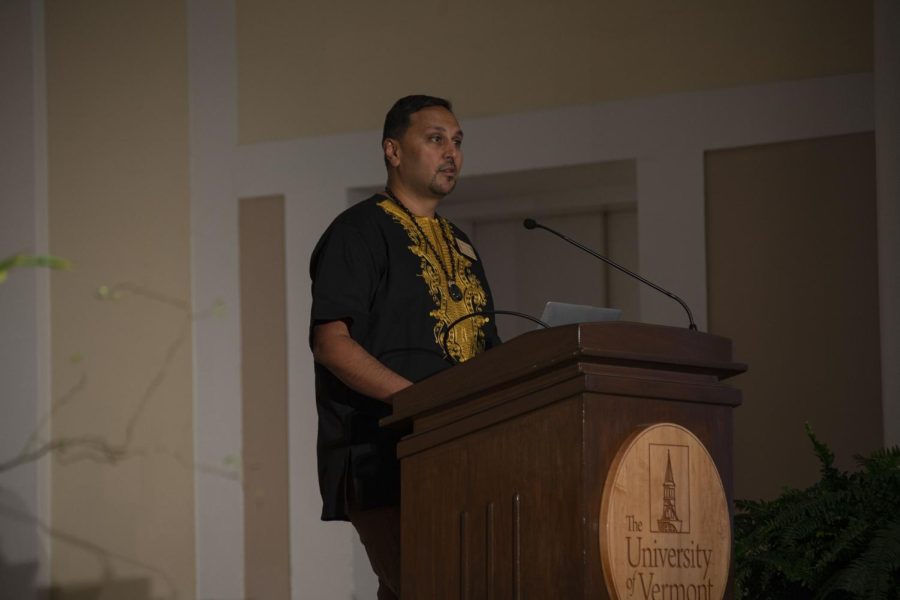 UVM appoints second ever Vice Provost of Diversity, Equity and Inclusion office
February 11, 2022
Growing up as a Muslim to immigrant parents, shaped Dr. Ahmer Ahmed's experience as vice provost of diversity, equity and inclusion, he said.
Ahmed is a nationally recognized DEI practitioner who became the second vice provost for the office of diversity, equity and inclusion on July 1, 2021, according to the DEI webpage. 
"I know how hard the work can be, which is why I'm so grateful for the opportunity to make the impact that I believe we're capable of making going forward." Ahmed said.
Growing up in the working class and around a lot of people in poverty the dropout rate in his high school was very high, Ahmed said. 
"For myself and for my family, education is really important because my father's ability to get access to higher education coming from significant poverty from India is the reason why our family is in this country," Ahmed said. 
While in college, Ahmed studied abroad in South Africa through the "truth and reconciliation process" which he said as an attempted to heal the wounds of violent racial segregation, which persisted for many decades in South Africa. 
"I started to develop an awareness of the way colonialism played out in our world and exploitation and how I was part of a diaspora of people as well, not just the African diaspora that had been exploited and shipped all over the world," Ahmed said.
That awareness of exploitation created a passion for him around creating change, Ahmed said. 
Ahmed wasn't sure how to channel that passion at just 19 years old, but he wanted to pursue an education that would help him learn how to, he said. 
Ahmed studied cultural anthropology and black studies at Miami University as an undergrad and earned his masters in Afro-American and African diaspora studies and anthropology at Indiana University and an EdD in adult and higher education at the University of South Dakota, Ahmed said. 
While Ahmed was studying at Indiana University the world experienced a new fear of terror.
"9/11 happened, and so for people of my background, but especially with names like mine, we became a significant target in this country,"Ahmed said.  "I feel fortunate that I was committed to social justice and racial justice before that level of intensity was experienced by myself, my family and my community." 
Along with this experience, hip-hop contributed to his commitment as well, Ahmed said.  
"For myself, being part of the hip-hop generation and seeing its voice all over the world, I became a hip-hop activist,"Ahmed said. 
Hip-hop became a way of bringing people from a lot of different backgrounds together but connected to a tradition of struggle and resistance, specifically of the black community, Ahmed said.
As he tried to figure out how to channel that energy and create change, Ahmed found working in higher education was the best way for him to do so, he said. 
Before coming to UVM, Ahmed worked at Dickinson College, Swarthmore College, The University of Michigan Ann Arbor, Concordia College and The University of Massachusetts Amherst over the past 19 years, according to his CV.
Ahmed oversees UVM's identity centers, including the Center for Cultural Pluralism, the Prism Center, the Mosaic Center for Students of Color, the Women and Gender Equity Center and Interfaith Education and Engagement, according to a June 8, 2021 UVM Today article. 
Ahmed leads DEI initiatives and strategies and acts as a consultation resource for every part of the institution, he said. 
"Everybody cannot be an expert on everything," Ahmed said. "A faculty member that is trained in their profession has not necessarily been trained or given the tools to be successful on DEI."  
Sherwood Smith, senior executive director of the center for cultural pluralism, said while it took awhile for them to find someone to fill the position Ahmed's transition has gone really well.
"I was excited to have Dr. Amer Ahmed become the new VP, and I think we've got a good start on a whole bunch of projects," Smith said.
Ahmed brings in new creative ideas and a lot of experience from the several different institutions he's worked at, Sherwood said. 
"We have a good sense that sustainability is everybody's responsibility," Ahmed said. "I think we need to increase the capacity for our community to understand that it is also true when it comes to DEI." 
More info for what the office of DEI is doing can be found on the office of diversity, equity and inclusion page.