A look into student-run small businesses
March 17, 2022
In Harris Hall, hobbies are becoming businesses as three students sell homemade products right out of their dorm rooms.
Sophomores Sabine Love, Julia Lenz and Murphy Roberts create and sell unique art and clothing. They each advertise, design and market their creations all on their own to other students at UVM.
Sophomore Sabine Love runs a business selling original art, primarily black-and-white ink prints. Students from all across campus have bought her creations, which allows her to greater connect with the community, she said.
"People I don't know come and buy a piece of my art and have that art sitting in their rooms," Love said. "It's insane to think about."
Love has been drawing and making crafts her whole life, and after years of perfecting her craft, she was able to turn it into a business, she said.
Love is a part of the Vermont Students Toward Environmental Protection club, which gives students the opportunity to sell their art at its sustainable pop-up thrift store in the Davis Center, Love said.
It is a great opportunity to be a part of a space that is interested in buying student-made goods, Love said.
"I never thought I'd be selling prints and people would be buying them," she said. "I'm enjoying it."
Selling her creations allows her to develop entrepreneurship skills at her own pace, Love said.
"[After selling the prints] I'm able to see what people like and what sells the best," she said.
Sophomore Julia Lenz makes and sells earrings on campus.
"I started making [earrings] in fall 2020," Lenz said. "It's a fun hobby."
Lenz went into a local jewelry store looking for earrings and they were all very expensive, she said.
"But they had rocks in the back [of the store]," she said. "So I decided I'm just going to make them myself."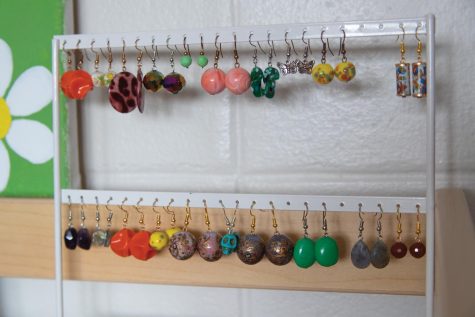 She makes them with a kit in her dorm room, she said. The rocks she buys have holes in them and she uses wire to turn them into earrings.
Initially, Lenz just made earrings for herself, but she decided to start her business after suggestions of selling them, Lenz said.
"People stop by [my dorm] or message me on Instagram," she said.
Lenz's business runs by demand. She tries to have extra earrings to have on hand, and also makes them specifically for custom orders, she said.
"When I'm out of earrings I go to the jewelry store and buy more beads and then make them," Lenz said. "[I do this] probably every two months or so."
Lenz makes multiple pairs at a time and then posts them on Instagram, she said. She posts every couple of months and has 114 followers.
Sophomore Murphy Roberts makes hats, neck gaiters, pants and convertible neck gaiters. He uses multiple fabrics but generally prefers fleece, he said.
Roberts uses what he would wear as his style inspiration and purchases his fabrics from Joann Fabrics, he said.
"I see what I would wear and if I would wear it, I get it," he said. "I think most people would wear the things I got."
It's nice to see people embracing his style, Roberts said.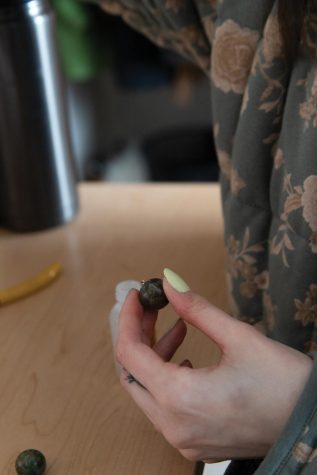 He made his first hat during the fall 2021 semester just for fun, Roberts said.
"I started sewing in middle school and then over Thanksgiving break I thought I'd pick up sewing again," he said.
Roberts's business started after his friends noticed his homemade hats and wanted some of their own, he said.
"Then their word of mouth carried it to other people," Roberts said.  "Now I have people messaging me wanting to buy hats."
While it's nice to know that people like the things he makes, making clothes was not meant to turn into a business, Roberts said.
"I just wanted to have a hobby, but I'm glad it has turned into what it's turned into," he said.
For Roberts, making hats and pants is something fun to do outside of school, he said. He sews the hats with a machine and then does a hand stitch in each one to make sure they can be turned right side out.
"I didn't think I would be making money but I am," Roberts said. "It's nice to see people enjoying the things I make and wanting to buy them."
Sophomore Emily Taylor bought from both Roberts and Lenz and supports student businesses, she said.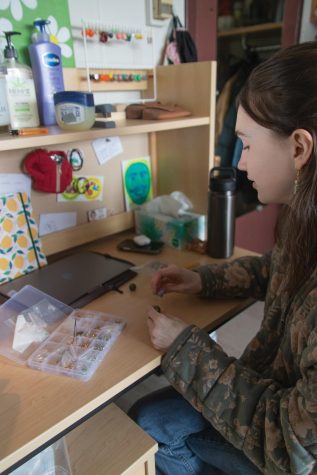 "It's something to be really impressed by when students have a great hobby that they make a fun side hustle out of," Taylor said.
In Taylor's experience, the students have always been very professional. They are especially approachable to a consumer who's also a college student, she said.
"It feels so incredible to help them with their business," Taylor said. "While also knowing that you're helping a great person work on their hobby and craft."
Love sells her art prints at the VSTEP table in the Rosa Parks room on the first floor of the Davis Center from 10:00 a.m. to 2:00 p.m. every Friday.
Roberts sells his clothing @muz_gear on Instagram.
Lenz sells her earrings @earringsby.juliaa on Instagram.