Bread and puppets meet activism in VT
April 14, 2022
Editor's note: This story was updated April 24 at 4:44 p.m. to correct the name of a river.
Returning from their recent tour, "Finished Waiting" and approaching their 60th anniversary, Bread and Puppet Theater has used puppetry as a medium for contemporary political commentary for the past six decades.
The theater began using art as a vessel for activism in 1963, often focusing on anti-war or anti-capitalist themes in both performances and art. Their work inspires artists to create protest banners, according to a July 27, 1997 Burlington Free Press article.
"From the beginning, the heart of the theater was responding to political and social issues," said Josh Krugman, a puppeteer with Bread and Puppet.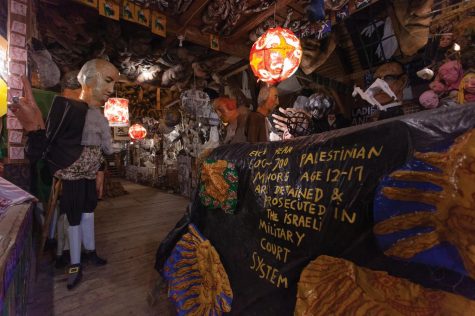 The company just returned from their recent tour titled "Finished Waiting," Krugman said. It ran from March 17 to April 3 throughout the Northeast and across the Eastern Seaboard, according to their website.
"[The show] is an attempt to grapple with what's going on in the world at this moment, especially in Ukraine, in Yemen and Palestine," Krugman said. "To deal with the U.S.' role in those events […] and how we assimilate them into our understanding of the world."
Peter and Elka Schumann founded the theater in a space in Manhattan's Lower East Side in 1963. The theater moved to Goddard, Vermont in 1970, then to Glover, Vermont in 1974, Krugman said.
This move led to changes of the productions and scale of the work with the space allowing for larger productions with materials from the Vermont landscape, Krugman said. They aim to use local materials for every step of the puppet creation process.
The actors use puppets made of papier-mâché molded from the mud of the Sheffield River, Krugman said.
After the puppet molds dry, the artists build metal frameworks inside the skins for structure. These are built out of branches from locally grown maple trees, wire and cardboard to attach these structures to the papier-mâché, Krugman said.
Local businesses often donate unused or expired gallons of outdoor latex paints which Bread and Puppet then use on the puppets, Krugman said.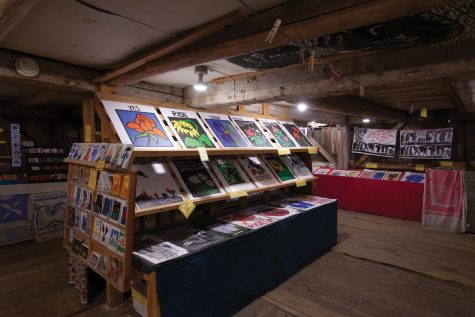 The "bread" in Bread and Puppet's name refers to the sourdough rye bread and aioli served at every performance, according to their website.
"Bread and Puppet believes that food and art are both necessary to human life and should both be available to everyone regardless of their means and that's what we try to do with our theater," Krugman said.
Peter Schumann made the bread oven from the same mud the puppet molds are created with, according to a Sept. 13, 2017 Seven Days article.
"To put Bread and Puppets together in 1963 seemed like a correct first step in the fight for the immediate elimination of all evil," Schumann stated in a 1984 pamphlet titled "Bread," printed by the Bread and Puppet press.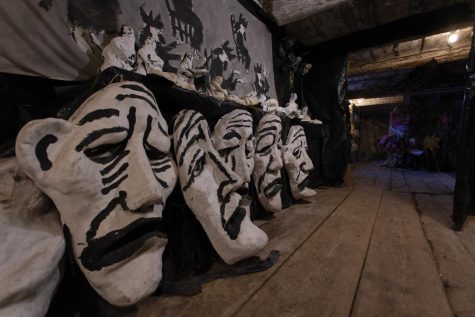 The theater performed the show "Wounds of Vietnam" in the early 1960s, "Laos" in 1947 and "Guantanamo Show" in 2008, according to their website.
In 2008, Schumann created a series of banners that were used to protest the Iraq War, according to Bread and Puppet's 2008 book, "Seventeen Questions About the Iraq War."
These banners included prints of soldiers portrayed as skeletons and were used in protests in Washington, D.C., Burlington, Montpelier, and  Barton and Newport Vermont, according to "Seventeen Questions About the Iraq War."
Bread and Puppet will celebrate its 60th anniversary in 2023.
Its work has been centered around keeping art accessible to everyday people, unlike institutions that emphasize wealth and class, Krugman said.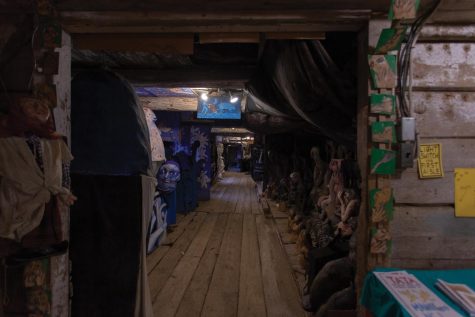 "Art is something that is for everyone, that everyone should be able to make and participate in," Krugman said.
Over the past six decades, Bread and Puppet Theater delivered their own political messages to audiences across the nation.
"The experience of art has the ability to transform things on an individual and collective level and the ability to set bodies in motion and set structures in motion," Krugman said.
The Bread and Puppet Museum, located at 753 Heights Road, is open from 9 a.m. to 6 p.m. daily. While admission is free, donations are welcome, according to the website.