From your plate to a pile of dirt: UVM's composting program
November 10, 2022
When members of the UVM community dispose of their food waste, they have three options. The compost bin, meant for food scraps and paper napkins, is one of them. 
While everyday students dispose of their uneaten food into the compost bin, once their food scraps leave the plate, they take a long journey to be sustainably processed. 
Compost is organic material made up of broken-down food scraps and yard waste that can be added to soil to help plants grow, according to the United States Environmental Protection Agency.
However, composting at UVM can be confusing for many students, said Corey Berman, UVM's Recycling and Zero-Waste Program coordinator.  
The actual process of composting—the breaking down of food waste—is not done at UVM, according to Berman. 
"There's a differentiation," Berman said. "We're not actually composting at UVM, we're collecting food scraps that will eventually go in and turn into compost, but we don't actually do any of the composting." 
Processing the compost
After food scraps enter the compost bin, UVM Dining and Residence Hall staff collect and send the waste to a loading dock on campus. From there, the waste is brought by a contracted hauler, Casella Waste Systems, to Green Mountain Compost, an industrial composting plant in Williston, Berman said. 
Because it is a commercial facility, Green Mountain Compost has the ability to compost any food or organic material that is sent to them, Berman said. 
"It doesn't matter if it's meat, bones, fish, dairy, sugar, oils," Berman said. "If it's an organic product, meaning if it's edible, whether we're actually eating it or it's used in the process of cooking or producing what we're eating, it can go there."
At Green Mountain Compost, UVM's food waste is composted with other organic waste from across Chittenden County, said Dan Goossen, director of compost for the Chittenden Solid Waste District. 
Organic waste is broken down into nutrients at Green Mountain Compost using a natural chemical process, Goossen said. 
"You need to have the right blend of carbon and nitrogen—essentially, the right amount of moisture and the right amount of oxygen," he said. 
The nitrogen comes from food waste and occasional animal waste, like manure, and the carbon comes from yard waste, such as leaves raked from a lawn or wood chips provided by Green Mountain Compost. 
Where human engagement enters the process is to oxygenate the compost. Green Mountain Compost uses fans, Goossen said. 
If all those requirements are correct and conducted properly, the bacteria that actually does the composting will be able to successfully break down the organic waste, Goossen said. 
After the compost has been processed for six to eight weeks, it's almost indistinguishable from the food scraps it started as at the beginning of the process, he said. It then goes to a machine that rotates it periodically in order to fully process it into dirt and nutrients, Goossen said. 
"We turn them about once a week for another approximately two to three or maybe four months," he said. "And after that, they're really finished and ready for consumption by gardens, lawns, landscapes."
After the food scraps have been fully broken down and turned into compost, the final product is sold as fertilizer for gardens and yards, Goossen said. 
The end of compostable packaging
One major change at Green Mountain Composting in the last year has been to stop accepting compostable dining sets, Goossen said. This is because it is difficult to filter what is compostable packaging and what is not. 
"We need to be able to easily distinguish between things that we want and things that we don't want," Goossen said. "The compostable products are really hard to distinguish from their non-compostable counterparts, particularly at the scale that we're operating because we get many, many tons of material a day." 
This has impacted operations at UVM's composting in dining hall facilities, Berman said.
Compostable products are still used in dining halls because they remain in the supply chain, Berman said. Students now need to place compostable packaging in the garbage to be sent to the landfill. 
"Somebody on campus may see a compostable cup, plate, something like that," he said. "It now has to go in the trash can because [it] cannot be recycled."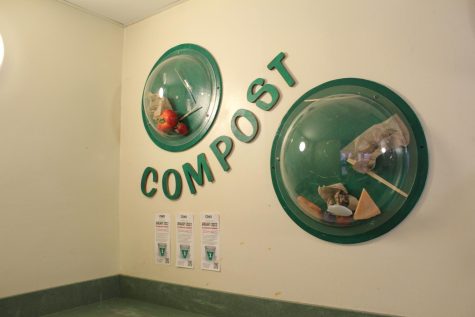 Goossen stressed the importance of avoiding compostable products altogether because of their encouragement of single-use products.  
"[Compostable products] are generally used one time and then thrown away, hopefully to a compost facility, but a lot of them never make it," Goossen said. "They're not the panacea that the industry that makes them makes them out to be."
Due to staffing issues, it can be difficult to move away from compostable dining sets at UVM, said junior Olivia Galluzzo, team lead for the Eco-Reps Waste Team.
"I know that a lot of people are upset about this and the reason why that is the case is because of staffing issues," Galluzzo said. "They can't run the dish station if they don't have enough staff, so they have to resort to those single-use." 
At some point in the future, Green Mountain Composting may be able to explore accepting compostable packaging again, Goossen said. 
"Someday in the future, we may be able to entertain a program where we could take compostable materials if we were kind of guaranteed that there would be no chance of other contaminants being mixed in but that would take a lot of planning and it's hard to do that," he said. 
Composting in residence halls
First-year Juliet Rapaport didn't feel composting was accessible to her and didn't know of the residence hall composting program, she said. 
"I just put everything in the garbage because there's no compost on my floor," Rapaport said. 
To address the lack of awareness, increased visibility for the residence hall composting program is something the waste team is working on this year, Berman said. 
Students living in all UVM residence halls have the ability to pick up a brown bag at the front desk of their hall and fill it with food waste from their room, Galluzzo said. 
"And once their bag is full, they just bring it down to the lobby of their residence hall and throw it in one of the compost bins, and then they pick up a new bag at the front desk," she said. 
This composting program, in its current iteration, has existed since 2013. Previously, the program was run entirely by the Eco-Reps rather than the University. 
Not as much food is collected from the residence halls, so the program is an attempt to curb the amount of waste sent to landfills, Berman said. 
"The next challenge really is highlighting this residence hall program and really getting more folks to participate," he said. 
The Eco-Reps are working on promoting this program further through flyers, educating residence hall staff and providing resources on the composting program that are available at the front desk of each residence hall, Galluzzo said.  
Making zero waste lifestyles accessible 
This problem with visibility and accessibility is what Berman and the Eco-Reps are working on, Galluzzo said. 
"Not everyone has equal access to living zero-waste," she said. "So we're working on making that more accessible to all students." 
The Eco-Reps group is working on several projects to increase accessibility, Galluzzo said. The biggest is the Zero Waste Resource Fair, which will be held Nov. 15 in the Davis Center and will bring off-campus sustainable practices and companies to students. 
"We're bringing partners to the Davis Center, to UVM's campus, for students to interact with who they may not have had the opportunity otherwise," Galluzzo said. 
The Restock Shop, a zero-waste refill shop, and No Waste Compost, an at-home composting program for students living off campus, will be at the resource fair, Galluzzo said. 
It's important to both compost as well as ensure that composting is accessible within the greater UVM community and Chittenden County, Goossen said. 
"I think [composting] is a critical thing that everybody should be aware of and hopefully participating in at some level," Goossen said. "It's basically nature's way of returning nutrients to the soil which, if it's done well, would mean that we don't need to import nutrients in the form of fertilizers, which cause all sorts of problems."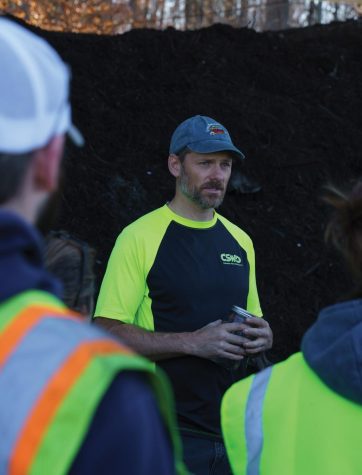 Green Mountain Compost also has programs that work to increase composting accessibility, including educational workshops for people composting their food waste themselves, Goossen said. 
"There's a lot of people who don't bring their compost to our facility but still are composting at home in the backyard or some very small-scale compost piles," Goossen said. "We hold educational workshops teaching people how to do that well." 
Berman's next step for composting and sustainability at UVM is encouraging sustainable mindsets and encouraging people to take advantage of UVM's sustainable resources, he said. 
"The challenge there, that's: how do you bridge that gap between providing all the infrastructure and a certain amount of education and getting the person talking about behavior change," Berman said.
Beyond increasing accessibility to composting, UVM is approaching broader sustainability goals for the future, Berman said. 
The waste team is especially looking into reducing the resources and waste that accumulates on campus, he said.
"We're looking at the current resources that we use on campus and essentially finding ways where we can either reduce what we're using, or ultimately reuse what we're currently using," Berman said. 
Galluzzo added the importance of students pushing the University towards more sustainable practices. 
"I think there is a lot of work that can be done with sustainability at UVM," Galluzzo said. "A lot of which is holding [the] administration accountable for climate goals."
UVM is currently working on a new climate goals plan following past failures to meet their goals for sustainability. 
While UVM has many ways in which it can improve, its reputation for sustainability precedes itself, Berman said. 
"I think UVM has a great reputation of being an environmentally-friendly campus and environmentally progressive," he said.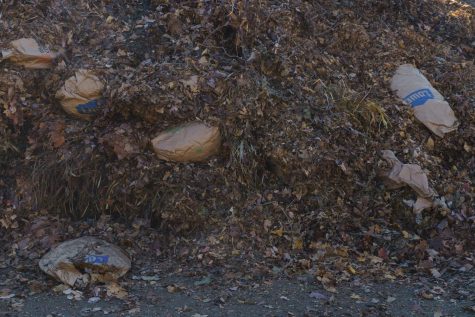 UVM has also been a strong partner of Green Mountain Compost, especially given the University's ability to filter out contaminants, Goossen said. 
"UVM has been an excellent partner for many decades," he said. "I've been involved with our operation for almost 20 years and that entire time UVM has always been one of the best sources." 
The most important composting goal right now is increasing student visibility and accessibility to composting and sustainability, said Berman. 
"This affects everybody," he said. "This is the kind of stuff that everybody ideally will know about. Everybody will have access to and everybody will have a relative knowledge of how to participate in these programs."