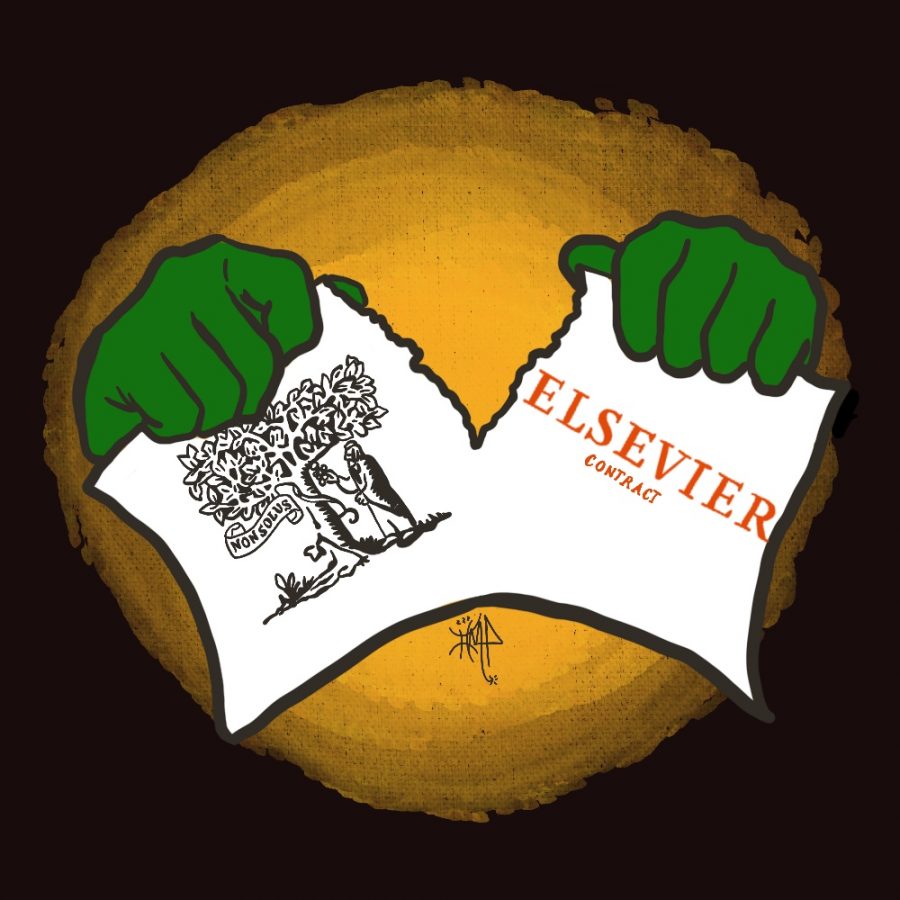 How will the termination of the contract between UVM Libraries and its biggest provider of scientific journals affect you?
April 16, 2021
In December 2020, the UVM Libraries made the decision to end their contract with Elsevier, a publishing company whose online database, ScienceDirect, contains many important medical and scientific journals. 
The decision came following failed negotiations with Elseiver to lower the cost of subscription fees, yet this also means that UVM Libraries, and therefore affiliated faculty and students, lose access to the journals rented via ScienceDirect.  
The decision is on the heels of a larger national movement to boycott the publishing company for its high prices and hold on the research market. Beginning about a decade ago, the group The Cost Of Knowledge gathered 18,140 signatures from a variety of researchers who are boycotting the company, according to The Cost of Knowledge website.
In July of 2019, The University of California ended their contract with Elseveir, citing Elseveir's disagreement with promoting open access to published research, according to a July 2019 Daily Bruin article.
UVM's issues with Elsevier remained on the budgetary level, Dean of Libraries Bryn Gefert said. 
"Elsevier just would not budge," Geffert said. "As a result, we did not renew our contract when it came due."
Geffert specified that this means UVM Libraries will no longer receive new articles from ScienceDirect database journals, yet is able to maintain "retrospective access." While UVM Libraries have lost access to Elsevier journals they were renting, they maintain possession of articles previously purchased.  
Prior to the decision to end the contract, UVM Libraries paid 25% of UVM's entire collections budget in subscription costs to Elsevier. This cost UVM Libraries $1.8 million in 2020 alone.
Although the contract termination has left a gap in UVM's ability to access the newest journals, it has opened up opportunities for the library to spend their money elsewhere. 
"We have also set aside some of the money from the savings we realized by leaving Elsevier to hire more Interlibrary Loan staff if necessary," Geffert said. "If we discover that the Interlibrary Loan requests are going to require us to have more staff to fill those requests, we will." 
The Interlibrary Loan Services enables UVM faculty and students to access copies of articles UVM does not have through  loans from other university libraries. These requests typically take about half a day to process. 
Because the contract termination is still a recent change, the changes and impacts to the UVM Libraries are still relatively unknown. 
"We're only just beginning to compile interlibrary loan statistics following the non-renewal of ScienceDirect, and we don't yet have meaningful data to share, " Assistant Dean Sarah Gordon said. 
In the year following The University of California's contract termination, the University saw "limited negative impact," according to a February 2020 Daily Bruin article.
There, librarians expected a substantial increase in interlibrary loan requests for Elsevier content, however the increase was minimal, according to the Daily Bruin article.
"I think we've shown that a lot of the use of titles in the Elsevier package is concentrated in a small percentage of their offering," university librarian Virginia Steel told the Daily Bruin. "The days of us paying for all this content, for things that don't have value to students or faculty, I think we should consider those passed and move on to a new arrangement."
Still, UVM students who rely on Elsevier research will be facing a transition in how they access databases. 
Junior Biological Sciences major Natalia Sowulewska said, "If I have to write a lab report, I have to back it up with information. This just makes it more difficult for me to find research that can backup my lab work."
For faculty or students who need immediate access, Geffert explained how the UVM Libraries are looking at other private company options
While UVM Libraries' contract with Elsevier has been terminated, UVM faculty and professors are still fully able to publish their research in journals housed in ScienceDirect. 
"The more it was clear to us how expensive and predatory the relationship with Elsevier has been, you just look at this and go, 'how is it that we continue this?'" Associate Professor of Geography, Pablo Bose said. 
UVM faculty also have the option to upload copies of their own papers onto UVM's institutional repository, ScholarWorks. According to Geffert, an institutional repository is a website which contains articles, and may be affiliated with a specific university, or a specific academic discipline. 
"When we use the phrase institutional repository, we mean a repository run by an institution for the benefit of everybody," Geffert said. 
Open access is another concern in the current landscape of scholarly publishing, according to Geffert. Commercial publishers require libraries to sign contracts limiting who has access to their research and articles, meaning that this research is not available to those outside of the UVM community, and UVM students post-graduation.
"We have to support new forms of publishing that make this literature available to everybody, and not only those fortunate enough to be currently enrolled at a university," Geffert said. 
To make this literature more available, many university libraries are working to create their own journals that would compete with the commercial academic journals that currently exist.  
Research also comes in forms and mediums besides academic journals, according to Bose. Bose said that when thinking about how he teaches research to students, there are many other less elite methods of gaining research, outside of traditional books and journals, that UVM Libraries are already incorporating. 
"It's a bigger sort of question about where you're getting your knowledge from. When you're looking at a distributor like Elsevier, they have a lot of top tier journals. There's a real sort of elite sensibility to them," Bose said. "But of course there are other avenues that people are using to publish their work, and so part of this asks for a bit of creativity on our part." 
UVM Libraries recognizes the position faculty will have to navigate. 
"We realize that this is a decision that does have an effect on the faculty," Geffert said, "and their willingness to endorse our move, despite knowing that it will create some inconveniences, I think really speaks to the altruism and admirable commitments of our faculty."