Masala Elaichi serves BTV authentic Indian food
March 25, 2022
The scents of Masala Elaichi, a family-run restaurant, waft from the corner of Colchester and East avenues, drawing in UVM students to taste staple dishes of India.
The restaurant, previously named Elaichi, first opened in 2020 at 207 Colchester Ave. It re-opened in December 2021, featuring a new name and a renovation by owner Varinder Matri. Before Elaichi, the building housed another restaurant called India House.
Matri and brothers-in-law Sikander Badhan and Priyank Shah bought the restaurant in 2020 after moving to Vermont from New York City. Matri is now the sole owner and changed the name to Masala Elaichi during his re-opening, he said.
"I added Masala to the name because people know what it means," Matri said. "Elaichi means cardamom, masala means spice."
Many people discouraged Matri and the other former owners from opening a restaurant in the middle of the pandemic. They chose to move forward anyway and it paid off, he said.
"In Corona time, nobody was opening up restaurants," Matri said. "Nobody opened up anything. So, I thought that people would need our food."
Many Indian people live in Vermont, but there are few Indian food options, Matri said.
One of his passions is helping college students and community members in need stay fed. College was financially difficult for Matri and he wants to keep others from having a similar experience, he said.
"My wish is that a lot of students will come here," Matri said. "Money does not matter. [If] they come here, they're going to eat."
UVM students come to the restaurant regularly and Matri enjoys seeing familiar faces. There are a variety of student discounts offered. Matri hopes to create a place students can rely on for affordable, delicious food, he said.
"I don't want anybody hungry," Matri said. "That's my wish."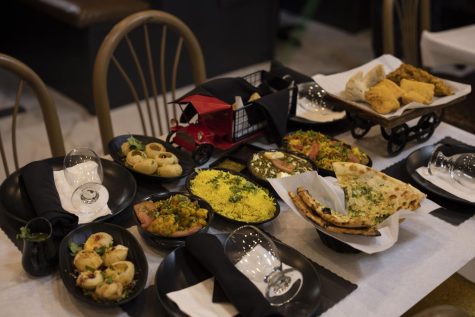 The restaurant's student discounts include a Sunday buffet for $10 each and a lunch discount including rice, two curries and naan for $8.50.
"My favorite is the mango lassi," Matri said. "Chicken tikka masala and garlic naan are the most popular [dishes]."
Sophomore Rebecca Vassilenko is a Trinity campus resident. She enjoys grabbing her favorite dishes as takeout from Masala Elaichi, she said.
"I started eating there after moving to Trinity campus where the dining hall options are really limited," Vassilenko said. "It's a two minute walk from my dorm."
Trinity's dining hall, Northside Dining, converted to a grab-and-go market this year, leaving students frustrated with food options, according to a Sept. 17, 2021 Cynic article.
"The staff are so friendly when I walk into the restaurant," Vassilenko said. "I know it's become a staple for a lot of other students on Trinity."
Her favorite dishes are the tikka masala and butter naan, she said.
"I usually get takeout from them," Vassilenko said. "I love how easy it is to order online and they are really quick. It's great when I am not able to get back to the dorm for dinner."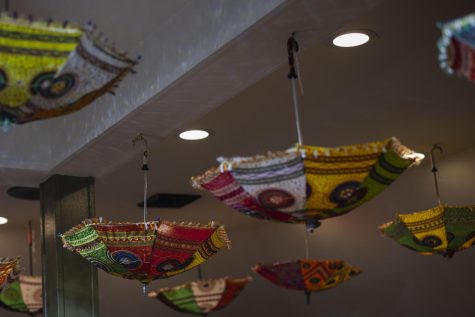 Matri's father-in-law, Suraj Mattri, worked at the previous restaurant India House until it closed in 2019 and now manages Masala Elaichi. He has been in the restaurant business for years, Matri said.
"He takes care of everything here," Matri said. "None of this would happen without him."
The restaurant has five employees including Matri's sister and brother-in-law. They hope to hire others to take phone orders and someone to bartend, he said.
They await the arrival of their liquor license and plan to build a larger bar soon. With this, Matri hopes they will stay open later and draw in more people. Once the bar opens, he plans to have a 30% off drinks discount for students, he said.