Nonprofit mural project fosters community
September 14, 2021
There is now a tranquil scene of sailboats floating across the water on the underpass on the corner of Farrell and Swift Street in South Burlington. 
The 12 by 50-foot mural, completed last month, was brought about by cancer survivor Steve Milizia to honor and preserve his experiences. He participated in Sail Beyond Cancer, a local organization that brings cancer patients and their loved ones out onto Lake Champlain. 
Suzanne Johnson, founder and executive director, said with chapters in Burlington and North Shore, Massachusetts, the nonprofit organization takes nominees out for private three-hour sailing excursions.
"When you're going through something like that, it's the most refreshing, life-giving thing," Milizia said. 
Milizia wanted to spread the word about the powerful experiences the organization can offer to other cancer survivors. 
"My family and I just wanted to do a nice, quiet thing to say thank you," Milizia said. 
He thought a nice way to do so would be getting involved in the recent campaign to put art on some of the more mundane structures around town, like electrical boxes. 
Local infrastructure has seen a spike in art in the past few years. The project is led by Katie O'Brien-Barritt, a retired South Burlington art teacher. She has people in the community come to her with ideas that matter to them, and she usually handles getting permits and supplies, she said. 
Since O'Brien-Barritt did not have any electrical boxes available at the time, she offered Milizia the 12 by 50-foot wall of an underpass, she said. 
Milizia tried his best to get a permit and a crew together to paint the mural. But between the Vermont Department of Transportation stalling the permit process and a decline in Milizia's health, he turned the project over to O'Brien-Barritt to move the permit process along, he said.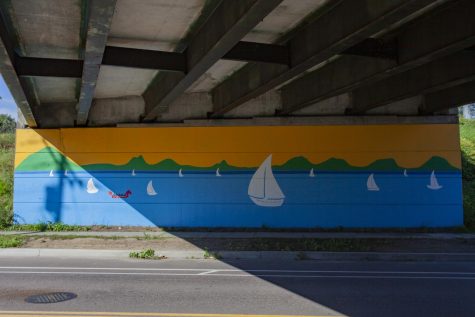 With significant community support, O'Brien-Barritt petitioned the department. Thanks to her persistence, the project was finally approved, and O'Brien-Barritt got to work finding an artist to make the design and volunteers to bring it to life. 
"Five days later it was done," O'Brien-Barritt said. "I put something out on Front Porch Forum looking for volunteers, and within just 24 hours I had 10 people volunteering." 
Painter Phyllis Bartling came up with the design, and in less than a week the mural was completed mid-August. She had so many volunteers that she had to send people away because the mural was already finished, O'Brien-Barritt said. 
O'Brien-Barritt said this project represented the value of a supportive community. 
"That's the beauty of South Burlington," O'Brien-Barritt said. "Whenever something comes up, I just go to Front Porch Forum, put a note out and people are always willing to help out or step up and volunteer their time."
In addition to being founder, Johnson is one of 18 captains of Sail Beyond Cancer. As a single mom going through treatment for breast cancer, she found refuge on the water, she said. 
"To be on a boat, to be empowered by nature, by the wind; that was incredibly powerful for both me, my family and friends," Johnson said. 
Those experiences inspired her to start Sail Beyond Cancer in 2014. The nonprofit allows participants to sail free of charge, Johnson said.
All the trips are on boats that are privately owned by the captains or donated to the organization.  
With 18 boats at their disposal, each excursion is run by one captain and two crewmates, most of which are volunteers. They allow nominees and their families to be as involved in the actual sailing process as they desire. 
Johnson said it is a unique experience for cancer nonprofits to be interacting directly with the patient and their loved ones.
Milizia happened to drive through the underpass while it was being painted and was thrilled to see the outcome. 
"They're painting the most beautiful, calm, wonderful scene that expresses what I believe Sail Beyond Cancer is," Milizia said. 
The story of the mural is about old friends, new friends and a community coming together to represent the nonprofit they believed should be recognized, Milizia said.