Student labor helps CREAM barn run
September 28, 2021
Holstein cows line up at milking machines at the Miller Research Center barn while students attentively assist the process. 
These students are part of the Cooperate for Real Education in Agricultural Management. CREAM gives pre-vet and animal science students academic credit for helping operate a dairy barn. 
CREAM's faculty adviser Stephen Wadsworth oversees the program and teaches courses. 
The students are the ones who run the show, Wadsworth said. 
The CREAM barn produces milk sold for profit into larger dairy markets and works with Cabot through Dairy Farmers of America, Wadsworth said. 
"[Cabot] is the largest dairy cooperative in the United States," Wadsworth said. "We ship to a smaller cooperative that's mostly in the northeast of the United States called Agri-Mark." 
The milk is sent to wherever Agri-Mark has a need, Wadsworth said. Some of which goes to the Wilcox ice cream company that makes the ice cream that is sold to the Davis Center snack bar.
"[CREAM] is trying to be an exemplary herd, for the state of Vermont, using all the science and technology that we can to achieve profitable dairy production," he said.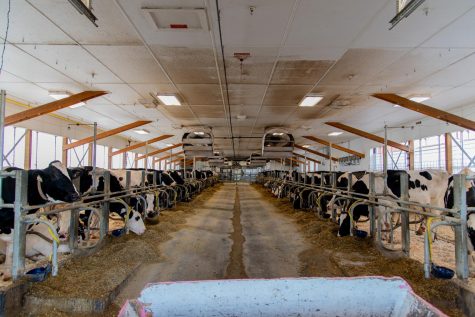 All of the profit is thanks to the 20 students who manage the barn and take care of the cows as unpaid laborers, Wadsworth said. Students pay for four credits to do CREAM.
"Most of [the students] are in the pre-professional or pre-veterinary focus in the animal veterinary sciences department," Wadsworth said. 
Additionally, most of the students are female-identifying. A majority have little to no experience with cows and dairy farming, Wadsworth said. 
"They start off in the beginning with essentially no knowledge, and within a few weeks, they are doing all the care for the herd," Wadsworth said. 
Students try out for acceptance into CREAM. They perform chores before they start earning credit. 
To try out, students have to complete morning and afternoon chores. The breakfast chore starts at 3 a.m., said junior CREAMer Elise Wellman.
Throughout each week students have class twice, barn meetings and performing chores.
The chores include milking the cows three times a day, feeding the cows and sometimes even helping a cow give birth. This schedule depends on numerous factors, such as how often herds are milked, Wellman said.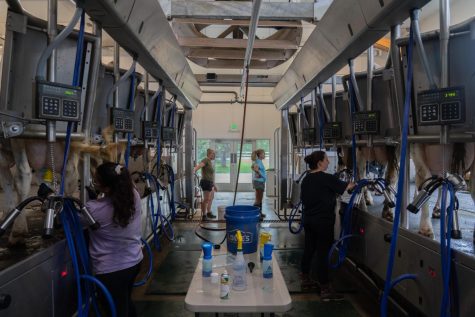 After the trial chores are done, the potential students have an interview with two full time CREAMers and Wadsworth. If they get accepted, their days are filled with waking up and milking the cows for a semester or a summer. 
CREAMers also make breeding decisions, and take care of the baby cows, Wadsworth said. 
Wadsworth said even if students don't go into the dairy field, they have knowledge about the dairy industry and how livestock is managed. However, this knowledge takes time and experience to learn and often requires a teacher. 
 Matt Bodette manages the barn and guides students in their daily chores, Wadsworth said. 
Wellman completed CREAM last summer and said even before she came to UVM she knew of the program. 
"It's a huge program, there is nothing really like it. Also, vet schools love this program," she said. 
Junior Lillian Schnurr said she worked with horses her entire life and she wanted to switch it up by working with cows. 
"When I first toured UVM, it was the thing that drew me in," she said. "Everyone who came out of it could not stop talking about what an incredible experience it was." 
Wellman said she got veterinary experience when she helped a cow that had something wrong with its udder, and she loved working with the baby cows as well. Learning how to properly help a cow give birth was one of her highlights of the program.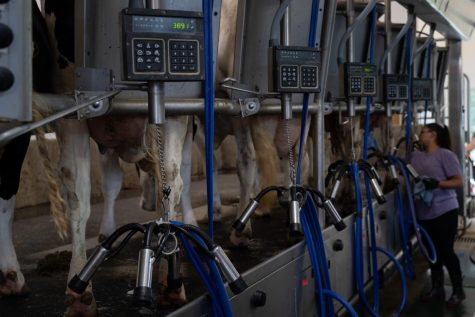 Schnurr said she made valuable connections in the program, not only with the other people in the program but also with people in the dairy industry. 
"It's incredible how much you can learn from such a passionate community of people," she said. 
She also started to reconsider her veterinary path when doing the program, Schnurr said. 
"I've always wanted to work with either equines or small animals," she said. "I had no intention of working with cows, but I've definitely reconsidered that and it's definitely an option." 
Wellman said her class was bigger than most and she hopes the program continues to expand.
"It's just amazing, everyone should do it, no matter your major," she said. 
Though CREAM volunteers contribute to a larger dairy profit, they view their uncompensated labor as valuable to their future careers.