Three unique eateries share one location in the Old North End
January 19, 2022
Community, identity and sandwiches come together in the Old North End at Poppy Cafe & Market, owned by sisters Abby and Emily Portman. 
The cafe is located in a cooperatively owned building at 88 Oak St. that houses two other local businesses. The sisters make a wide variety of Italian and Jewish inspired sandwich recipes reflecting their heritage in hopes of creating unique options. 
"Opening up a restaurant has always been a far off dream for Emily and I," Abby said.
The sisters grew up in New Jersey, both attended Colorado College and eventually found their way to Burlington for graduate school. 
The Chubby Muffin, a coffee shop owned by Benjy Adler, previously worked out of 88 Oak St. and closed its doors in 2020. When the building went up for sale it seemed like a perfect spot for the new restaurant, Abby said. 
"We wanted to be a part of this little community because I think the Old North End is a really special place in town," Abby said. 
However, the financial burden of starting a restaurant and buying a building made the sisters hesitant, Abby said. 
"We obviously couldn't afford to purchase the whole building," Abby said. "We connected with Nat Crop from the Vermont Employee Ownership Center who is a co-op enthusiast in town, he helped and kind of spearheaded the formation of a real estate co-op." 
Three businesses wanted access to the building, including Cafe Mamajuana, All Souls Tortilleria and Poppy Cafe & Market. With a cooperative system, the community helps to supply funds for businesses while having joint ownership in the profits. 
"The building is technically owned by 75 different members of the community who all pitched in and then will receive a return every year," Abby said. 
As a result, the three businesses split the time and space, with Poppy open in the morning and Cafe Mamajuana in the evening. All Souls Tortilleria uses the space for flour tortilla production.
"It's great for us because we got to share all the equipment, and we could split the cost of construction," Abby said. "Plus it's pretty nice to have a community of businesses that are all together."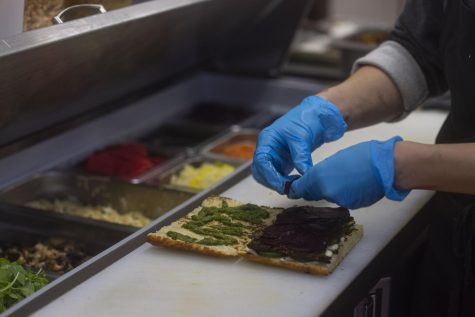 Prior to Poppy, Abby moved to Vermont to work at the Burlington Intervale Center, a food and farming non-profit, doing community relations and working closely with food, she said. 
With backgrounds in food and community relations, the sisters knew they wanted to combine their skill sets, Abby said. 
Abby and Emily designed the menu and based it around a take-out system. The sisters have Italian and Jewish heritage and try to bring their favorite recipes from their cultures to the cafe. 
"[We] like playing around with all these different foods that we love and create a sandwich out of these flavors," Abby said. 
Senior Katelyn Key enjoyed both her experience at Poppy and the sandwich itself, she said. 
"People should go there if they're interested in trying a really good quality sandwich with unique flavors and variations," Key said. 
The friendly atmosphere and vegetarian options stuck out for Key, she said. 
Working as sisters benefits the operation of Poppy since they know each other so well, especially in the recipe creation, Abby said. 
"So much of our relationship is built off of going back and forth and figuring out how to make something taste the best and how to incorporate different ingredients," she said. 
With more kitchen experience, Emily runs the food production, while Abby is in charge of the front and customer relations, Abby said.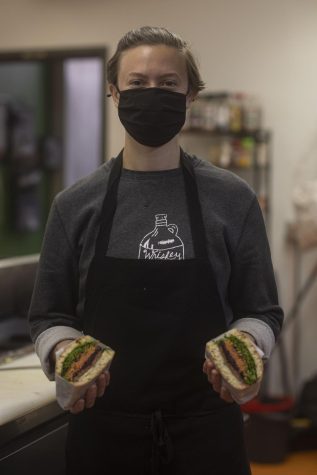 Burlington resident and friend Joyce Cellars frequently collaborated with Abby at the Intervale Center, Cellars said. Through their work together, Cellars saw Abby's passion for both food and community.  
"[Abby] really understood the power of food to bring people together and connect people, and she started making our events and activities so much better through her work at the Intervale Center," Cellars said. 
Watching the sisters in action inside Poppy is a joy for Cellars, she said.
"They're very serious about what they're doing," Cellars said. "They're going to work really hard to make sure that everything is up to their very high standards."  
Abby said she and her sister are always figuring out how to grow Poppy. They hope to continue to expand their menu in 2022. 
"We're going to work on adding on a lot more different food options and getting more into breakfast and really building up what we can offer," Abby said. 
Poppy is open Tuesday-Friday from 8 a.m.-2:30 p.m.