UVM alumn advocates for Alzheimer's services
May 5, 2022
Vermont resident Pamela Smith completed her master's in social work at UVM in 1997 and was a mental health and human services professional in the state for decades, she said. In 2019, she received her Alzheimer's diagnosis.
Smith has early-onset Alzheimer's, a type of Alzheimer's occurring in individuals younger than age 65, according to the Alzheimer's Association. It represents a small subset of people with Alzheimer's, although the exact prevalence is unknown.
Alzheimer's is a kind of dementia that impacts memory, thinking and behavior, according to the Alzheimer's Association. Symptoms progress to eventually interfere with daily tasks.
For Smith, the diagnosis meant leaving a field of very meaningful work and losing a sense of competency and purpose, she said. While she grappled with these drastic changes in her working memory, it felt like the people she reached out to for help weren't listening to her.
"My whole career, the professionals listened to me like I was a professional, talked to me like a professional and they listened to what I said as a professional," Smith said. "Then when I went to the same people and I was the patient, it was like nothing I said had any value."
Smith also noticed that her doctors seemed to take her more seriously when her daughter, Eryn McElhaney Smith, attended appointments with her, she said.
Because early-onset Alzheimer's is rare, younger people with the condition sometimes struggle to get adequate care, from diagnosis to accommodation services, said Howard Goodrow, executive director of the Vermont chapter of the Alzheimer's Association.
"People with early-onset Alzheimer's have a hard time getting people to understand what they're going through, mostly with family members and then even doctors," Goodrow said.
Smith started noticing symptoms when she was 50, and it took two and a half years of seeking help from medical professionals for her to receive a diagnosis, she said.
"I kept getting passed from one specialist to the next because nobody wanted to believe it," Smith said. "It's just something nobody wants to believe can happen, so everybody's got rationales to make it okay and not so bad."
Smith's frustration led her to compile a list of services and protections related to Alzheimer's care that she wanted to see her local legislators address, she said. This outreach to Addison district legislators marked the beginning of her involvement in advocating for Alzheimer's support in the local legislature.
This advocacy gave Smith's life a sense of direction again, she said.
"You just constantly feel like you're drowning in one loss after another, and then I use the advocacy to pull me out of that," Smith said. "I say, 'Well, what else can I do?'"
Through advocacy in the legislature, Smith connected with Addison District Senator Ruth Hardy and began working on S.206, a bill designed to put into place a more robust tracking system related to Alzheimer's diagnoses, treatments and supportive services, Smith said.
Right now, there is no national system through to keep track of early-onset Alzheimer's cases, according to the Alzheimer's Association. Without that data, the population can't be adequately served.
The bill passed in the House April 22 and awaits a Senate vote, according to the Vermont Legislature website.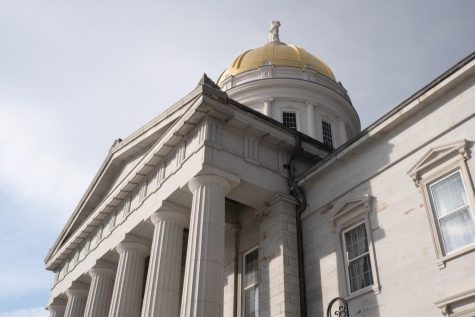 One issue Smith is most passionate about is getting people with Alzheimer's access to case managers, she said.
Case Management invlolves assessment, planning, facilitation, care coordination, evaluation and advocacy for services to help meet the needs of patients and families whilst prioritizing safety, quality of care and cost effective outcomes, according to the Case Management Society of America.
If Smith were to obtain a case manager, she would have to recruit them through a private company and pay for it out-of-pocket because her insurance doesn't cover it, she said.
"My daughter and I kind of work together to be my own case manager and make private calls on our own to try to get me some in-home help," she said. "But there's no system of care."
This gap between diagnosis and access to day-to-day accommodations reflects a lack of personnel and monetary resources both in Vermont and nationwide, Goodrow said.
"[Memory care unit] waiting lists are very long," Goodrow said. "So we've got a lot of primary care physicians who are hesitant to make any diagnoses because there's nowhere for them to go."
The only care Smith has been able to secure is help preparing meals for a few hours per week, which she has to pay for independently since her insurance doesn't cover it, Smith said.
There are 13,000 Vermonters with Alzheimer's, Goodrow said.
There are over 26,000 family members and friends providing unpaid care for people with Alzheimer's in Vermont, Goodrow said. This adds up to 37 million hours of unpaid care and $758 million worth of unpaid care given per year by families of people with the condition.
"There's just an expectation in the state that you have family who don't have to work, that can come and take care of you," Smith said. "And of course, that disproportionately is going to fall on women."
The expectation this puts on families is enormous, Smith said. If professional case managers aren't available for people with Alzheimer's, there should be a system of monetary compensation for families that do this work for free.
Since her diagnosis, Smith has been able to connect with Vermont general assembly legislators as well as U.S. Senator Patrick Leahy to testify in support of increased supportive services for people with Alzheimer's, she said.
"I have thrown myself into doing everything I can," Smith said. "I found my purpose again and that really has turned everything around."
Anyone in need of Alzheimer's-related resources can call the Alzheimer's Association's 24/7 helpline at (800) 272-3900.