UVM FeelGood helps students fight world hunger from home
September 8, 2022
A long-time UVM club is creating an on-campus opportunity for students to actively engage in the battle against world hunger by way of grilled cheese. 
UVM FeelGood is a chapter of the national organization FeelGood, which works to raise money for The Hunger Project by selling grilled cheese sandwiches to students on college campuses. Students make a donation as payment for their grilled cheese and all proceeds go to the effort to end world hunger, according to the FeelGood website. 
The Hunger Project is a global nonprofit that aims to work sustainably to end world hunger and poverty. They promote grassroots, women-centered strategies in their efforts, according to The Hunger Project Website.
"Our main focus is ending world hunger and extreme poverty, but a lot more goes into that," said sophomore Hanalei Henderson. "We have a focus on helping women find jobs, and we tend to focus on areas that are historically more impoverished."
FeelGood was closed off to student volunteers during the beginning of the COVID-19 pandemic, said Deli Manager Lauren Snow, a senior. Only officers of the club were able to participate in the hands-on cooking and customer service process.
"COVID restricted the club a lot," said junior and Treasurer Kelsey Rodowicz. "I wasn't able to participate in my first semester volunteering and helping. It was mostly just online meetings, which sucked. Now that we're back up and operating, we can have volunteers come in." 
In spring 2022, the club set a goal of raising $10,000, which they were able to meet and exceed, said junior Maddie Fishman, retainment and recruitment chair for FeelGood. 
"Last year, once we were able to reopen up the club a lot more to volunteers, we started rebuilding and focusing on attracting more general members," Snow said. "It's been pretty successful so far, improving since COVID started."
The club also works with representatives from The Hunger Project, Fishman said. They help to set goals for the club and talk about the fight to end world hunger and what that entails.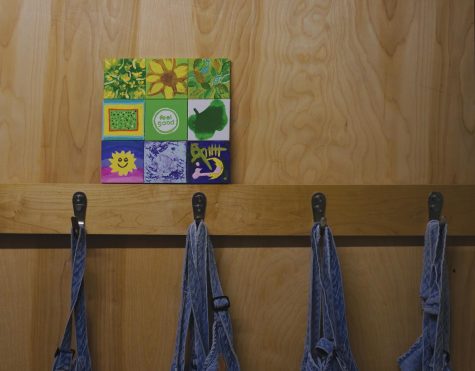 This year, a full panel of representatives will come work with the club in an intentions workshop, Fishman said.
"We will all set our intentions for the year and set goals not only for ourselves, but for our club and for what we want the future to look like," Fishman said.
The club not only works to spread the message of The Hunger Project on campus, but also thoroughly educates its members on the mission that they are volunteering their time to, Snow said.
"I've definitely become more aware of how poverty works in the world a little more from being in the club," Snow said. "We also have an education chair every semester so we usually have them lead at least one meeting to kind of explain The Hunger Project and [the] feel of its goal." 
Grilled cheese sandwiches work well as the product because of their versatility, said sophomore Ciara O'Hagan. The club offers traditional grilled cheese options but also has gourmet and occasional limited-time ingredients such as pesto or kimchi. 
"You can do so much with grilled cheese. You can't do so much with a turkey sandwich," Henderson said. "Grilled cheese is such a creative canvas and it's a comfort food. It makes people happy." 
The club prioritizes ingredient sourcing for the sandwiches. They strive to make the deli as fresh as possible for students, and once a sandwich has quality components, it's hard to go wrong, Snow said.
"Grilled cheese is a feel-good food, it's cozy, it's easy to make, which is helpful when you're running a club with volunteers," Snow said. "You don't need to train people how to make a grilled cheese." 
Giving college students a comfort food staple and having them participate in a global campaign to help others is one of the club's biggest draws, Rodowicz said.
"The mission that we have, working for our nonprofit to end world hunger while also feeding people who are hungry on campus with a grilled cheese for lunch, it's cool," Rodowicz said. "I'm feeding you and then you're feeding other people through your dollars in donations." 
The club has a strong sense of camaraderie, and members will play music and have fun while volunteering, O'Hagan said. Cooking the grilled cheeses feels like less of volunteer work and more of an exciting activity she gets to take part in.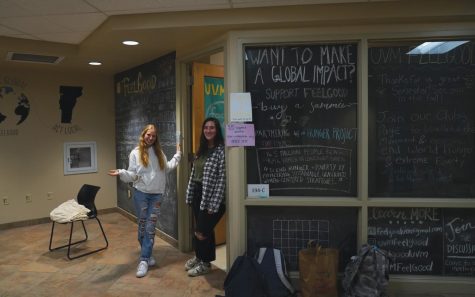 "I just found my place here," Fishman said. "And I think that anybody can because we're all coming under the same goal and that goal really is to do good." 
The name FeelGood comes from the response volunteers would give when asked how much the standard donation: "whatever makes you feel good," Rodowicz said. 
"It feels really cool to be able to see that I'm making people happy, knowing that I'm also supporting a really solid cause," Henderson said. "The FeelGood community is really strong."
When UVM FeelGood returns to campus for the fall semester, the deli will be open Wednesdays through Fridays from 11 a.m. to 2 p.m. at the FeelGood stand outside the Davis Center Tunnel.