UVM student groups made their voices heard at last week's City Council meeting about BDS resolution
UVM Athletics Director among crowd against resolution
September 21, 2021
This article was updated on Sept. 27 to provide clarifying information.
Burlington City Council withdrew a recently proposed resolution to endorse the Boycott, Divestment and Sanctions movement in relation to Israel at their Sept. 13 meeting. 
Before the City Council meeting began, student protestors marching for Palestine walked down Church Street and UVM Hillel made their way down College Street to City Hall. Pro-Palestine protestors carried signs supporting their beliefs.
At the meeting, city counselors heard from community members from both sides.
Among the community members was UVM Athletics Director, Jeff Schulman, joining UVM Hillel and other Jewish community members who gathered to share their perspective on the proposed endorsement of the City's resolution supporting BDS in Israel. 
"I count myself among those who are both pro-Israel and pro-Palestinian, and yet I recognize that reducing this immensely complex conflict into a simple equation of one side being right and one side being wrong is highly counterproductive," Schulman said at the meeting. 
Schulman stated in a Sept. 16 email to the Cynic that he attended the event as a private resident of Burlington, and not in his professional capacity. 
"[The resolution] promotes hate, anger and fear," Schulman said at the meeting. "There is fairly broad consensus in our community about what peaceful co-existence among Palestinians and Israelis could look like, but this resolution is so far to one extreme that it only creates more division." 
Schulman said he does not believe the authors of the resolution were motivated by anti-Semitism or blind hatred of Israel, as some might believe. However, Schulman thinks the authors of the resolution held deep misunderstandings about the nature of the conflict. 
"My hope is that you will soundly reject this resolution and instead we shift our focus away from simple analysis and sensationalized calls that only serve as fodder for extremists who promote violence in the region and in our own country," Schulman said.
Nich Hall, director of communications for UVM Athletics, stated in a Sept. 17 email to the Cynic that Schulman's remarks do not reflect the views of the UVM Athletics Department. 
"He was speaking as a private Burlington resident about an important issue to him," Hall's email stated. "UVM Athletics does not take positions on geopolitical issues."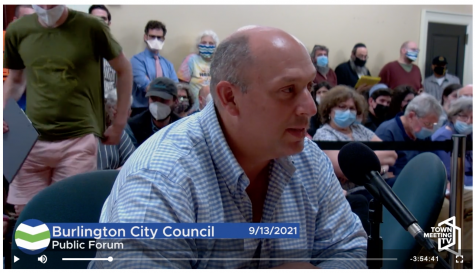 BDS aims to end the oppression of Palestinians in Israel through boycotting, divesting from and sanctioning the Israeli state, according to the Palestinian BDS National Committee website. 
Israel's treatment of indigenous Palestinians amounts to the crimes against humanity of apartheid and persecution, according to an April 27 by international NGO Human Rights Watch report. 
Burlington City Councilor Ali Dieng, who originally proposed the BDS resolution, withdrew it on Monday night after the discussion in City Hall, according to a Sept. 14 article by VTDigger. 
Burlington City Council rejected the resolution in a marginal defeat with a vote of six to five, according to the article. Dieng stated that he came to the realization the resolution was one-sided and did not recognize the anti-Semitism Jewish residents face.
Burlington would have been the first city in the nation to endorse the BDS movement if the resolution had passed, the article stated. 
UVM's Revolutionary Socialist Union organized a pro-Palestine rally and march alongside other social justice organizations at the top of Church Street before the meeting. After various organizers spoke, the crowd marched down Church Street chanting, "long live Palestine." 
RSU stated in their signup form that they fight for socialism and liberation as a united group from differing smaller organizations. The organization recently launched another student group called Students for Decolonizing Palestine.
They announced the launch of SDP in a recent Instagram post that has since been deleted.
RSU did not respond to the Cynic's requests for an interview but stated in a Sept. 14 Instagram direct message to the Cynic they had concerns about being targeted by smear campaigns and blacklisting if they had a member speak on the record about these issues. 
"Organizers who've been doing Palestine and BDS work on campus are all super jaded and afraid of harassment, and even physical harm and discipline from the administration," they stated in their DM to the Cynic.
The group stated they work to make their message understood in an inclusive, non-anti-Semitic way. 
"We oppose Zionism because it is a colonial ideology, and we are an anti-colonial organization, which is pretty straightforward," the DM stated. 
Many Jewish UVM students have also united on this issue, holding different perspectives.
The resolution came through a committee for, I believe, diversity, equity and inclusion, and it seems that Jews aren't really included," Junior Avi Zatz said. "Jewish perspective isn't really included in the committee right now so a step forward should be for some of us to join the committee so we can help."
These tensions overseas have been ongoing for many years – in 1947, the United Nations adopted the Partition Plan, which divided Palestine into Arab and Jewish states, according to the Council on Foreign Relations.
The following year, the state of Israel was established. This sparked the first Arab-Israeli war. Israel won and 750,000 Palestinians were displaced, after which the region was separated into the state of Israel, the Gaza Strip and the West Bank, according to the U.S. Office of the Historian. 
Since this separation, there has been continuous conflict and tensions between the Israelis and Palestinians, with heightened violence this past spring, according to a May 15 New York Times article.