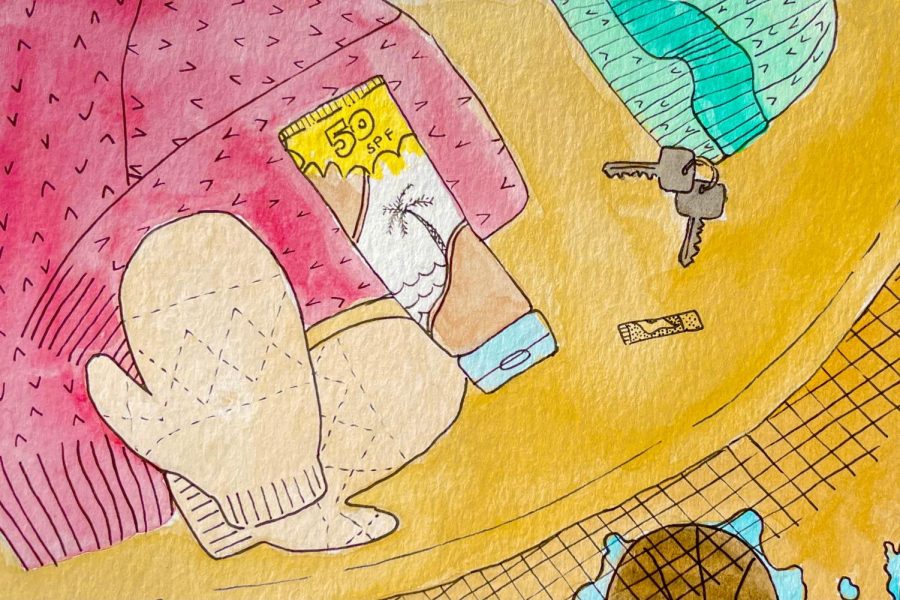 Skin health needs daily sunscreen application
April 6, 2022
Every morning I wake up to the sound of my alarm, brush my teeth and put on a cute outfit.
Then comes the most important part of my morning routine: putting on sunscreen.
I lather up when it's a sunny 80 degree day in July, but I also wear sunscreen all winter long. 
Sunscreen is not seasonal and should be worn throughout the year.
Wearing sunscreen can decrease your risk of skin cancer and helps to prevent premature skin aging, according to the Skin Cancer Foundation. 
There are two types of UV light that contribute to the risk of skin cancer: Ultraviolet A and Ultraviolet B, the Skin Cancer Foundation stated.
UVA rays have longer wavelengths and can penetrate clouds and windows, causing premature aging in your skin cells, the Skin Cancer Foundation stated.
UVB rays have shorter wavelengths and are responsible for skin cancers and sunburns, according to the Skin Cancer Foundation.
Similarly, UV rays can bounce off of surfaces like sand, water, ice and snow, meaning that skin damage can still occur in the winter, the Skin Cancer Foundation stated.
Burlington is not exempt from harsh UV rays just because it's cold in the winter.
The sun still comes out in the colder months. Snow and clouds don't mean sun damage isn't possible.
I ran distance for my high school's winter track team, meaning my winters were filled with long runs outside. Though it was always cold, I remember coming inside and seeing a small sunburn. 
I quickly started wearing sunscreen all through the winter and have been doing it ever since my freshman year of high school. 
Wearing sunscreen helped protect my skin from unnecessary sun damage.
The American Academy of Dermatology recommends applying sunscreen with at least SPF 30 or higher every day you go outside, their website stated.
An easy way to start incorporating daily sunscreen use is through facial cream or moisturizer with SPF. This way, applying sunscreen becomes part of daily life.
I use CeraVe's Ultra-Light Moisturizing Lotion with SPF 30 every day.
When preparing for the day, consider the future.
I know 50-year-old me will be grateful I protected my skin.