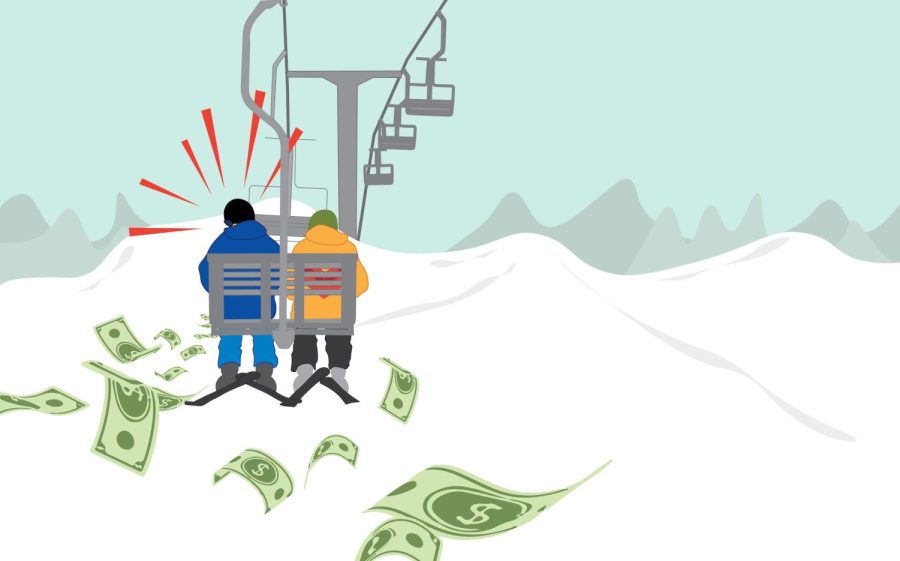 Why buying ski season passes isn't worth it for some students
January 17, 2022
Attending a university within driving distance of ski resorts sounds too good to be true. 
For many, it is. Most first-years and sophomores do not have cars on campus, so they often rely on the UVM Ski and Snowboard Club's (SSC) buses. 
These buses leave UVM at 9 a.m. and do not depart the mountains until 4 p.m., according to the UVM SSC website.
After a long day of skiing, students might be too exhausted to work much during the night.
Students are busy tackling prerequisites in their first two years. Although most majors have to take 120 credits to graduate, they may not be distributed evenly, according to UVM's degree requirements.
Each credit equates to one hour of class and at least two hours of homework per week, according to the UVM Registrar.
This adds up to 45 hours of coursework per week assuming a 15 credit course load. This workload may be hard for some students to tackle on a regular basis. 
Students who have compounding factors like myself face more difficulty finding the time and means to hit the slopes.
A compounding barrier I face when choosing whether or not to ski is a learning disability. It often takes me longer to fully absorb information and complete assignments, leading to less free time. 
I planned to take advantage of ski opportunities and hoped to go skiing during the weekend, but due to my expansive course list and disability, one challenge after another came up.
These include weekend essays or studying for Monday exams, which forced me to make the difficult decision of not going skiing. Week after week this happened, and in the end, I only went skiing twice during my entire time at UVM.
With difficulties getting to a sport I love, I pondered costs versus benefits.
UVM students have access to discounted passes, but the cheapest pass is a "Freshman only" pass for $129 at Jay Peak, according to the Mountain Details page on the UVM SCC website.
For all students, the cheapest pass is a night time Bolton Valley pass for $149 and the most expensive pass is the college Ikon full pass at $639, according to the same website.
While initially sounding like a good deal, this equates to about three or four days worth of lift tickets for most of the mountains. If students can barely allot days to ski like me, they may not get their money's worth. 
In my situation, I gave up on buying passes after my sophomore year. The incentive wasn't there for myself to spend hundreds on a pass I don't have time to use.
A couple hundred dollars to partake is not cheap.
It is not worth it to buy a ski pass.