Climbing wins divisional championships
April 5, 2022
After six taxing hours of competition, the UVM climbing team emerged victorious at the Northeast Divisional championships and will send six climbers to the national championships April 21-24.
Vermont won the event with 302 points, 80 more than second-place Dartmouth College. Eleven schools competed at the event in Everett, Massachusetts on March 26, according to USA Climbing.
"I feel like it's such a testament to how close our team is and how hard we've been working," sophomore Peri Brooks-Randall said. "It was so nice to be able to see all of us finally do the thing that we've been trying to do all year."
Sophomores Chloe Pay, Emma Wetsel, and Brooks-Randall, junior Evan Trombley, and seniors Caroline Martin and Michael Daly qualified for the national championships after placing in the top 13 at the divisional championships. The event will be held in Bridgeport, Pennsylvania.
"I'm really, really excited," Wetsel said. "I think it'll be great to send six people to Nationals. That's a really huge deal, but also, it's so important to have UVM represented on a national level."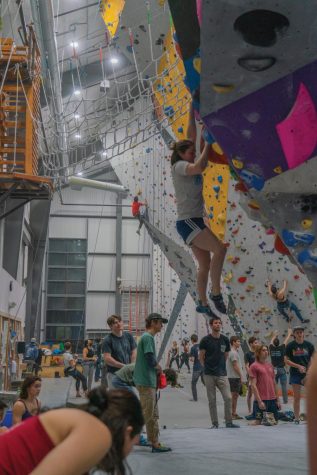 Climbing competitions consist of two disciplines: bouldering, in which climbers scale shorter walls without a harness, and lead climbing, in which competitors climb a taller wall while connected to a rope with a harness, according to USA Climbing.
Competition in each discipline lasts three hours, and climbers can make multiple attempts to improve their scores. The top three climbers on each team earn points for their school in the team competition, Brooks-Randall said.
Brooks-Randall, Pay and Wetsel qualified for nationals in both disciplines. Daly and Martin will compete in lead climbing and Trombley will compete in bouldering.
"It was super rewarding," Pay said. "Every single person on the team has worked so hard for the past couple of months, so it was nice to see that kind of reflected in our performance."
The team consists of 25 climbers, including four peer coaches: Brooks-Randall, Wetsel, Daly and junior Kidron Kollin. The coaches make an effort to ensure everyone is included, Wetsel said.
"I think that in general, the climbing team is very good at making sure everyone feels like they have an equal role on the team and an equal voice," Wetsel said. "Even though there's four coaches, we still have a lot of opportunities for other people to take on leadership positions."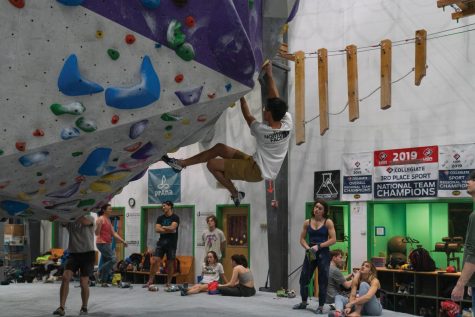 The closeness of the team played a big role in their success at divisionals, Brooks-Randall said.
"Everyone was cheering so loud," Brooks-Randall said. "It was nice to be on the wall and hear everyone screaming your name."
Going to nationals and competing alongside the best teams in the country gives UVM a great opportunity to gain national recognition as a strong climbing program, Kollin said.
"I feel like this is a good starting point for us to put our name out there that, yeah, we're pretty good climbers," Kollin said.
Wetsel said she hopes competing in nationals and the growth of climbing worldwide will increase awareness of the sport on campus.
"The main thing I would like to see in the future is increased funding through the school or even just awareness of our program," Wetsel said. "Because we're doing a lot of really, really amazing things. But we're doing a lot of it alone."
Outside of their SGA-approved budget, the club recieved  supplemental funding once they qualified for nationals, junior and team manager Daniel Carper said.
"I think [nationals will] be really fun," Brooks-Randall said. "We get to go on this little trip with some of our best friends. [We get to] hopefully try our best and climb hard and be with some of the best collegiate athletes in the country."
Qualification for bouldering will take place April 21 and April 22 for lead climbing. Semi-finals for both events are April 23 and finals are April 24, according to USA Climbing.