UVM hockey alums make pro debut in preseason game on Catamount ice
October 27, 2022
Fans with hand-made signs cheered on the Montreal Force from the stands of the Gutterson Fieldhouse at 3 p.m. Oct. 23 to support the professional debut of both the team and many of its individual players, including left winger Kristina Shanahan '22 and forward Alyssa Holmes '22.
The Montreal Force is the newest team in the Premier Hockey Federation, formerly known as the National Women's Hockey League. The franchise's preseason began in the Gut in a 3-1 loss against the Boston Pride. Both Shanahan and Holmes were starting players. 
"It was a lot of fun to play our first game at the Gut because this place is so special," Shanahan said. "They always do such a good job hosting. They made us feel really welcome, so it's really fun to be back."
Holmes and Shanahan played for UVM together from 2017 to 2022, with Shanahan serving as captain her last two years. They led the team through a historic season last year, placing second in Hockey East, the NCAA hockey conference for Division I schools in New England, for the first time in University history.
"This place just has so many memories," Holmes said. "We were here for five years, so it was just so special to us, it's just crazy. I never thought I would be back here playing on this ice. That's what made it so special."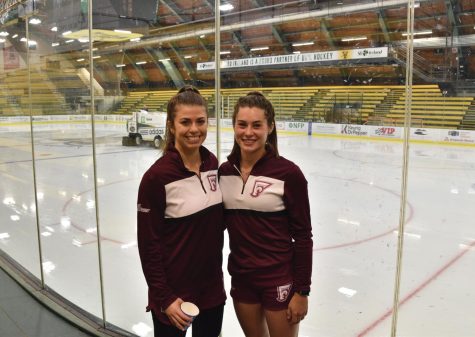 Holmes and Shanahan are linemates, meaning they are always on the ice at the same time, collaborating and playing off each other. Shanahan, a Montreal native, became interested in signing with the Force first and encouraged Holmes to join her, she said. She hopes to carry their momentum from last year over to their professional careers.
"We had a lot of success at UVM, so hopefully we can bring that to Montreal as well," Shanahan said. 
There are many aspects of playing in a professional league that are different from collegiate athletics, she said. But at the end of the day, it's still about playing the game and putting in good work.
"Now it's a job and you have to show up and be ready to work," Shanahan said. "You have no one holding your hand—you're older now, more mature—so there's higher expectations. But hockey's a game, so you kind of just go out and play, and everyone's at their best when they just play, so it's important to stick to that as well."
Because the team is brand new, many of its players had their professional debuts at Sunday's game at the Gut, Shanahan said. As a new organization, they are all learning what their team dynamics will look like and how they'll work together. 
"There are definitely things to work on because it was our first game as a team, but it was a lot of fun," Shanahan said. "We put up a good fight. I think we're looking good."
The Force's opposition this past weekend, the Boston Pride, is an eight-year-old franchise that was established when the PHF, known then as the NWHL, was founded. The Pride is one of four founding teams, including the Metropolitan Riveters, Connecticut Whale and Buffalo Beauts, according to an Oct. 11, 2015 CBS Sports article. 
The Pride has won the league's championship Isobel Cup three times: once in the inaugural 2016 season, and for two straight seasons the past two years. Holmes was proud of the fact that even as a new organization, the Force was able to hold their own against such an established team, she said. 
"I feel like we were keeping up with them," Holmes said. "They won the cup last year, so they're a really good team, and I think we kept up with them."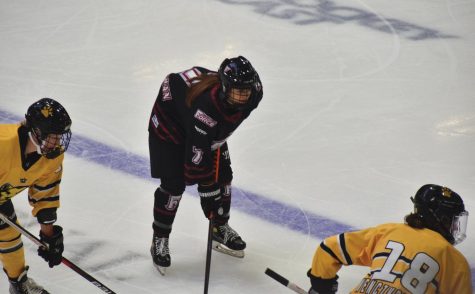 There is definitely still room to grow and build from this first competition, she said. The Force has spent the past month training in preparation for the first puck drop, and will continue to learn and grow as they play more games as a team. 
"No one's really played together before other than a few people," Holmes said. "We're just building that chemistry."
Looking around the stands, many of the fans in attendance were young girls: some clad in jerseys—either their own or from their favorite UVM players—and some with hand-drawn signs in support of the Force. 
"To have that exposure to pro women's hockey is something that we didn't really have when we were kids," Shanahan said. "So hopefully by the time that they're our age, they'll have an even better opportunity and experience than us."
In the eight years since its founding, the PHF has expanded from four teams to include a total of seven in the league. In addition, the NHL experienced a 26% growth rate in its female fan base in the same timeframe, according to a June 25, 2022 Sportsnet article.
Women's hockey, and women's interest in hockey, is on the rise, Holmes said. 
"This is just the start and it's awesome to be a part of it," she said.