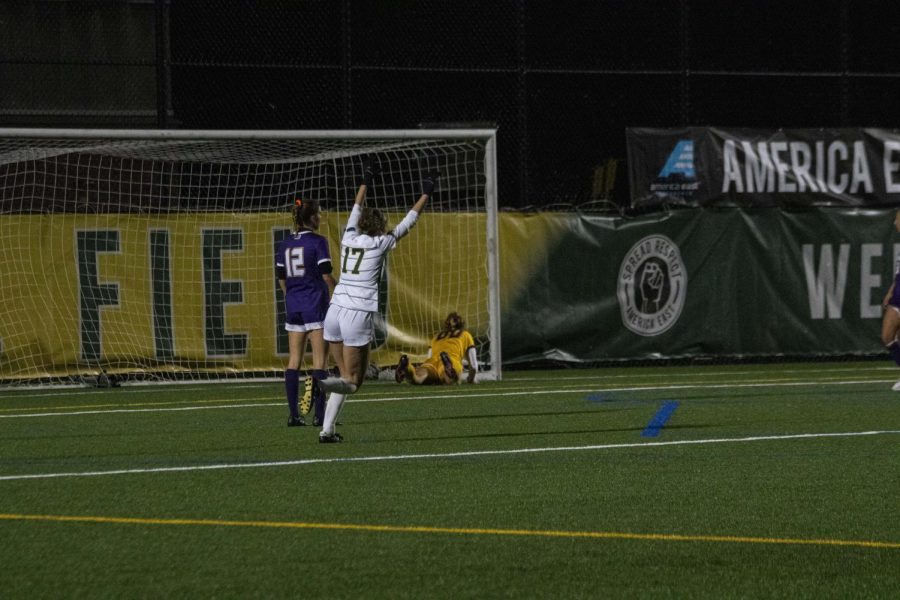 Women's soccer defeats UAlbany 3-1, advances to America East Championship 
November 7, 2021
UVM women's soccer defeated the University at Albany 3-1 in the America East Semifinal at Virtue Field on Nov. 4.
With the win, UVM advances to the conference championship for the second time in program history. They will host the championship game for the first time as they look to reach their first NCAA tournament.
UAlbany started the game on the attack. In the 21st minute they earned a penalty kick when UVM senior defender Natalie Durieux committed a foul in the box. 
Forward Jasmine Colbert converted the penalty, which gave the Great Danes the lead.
UVM stepped up their offensive pressure after going behind. In the 34th minute, sophomore forward Jill Brody found first-year forward Kate Bossert along the right sideline. Bossert played a cross into the box and junior forward Karen Wallace headed it in to tie the game. 
UVM took the lead early in the second half.  Six minutes into the half, senior midfielder Alexa Mihale's free kick bounced in the six-yard box and senior defender Alex West poked it home to give the Catamounts the lead.
In the 65th minute another set piece extended Vermont's lead as Durieux delivered a corner kick into the box. Wallace let the ball bounce before directing her shot into the net with her right foot.
A season-high crowd of 797 fans provided energy in Vermont's first home semifinal game since 1996, according to a Nov. 3 UVM athletics post.
"We're so thankful to all of the teams here at UVM, our students, our fans and community that came out to support us tonight," Head Coach Kristi Huizenga said. "The atmosphere was electric. It really propelled us to keep going and to close the game out."
Hosting a playoff game was especially significant for UVM seniors, senior midfielder Alyssa Oviedo said.
"It's a picture perfect ending to a career to be able to host a championship," Oviedo said. "I definitely know it means alot to a lot of the girls in my grade as well as myself. We're super excited to have earned this opportunity and hopefully we'll accomplish more and bring the championship home."
UVM will host the America East championship game on Nov. 7 at 2 p.m. The Catamounts will face University of New Hampshire, who defeated University of Massachusetts Lowell in their semifinal.