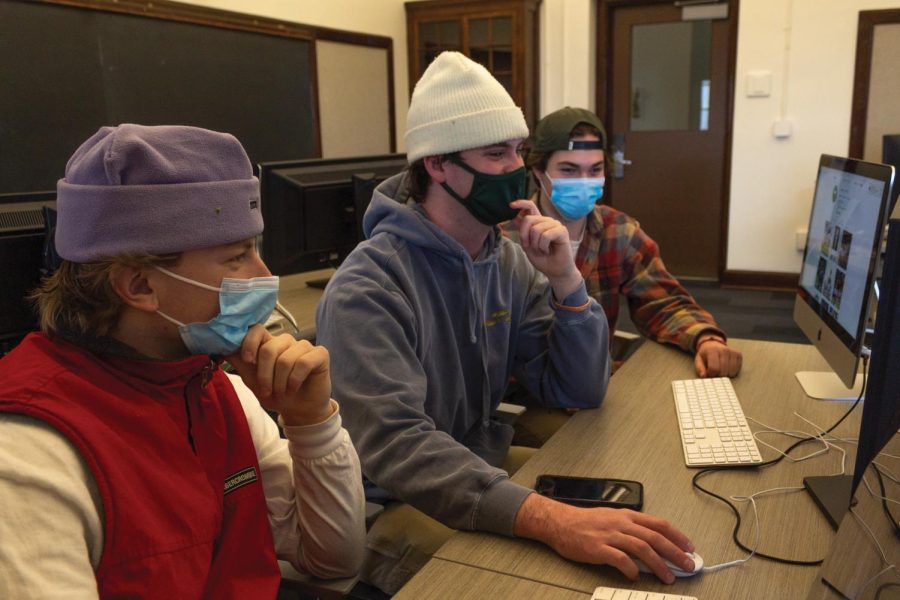 Light Weight Media takes over men's lax Instagram
March 1, 2022
@uvmmlax's following grew from 7,500 followers to 10,500 followers in five months due to the work of senior Nick Corsini, junior Casey Pope and first-year Emmett MacGregor.
These three students run the men's lacrosse Instagram page, creating high-quality video content as interns for a company called Light Weight Media, according to Pete Estes, director of CatamounTV and media relations contact for the men's lacrosse and field hockey teams.
Light Weight Media provides organizations and events with promotional video content in an efficient, affordable and professional manner, Corsini said.
Nicho Ader '19 started Light Weight Media in 2019, and the company is starting to take off exponentially, Pope said.
While Pope and MacGregor handle the filming and editing, Corsini said he takes on more of a managerial role, acting as the middleman between Light Weight and the client.
"A lot of capturing good, candid video content is about your relationship with the client," Corsini said.
It is really important to be active on social media in this day and age and many of the videos Light Weight makes are made for social media, Pope said.
"Social media is a language that we were born into," Corsini said.  "We've been that demographic that we're trying to market towards."
By understanding the algorithm and looking into analytics and Instagram insights, the interns know what time of day is best to post and what captions to use, Corsini said.
Assistant head coach Jake Bernhardt hired the company to film videos and run the team's Instagram account, Estes said.
They film practices, games and behind-the-scenes footage to give people a glimpse into the hard work that goes into playing on a Division I sports team, Pope said.
"It's an outlet that can show people how much effort we put in, and Nick, Casey and Emmett being able to do that for us has been really cool," graduate attacker Liam Limoges said.
Keeping alumni in the loop was another main reason for hiring Light Weight, head coach Chris Fiefs said.
"With our success on the field we really want to make sure the alumni feel like it's their success as well because we wouldn't be here without them," he said.
The work for Light Weight has been incredibly meaningful, because UVM's film program focuses heavily on theory rather than fieldwork, Corsini said.
"This has been monumental for my shooting and editing skills," Pope said. "I'm getting real world practice and building a portfolio so when I graduate next spring, I have some tricks up my sleeve to present to employers."
Corsini and Pope both said they look forward to continuing their careers in the film industry post-graduation.
"Knowing that we've had some sort of impact that alludes to our future career aspirations gives me a lot of pride," Corsini said.
Pope and Corsini encourage interested students to reach out to them through their website.