Fleming opens season with costume ball
February 28, 2020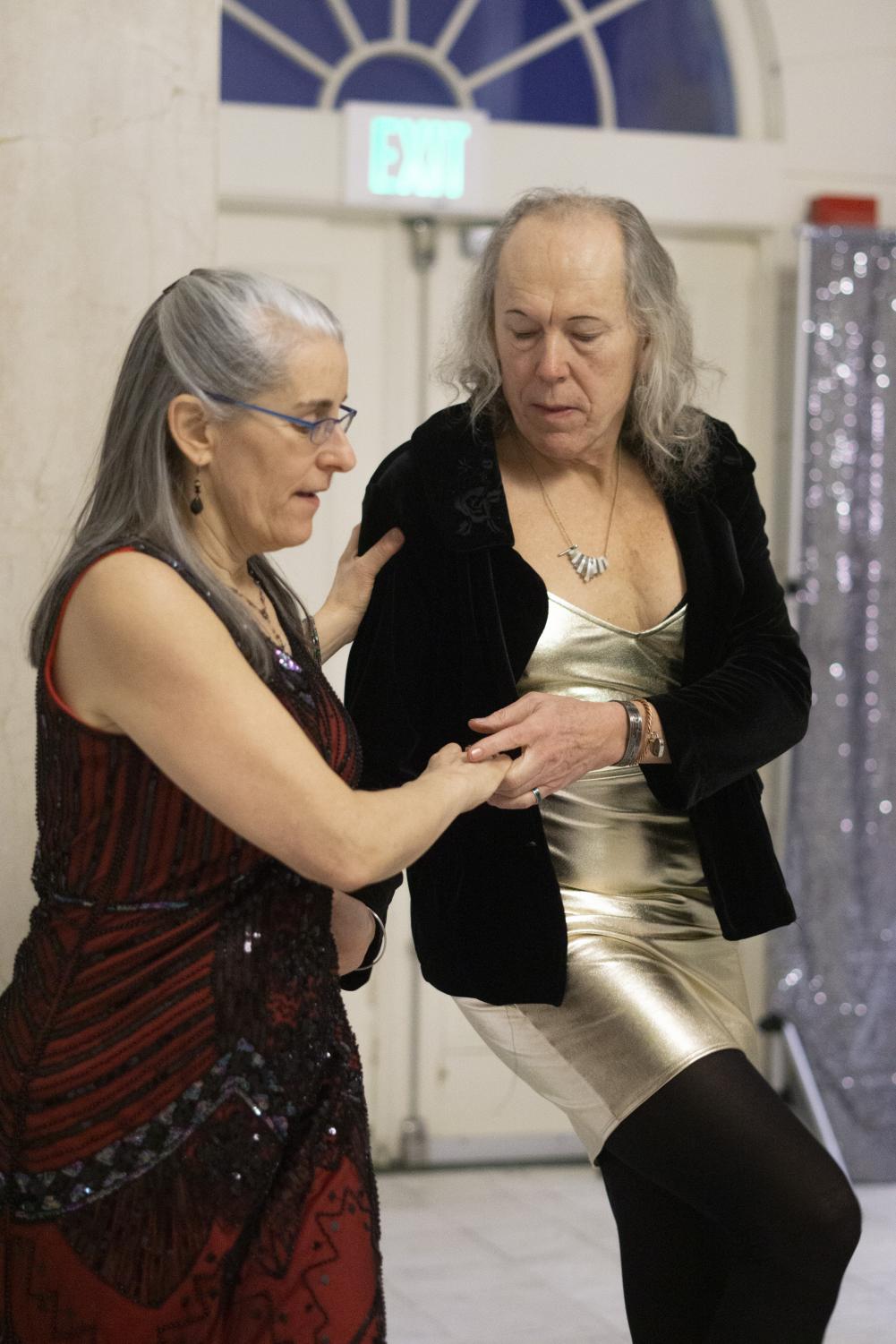 UVM Provost Patricia Prelock was dressed in a knee-length flapper dress with sequins arranged to look like peacock feathers. 
The sequins shone green and gold, which Prelock said was an intentional choice to represent UVM's school colors and the peacock features of "Animal Transformations," one of the new exhibits at Fleming Museum. 
After being rescheduled due to a snowstorm, Fleming Museum threw a Costume Art Ball Feb. 20 in Marble Court to introduce the spring 2020 collection to UVM affiliates and community members.
Admission price was the standard $5 unless attendees came dressed in a costume, in which case their admission was free.
The party celebrated the three new exhibits: "Let's Have a Ball! Wood Gaylor and the New York Art Scene," "WARP: War Rugs of Afghanistan" and  "Animal Transformations."
Hosted by Prelock, Fleming Director Janie Cohen and the Museum's board of advisers, the party featured a bar serving '20s style cocktails, live music, hors d'oeuvres and a photo booth.  
A guitar and piano player duo's sound bounced off the marble in the room as attendees filed in. 
UVM Dining catered the party, featuring charcuterie boards with meats, cheeses and fruits, pigs in a blanket and a full cash bar.
During her remarks, Prelock said Fleming Museum is one of only 16% of all academic museums accredited by the Alliance of American Museums.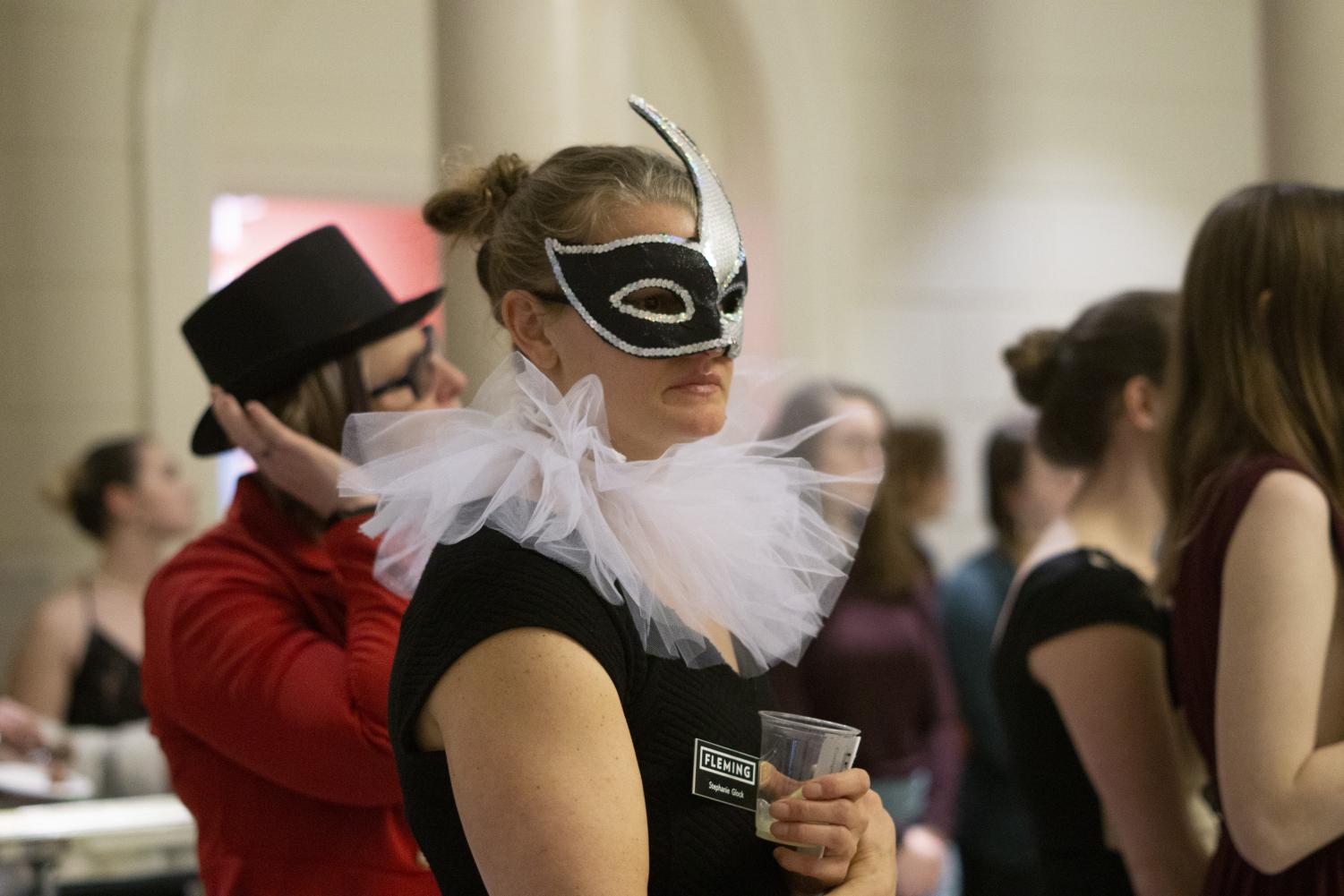 Prelock said she was eager to host the event because she believes in the mission of the Fleming. 
"I always love the connection between education and art for our students," Prelock said. "I'm hoping [the community] realizes the Fleming is a real gem."
The party was inspired by New York painter of the early 20th century Wood Gaylor, whose work often features extravagant parties. 
The organizers decided to draw inspiration from Gaylor's paintings and throw their own ball. 
Andrea Rosen has been the curator at Fleming since 2016. During that time, Rosen had been researching Gaylor. 
"His paintings are really bright and fun and depict these wacky artist costume balls that he and his friends would throw," Rosen said. "It has been a long time coming."
UVM acquired a few of the 27 Gaylor works from alumnus David Pitman '31. 
Rosen said Pitman got to know Gaylor's widow, Adelaide Lawson Gaylor, and was gifted much of Gaylor's collection. 
"And then he donated them to the Fleming," Rosen said. 
Junior Ailinn Santos is an intern at Fleming. 
Covered head to toe in bright yellow including a floral headpiece, Santos said she and other interns created the props for the photo booth.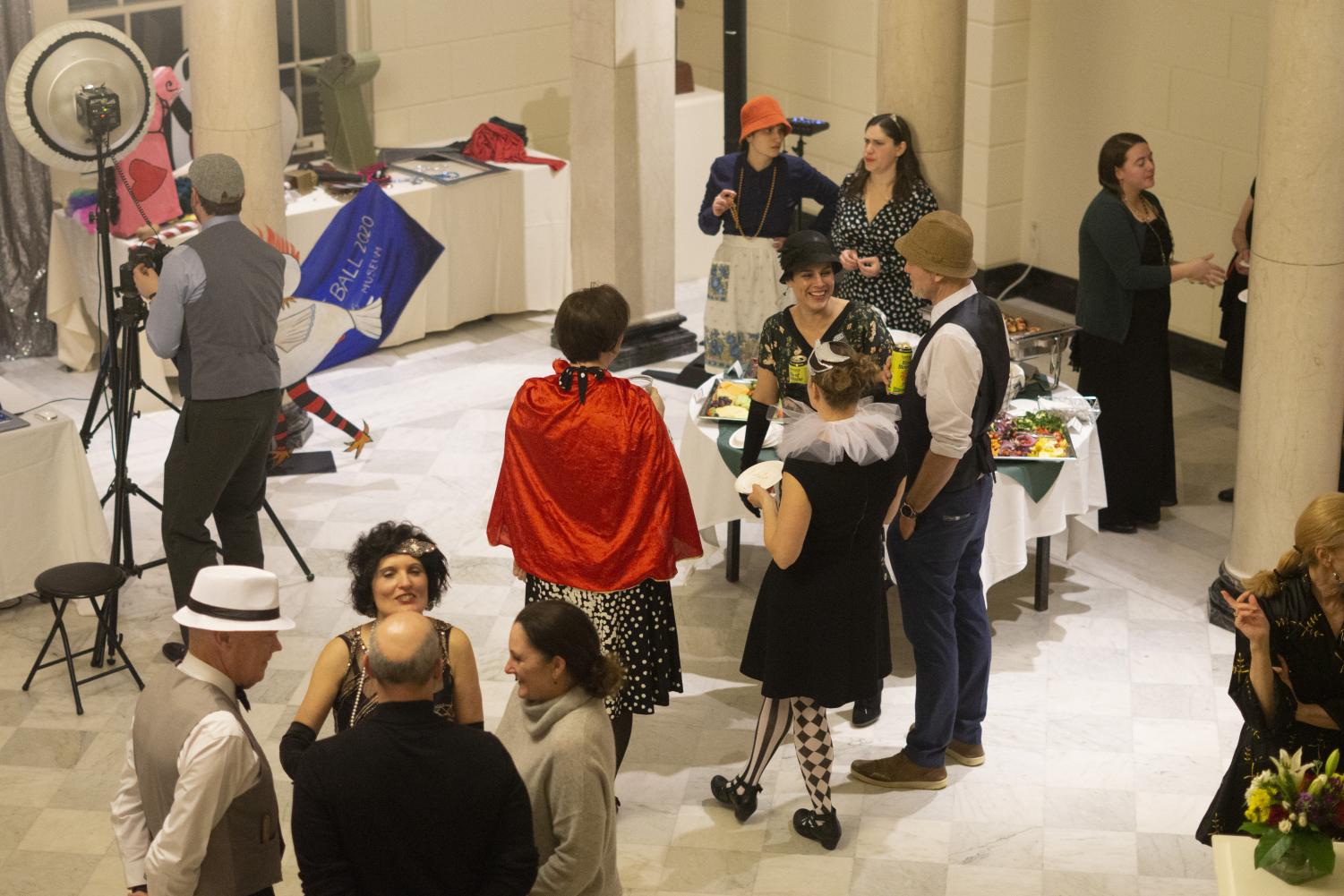 She said she hopes the hard work put into the ball brings more of the community to the museum. 
"I hope it draws more people into the Fleming," Santos said. "This is an awesome museum, it has a little bit of everything that you would want."
Former employee at the Fleming and senior Gina Costello said although she no longer works at Fleming, she wanted to come to the party to show support. 
"It's so small but has such great cultural value," Costello said. "People in Vermont have great minds."
Rosen said she has big plans for both the future of the museum and the Gaylor exhibit. 
"We wanna work towards reinstalling our African gallery which is looking pretty out of date," Rosen said.
Other museums have picked up on Rosen's research on Gaylor, and she said the exhibit is headed to tour at other museums as well. 
"Let's Have a Ball!", "WARP: War Rugs of Afghanistan" and "Animal Transformations" will be on display until May 8, according to Fleming's website. 
Before closing her remarks and turning the microphone to Cohen, Prelock quoted sociologist Charles Cooley. 
"An artist cannot fail," she said. "It is a success to be one."