UVM club gets folked up every Friday
One club hopes to make campus a more relaxed environment through guitars, fiddles, banjos and harmonicas.
Every Friday evening at 5:45 in Living/Learning 216, the sound of strumming instruments and singing voices fills the building as UVM's Folk Music Club holds its weekly meeting.
The club, whose members are from all different backgrounds and expertise levels, prides itself in creating a laid-back and welcoming atmosphere. There is no audition process and members may attend as many or as few jam sessions as they like.
President Renee Beneski, a senior, emphasized the "relaxed environment" fostered by the club.
"We're very much there to have everyone come out and have a good time and unwind after a hard week of classes," Beneski said.
During each meeting, songs are collectively performed from the group's songbook, "Rise Up Singing." The club's officers choose the songs beforehand, but are sure to leave some spots open for member suggestions, she said.
Over the past few years, leadership has aimed to make the club a "more welcoming community on campus," Beneski said. "It's for whoever enjoys music and just wants to hang out and have a good time."
Aside from their weekly meetings, the Folk Music Club hosts open mic nights and has hosted contra dancing events, a style of folk dancing involving lines of couples.
First-year Rachel Rubinstein, a new member, said she joined because she's "open to seeing new styles of music" and hopes to "meet like-minded people."
"It seems like a nice, open environment and very relaxed," Rubinstein said.
The club aims to avoid taking itself too seriously, and has even performed renditions like "Uptown Folk You Up" at past informal meetings.
Returning member and sophomore Alana Brown was also attracted to the club for its casual and easygoing reputation.
"When I came to college, I wanted to sing more and be involved in music and I wasn't sure if I would have time or be able to join the chorus or choir here," Brown said. "It's cool because students are playing live music with their instruments and it's not a competitive atmosphere."
Beneski said she credits Folk Music Club for helping her de-stress from academics and calls it a "crazy, wonderful place."
"Even if I'm having a terrible week, I know that I'll be happy after I leave Folk Music Club," she said.
About the Writer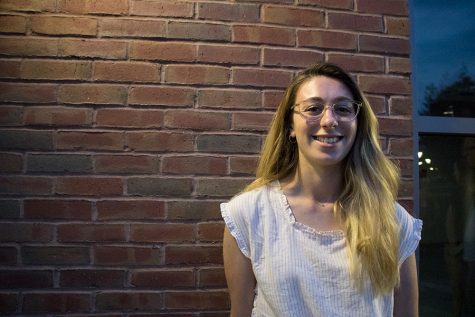 Greta Bjornson, Editor-in-Chief
Greta is a senior majoring in English with a concentration in writing and a minor in art. She joined the Cynic as a first-year after transferring to UVM...