From the Bronx to Burlington: BSU lights up the stage with 'In the Streets'
March 10, 2021
Members of the UVM BIPOC community took to the catwalk to celebrate Black history and creativity.
The Black Student Union hosted their annual fashion show on Feb. 27 in the Davis Center's Grand Maple Ballroom. 
Titled "In the Streets," the event showcased street fashion and featured interviews with several designers including Bournestar, Cross Colors and Yaya Taleh.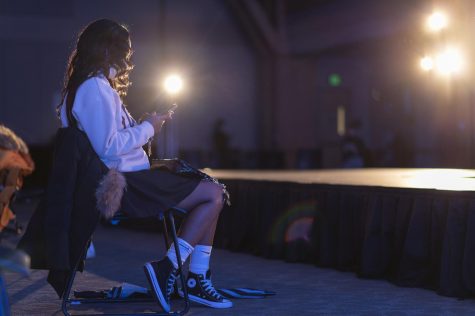 The fashion show usually garners an audience of over 400, but due to gathering restrictions, the Grand Maple Ballroom's capacity was limited to just 75, including models, technical staff and photographers. The event was also live-streamed on Microsoft Teams.
Junior Zyakkiriah Rhoden is BSU's treasurer and has been involved with planning the fashion show for the last three years. She said that "In the Streets" has a double meaning.
"We were thinking about 'In the Streets,' being streetwear, and also 'In the Streets' meaning this past summer in 2020 Black people were literally in the streets fighting for their lives every day," Rhoden said. 
She said that by combining these ideas, BSU was able to create an event that leveled support and momentum behind the Black Lives Matter movement while acknowledging and reclaiming street fashion's roots.
Originally, streetwear was a style worn by people in the skate and hip-hop scenes in cities like Los Angeles and New York in the 1970s, largely populated and popularized by people of color. 
The rise of street fashion was a part of a subcultural experience assuredly linked to identity.
From day-to-day styles to high fashion runways, street style is a fundamental aesthetic of mainstream fashion in the modern era and has established itself as a powerful arm of the retail industry in the last 20 years. 
It's manifested as a staple of celebrity culture (think of Bella Hadid's Nike campaign), and each Fashion Week, magazines like Vogue and Harper's Bazaar cover streetwear to an extent that rivals the attention given to the upper echelon runway shows being walked inside.
"We wanted to bring social awareness as well as show where Black creativity comes from and where people get these trends from because it really is from the Black community," Rhoden said. "Streetwear has become so popular, especially in the last year, but no one is really paying homage or tribute to where it came from, and it really is Black people."
"In the Streets" was opened by two dancers that made their way down twin runways that formed a U shape, meeting to dance together at the front platform and warming the stage for an opening address from sophomore and BSU President Miles McCallum.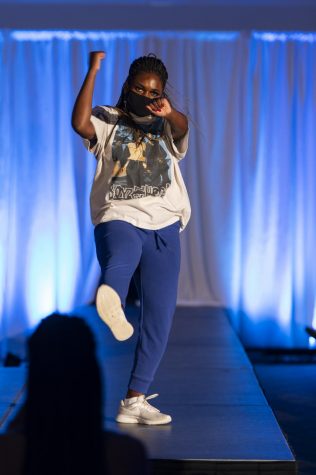 "It can be taxing to look back at Black history. It can seem like struggle after struggle," McCallum said. "We're here to look at the stories between those struggles. The same place where we struggle is the place where this art develops."
The show bounced back and forth between video interviews with the featured designers to the models walking the runway in their collections.
Junior Jessica Suquilanda has helped plan the annual event in past years and attended "In the Streets" as an audience member. 
"I know how much work goes into putting on the show, and I can't imagine how much harder it all was because of COVID," Suquilanda said. "I think the videos with designers were a really interactive way to get people to know more about the work that goes into the pieces we saw on the runway."
The first scene of the show featured clothing by Cross Colors, a Los Angeles-based company founded by Carl Jones and TJ Walker in 1989. Their clothing has been featured in high-fashion publications and even made appearances on "The Fresh Prince of Belair."
In their video interview, Jones and Walker spoke to the history of streetwear and its foundation in Black culture. The designers said that when they started Cross Colors, what's now called streetwear was referred to as "urban wear" or "ethnic wear."
"'Streetwear' was invented to make the styles more palatable," Jones said.
The designers gave the BSU members a piece of advice.
"Thank God I was born Black and have the opportunity to express myself," Walker said. "Be proud to be Black, be proud to represent your culture. And get in the room."
With that, the live stream cut back to the runway and Diana Ross's "I'm Coming Out" began to play. Two models appeared in bright yellow sweatshirts, strutting to the front platform and squatting to show off the looks.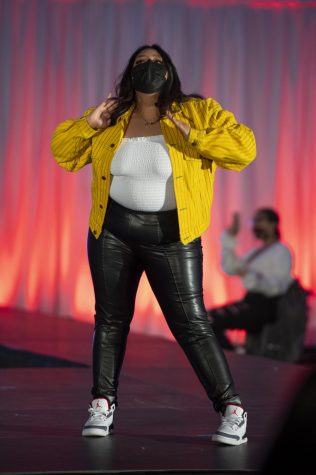 Other models sported baggy button-up jackets, leather pants and brightly accented sneakers. Many wore graphic tees and sweatpants from Cross Color's "Love Black Lives" collection: messages like "Power to the People" and "NO SELL OUT" were painted across their backs and sleeves
This year was Junior and Alianza Latinx President Adrian Pastor's third year modeling in the fashion show. Cross Colors was one of the brands he represented on the catwalk.
"The sweatsuits were really awesome, and we have a lot of layered pieces that can go with just about anything. It really speaks to the versatility of streetwear," Pastor said.
The next set of clothing was from JJ Grant, a Bronx-based designer. In her video interview, Grant stressed the personal and emotional aspects of identity in streetwear.
"Streetwear is a love story that you can wear on your sleeves, transcendent of social norms. Street fashion is being authentic. It's catching your favorite designer in traffic," Grant said.
Grant's collection showcased hoodies and crewnecks with printed designs and accented pockets layered over tube tops. For this scene, three sets of models took to the runway in turns wearing similar ensembles, striking poses to J.I. Prince of New York's "Need Me."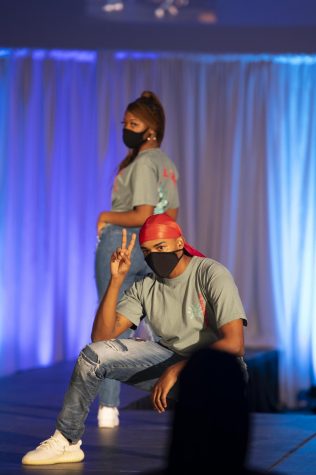 The show was broken up by Catamount Dance Crew performing a hip-hop routine to a mash-up of Denzel Curry and Glass Animals' "Tokyo" and Nicki Minaj's verse in Yo Gotti's "Rake it Up."
The next scenes included clothing from other New York-based designers like Clue, Yaya Taleh and Fruition.
"We worked with a lot of designers from New York City because that is where hip-hop and street fashion originated from, and we wanted to pay close attention to that because a lot of us are from New York City," Rhoden said.
Suquilanda said it felt like a homecoming.
"Most of us are from New York. Jordans and sneakers and streetwear, in general, are a really big thing. It was a great feeling, like bringing a sense of home from the Bronx to Burlington," she said.
Models dice-rolled down the catwalk, mock-swished and busted out improvised dance moves. Senior Eddie Travieso was decked out in Fruition's Black Lives Matter bomber jacket and jeans and broke into a solo on their trip down the runway and threw a purple do-rag into the crowd.
Perhaps the scene that stood out most was the denim Bournestar collection by Tiana Osbourne.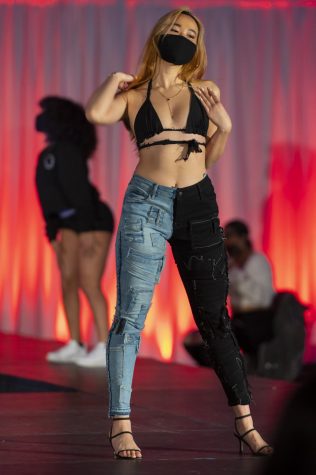 "I wanted to show that denim is also a part of streetwear and the creativity of wearing denim as opposed to just sweats. And Tiana Osbourne is only 18!" Rhoden said.
In her video interview, Osbourne said that she wanted to incorporate her political beliefs into her clothes and create feminine modes in streetwear as it's often thought to be a more masculine form.
Styles in this collection featured printed brown cargo pants, skinny jeans with corseted closures and star printed denim pants with patchwork. Many of the outfits were accented with small denim bags also designed by Osbourne.
One consistency throughout the show was the black face masks sported by every model.
"We really wanted to be safe and put this show on in the safest way possible, that's something we had to struggle with; making sure our models are six feet apart at all times and keeping their masks on," Rhoden said. "Facial expressions when posing are so important and you're not gonna have that this year, you'll only see their eyes."
Pastor said that the challenge the pandemic posed to the show actually created an opportunity. 
"I'm actually really excited that it's live-streamed this year. Even though it won't be as big of an audience we're still gonna have a lot of people watching," Pastor said. "People outside the Burlington community like alumni are going to be watching and supporting, so it's really exciting."
Rhoden said that the live stream element will be incorporated into future, post-pandemic shows and that it is an essential event for the BIPOC community.
The show closed with each model wearing their favorite look of the night, and left viewers with a final image of dancing and cheering to "Way Too Fly" by A Boogie Wit Da Hoodie.
"The fashion show really does put the spotlight on us for at least that one night, where on campus we're invisible every other day and every other night," Rhoden said. "It really brings the energy not only to UVM but to the Burlington community and now beyond. That's why we couldn't let it go, we had to put it on even though COVID."