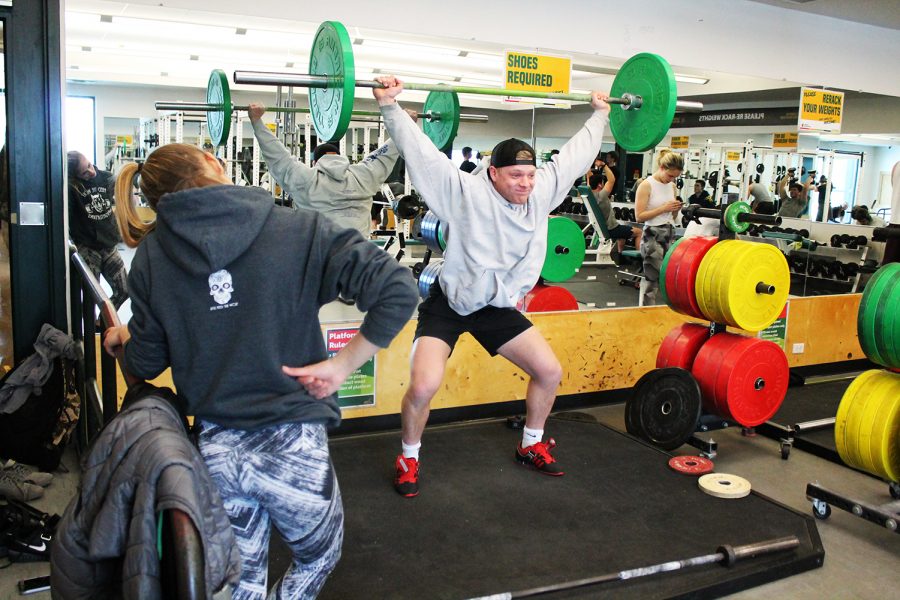 Weightlifting team snatches victories
February 19, 2020
The weekend of Feb. 6, the UVM olympic weightlifting team competed at the National Junior Championships and National University & Under 25 Championships in Pleasanton, California. 
Sophomore Noah Oliff-Lieberman and seniors John Bickers and Nicho Ader were the three UVM athletes in attendance.
Oliff-Lieberman competed in the National Junior Championship. 
Olympic weightlifting is a different sport than powerlifting or CrossFit. In weightlifting competitions, athletes perform two lifts: the clean and jerk, and the snatch. 
Oliff-Lieberman has spent two years taking weightlifting seriously,0 and it is now his second year on the team. 
He beat his previous personal record by 5 kilograms in the snatch exercise at the national competition. 
The club structure is different than some other club sports. Athletes compete as individuals instead of in teams. 
The club is mostly a self-coached team. 
Morgan Gosselin '19 is the self described "semi-formal coach" of the team. She runs a training gym called Feed the Wolf Weightlifting.
Many of the members of the UVM weightlifting team are personally trained by Gosselin when she is in town. Gosselin is pursuing a  master's degree in exercise science at Merrimack College in Andover, Massachusetts, and is rarely at UVM to help train her athletes.  
Oliff-Lieberman had rave reviews for Gosselin and her programing.
"She is one of the most passionate and intense people when it comes to this sport," he said. "She loves weightlifting and loves coaching weightlifting more than anyone I've ever met." 
Growing up, Gosselin played hockey and soccer and used the gym as a tool to train for sports. Her focus shifted when she came to UVM. 
"When I attended UVM and realized they had a weightlifting team, that's when I started really getting competitive with it," Gosselin said. 
Gosselin graduated with a degree in dietetics and nutrition. She also was the treasurer of the weightlifting club, a level 2 certified advanced sport performance coach for USA Weightlifting and has developed training programs for multiple athletes. 
Gosselin said she wishes she could be with her athletes more when they train. Most of the coaching she does is over the phone and through videos. 
Still, Oliff-Lieberman said her programing is getting them results quickly. 
"I've never been on a program that has accepted me as fast as her, and I've never met anyone that cares as much for the sport," Oliff-Lieberman said. "It's very cool to be coached by her." 
Gosselin is also a help at competitions. 
"She's a tiny girl but she's an absolute beast of a weightlifter," Oliff-Lieberman said.
However small she is, Oliff-Lieberman sees Gosselin being around in the sport for a long time. He said when people see photos from competition they assume Gosselin is simply a supporter.
"I'll be like, 'that's my coach,'" Oliff-Lieberman said. "She'll be around for a while, her name will be well-recognized for sure."