Latine students celebrate culture in Alianza Latinx
October 13, 2022
In addition to hosting regular meetings, Alianza Latinx brings students together twice a year for its biggest annual events, filling the Grand Maple Ballroom with food, dancing and joy.
Alianza Latinx, a student-run Latine and Hispanic affinity space on campus, holds weekly meetings and various other events open to all students for the celebration of Latine culture, said President and Historian Miguel Figueroa, a sophomore.
"Alianza is an affinity space and a group for Latin American students to explore their identity and to feel at home with one another," Figueroa said. "Literally and figuratively speaking, the same language may help to share in those cultural elements." 
Alianza holds two large events every year: Noche De Cultura in the fall and Comida Para La Gente in the spring, he said. The events are held in the Davis Center and students are encouraged to come and dress up. 
"I think it's nice that, even though I don't see as many people turn up in our meetings, I see them at these collective events," said sophomore Scarlett Espinoza, vice president and treasurer. "Everyone's in their best dress and they're enjoying themselves and it's been amazing."
Throughout the semester, Alianza engages in a variety of activities, such as a recent viewing of Puerto Rican rapper Bad Bunny's new influential music video, "El Apagón," Espinoza said. 
The club also holds Lotería game nights, they said. Lotería is similar to bingo, but instead of playing with letters and numbers, the game is played with pictures and words in Spanish, according to a Dec. 9, 2019 Newsweek article. It has origins in Spain and Mexico. 
"My favorite event is always Lotería night, because it's always fun," said Secretary and Publicist Fernanda Acevedo, a senior. "It's partly from Mexico, so it's nice to show people how to play it. And there's fun images or names, and since [the game is] in Spanish, people learn how to say the words in Spanish."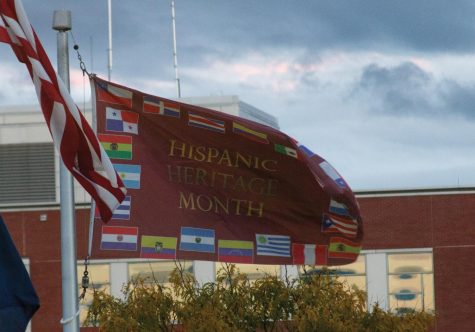 At UVM, the retention rate for students who are Black, Indigenous and people of color is disproportionately lower than white students, according to the U.S. Department of Education's National Center for Education Statistics. This makes the community Alianza creates, in which Latine students can find support from each other, crucial, Figueroa said.
"It's very important that we can physically be with one another, see one another and hear one another," Figueroa said. "If we don't have a place to talk to each other about our experiences, then we feel like we're the only ones going through it."  
While Alianza Latinx puts a heavy emphasis on Latine joy and the celebration of the cultures it represents, the group also struggles with tokenization from the surrounding community. 
Recently, Amazon and UVM administrators got in touch with Alianza Latinx about an Amazon Prime TV series called "The College Tour" that recently filmed an episode on campus. Amazon's team had hoped to obtain images and footage of Alianza's student members and events to include in the episode about UVM, Figueroa said. 
"As soon as I saw the trailer that UVM posted, I knew it would only be a matter of time before the Mosaic Center [for Students of Color] and the identity groups would be asked to participate," Espinoza said. "UVM definitely has a culture where they really want to tokenize the BIPOC communities here." 
The club made the decision together not to send footage or allow footage to be taken at any of their events, Figueroa said. The group's leaders arrived at this decision out of a desire to protect members from being used by a large corporation for promotional purposes. 
"The University seems to want to spend more resources on promoting the image that it is good for students of color, rather than putting that same amount of material effort into bettering the University for students of color," he said.
BIPOC students at UVM already struggle with feeling isolated and tokenized, Espinoza said. If Alianza were to help the University create an image that it adequately supports and invests in the BIPOC student experience, Latine student participants would feel as though they were lying to prospective students.
"It's very quick for us to find out they don't really take diversity here as seriously as they want to promote it in 'The College Tour,'" they said. "Other groups we've been talking to are on the same basis of: 'there's no interest in us wanting to participate in that.'" 
In addition to being wary of the University's intentions and motivations, Alianza also took into account the history and global impact of Amazon as an international corporation, Figueroa said. After some reflection, the club did not feel comfortable indirectly endorsing the company's values and principles by participating in the show.
"Amazon, a company that is responsible for international climate collapse, which disproportionately affects countries in the Global South, is contributing to this crisis of terrible immigration policy in the United States that affects the Latin American community," he said.
Students in Alianza Latinx take time in their weekly meeting to discuss current events and how they affect the Latine community, Acevedo said. They often discuss matters happening both locally and globally.
One of Alianza's recent meetings centered a discussion around the recent hurricanes in Puerto Rico and the impact they had on the Puerto Rican community, Espinoza said.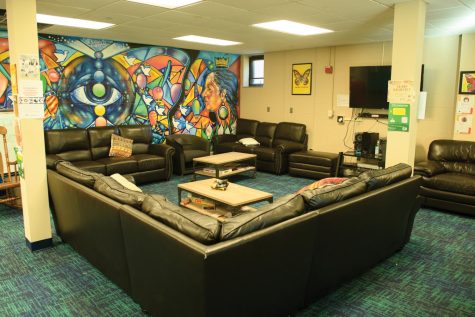 "We do monthly check-ins about how [people are] doing," Acevedo said. "Our last meeting was a check-in where you get to send a letter to someone that you miss. It also involves what's going on on campus and what has affected the people in our club."
Alianza is not only open to Latine students, but encourages students of all backgrounds to participate to educate themselves and to gain a respectful perspective of Latine culture, Espinoza said.  
"Lack of growing up around POC communities definitely hinders the way white people open up their perspective to different things," they said. "Research, make an effort to go to these cultural events because they are here in Burlington. You just have to find them, and they just need more promotion than other events."
Alianza has been a part of UVM since the 1990s, when it was founded as an attempt to fill the need for diverse and safe spaces for BIPOC, specifically Latine, students at the University.
"In 1991, there was a really large protest of racial minorities […] One of their demands was the creation of affinity spaces for students of color on campus," Figueroa said. "The roots of Alianza and all these different identity clubs date back pretty far, decades. I really like helping the club get in touch with that side of it."
Alianza Latinx is a source of unity and comfort for its members, Espinoza said. The space they have created in the Mosaic Center for Students of Color has provided them with a place to go to do homework, hang out with friends and just spend time relaxing.
"I definitely feel a lot less alone on this campus, a lot less isolated," Figueroa said. "Sometimes the winter and a lot of the aspects of this University can be really, really good at making you feel like you're completely alone. It's good to remember that we're not." 
Alianza Latinx meets on Thursday nights at 6 p.m. in the Mosaic Center for Students of Color in Living/Learning E-140.