Meet Liza-Marie Phillip: The face behind the art of Burlington Pride
October 19, 2022
Anyone who happened to be at Burlington Pride last month likely noticed the gaggle of friendly-looking monsters on the official pride festival t-shirts.
The creator of these characters is Liza-Marie Phillip, a 27-year-old artist born and raised in southern Vermont. As a Black, queer creator, Phillip strives to touch all types of people with their work, they said. 
"Initially, I was trying to really focus on groups of people in Vermont that I felt like didn't really have a lot of attention, but I think are incredibly amazing," Phillip said. "I initially was focusing mostly on BIPOC and queerness, which I very much am still focusing on, but now I'm realizing how important it is just to connect with everybody."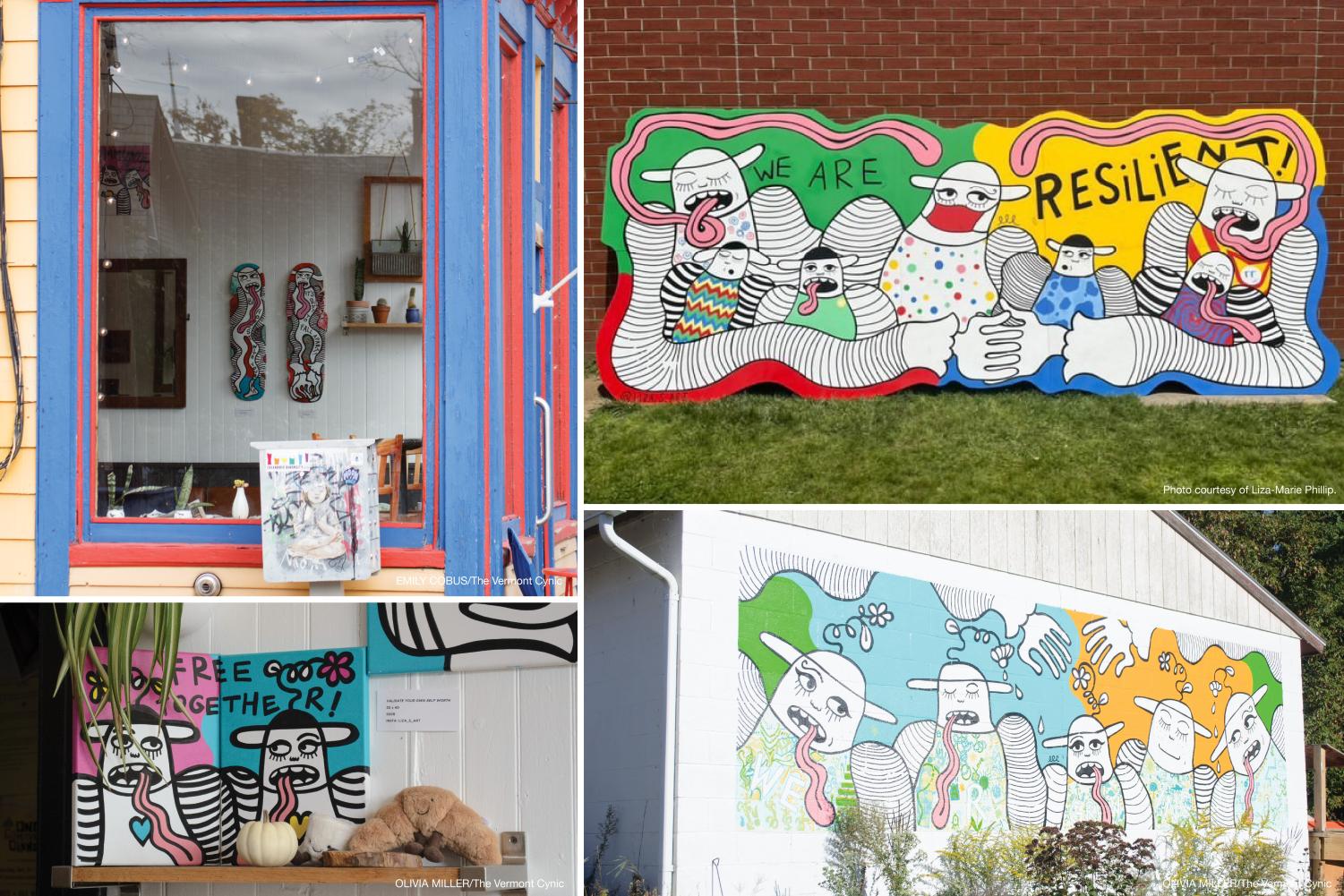 The monsters at the center of their art are always black and white, with their individual accessories and surrounding characteristics in a bright array of colors. They often have long, wiggling tongues, long eyelashes and big round teeth.
"They're fun to draw, but I also wanted to make a character that had no gender, just super inclusive," Phillip said. "I wanted to come up with something that anybody could see themself as."
Phillip's community presence has reached beyond Burlington Pride. This past June, Phillip fostered a sense of connection at Bethel Elementary School in Bethel, Vt., when a young Black artist they were mentoring approached them about helping paint a mural at their school, they said. 
"It was exciting for them to create this piece that gets to be there for years to come," Phillip said.
Amidst the wiggling monsters and bright colors in the mural is the phrase "We Are Resilient." The mural focuses on the children coming back to school from the COVID-19 pandemic. 
"I feel like [the pandemic] affected students a lot more than we realize," Phillip said. 
The mural was meant to showcase the resilience of the children during this time period, they said. 
"I wanted to have a message of how that strength and unity is a positive thing to come out of something that could be considered negative in a lot of ways," Phillip said.
Phillip's work can be found nearly everywhere, from the wall of Nataraja Studios—a dance studio in Burlington—to the sides of local Foam Brewers beer cans. On many of their pieces, viewers will find uplifting messages, such as "Trust In Yourself" and "We Are All Connected."
"There's so much to say," Phillip said. "You think that you would run out of things to say, but I am so inspired by the people in my life and all the things that are happening in the world right now. There's always going to be something to say because there's always so many important things happening around us."
According to Phillip, their older sibling Rose was the one who encouraged them to take their art career seriously. 
"I've always pushed them to take their art to the next level," Rose said.
While Liza inspires Rose with their art, Liza said Rose has also inspired them.
"They just think very big," Liza said. "They pushed me out of my comfort zone. I mean, I used to make art for friends, I never sold it. And then one day, I just took their advice and tried it out and it went well."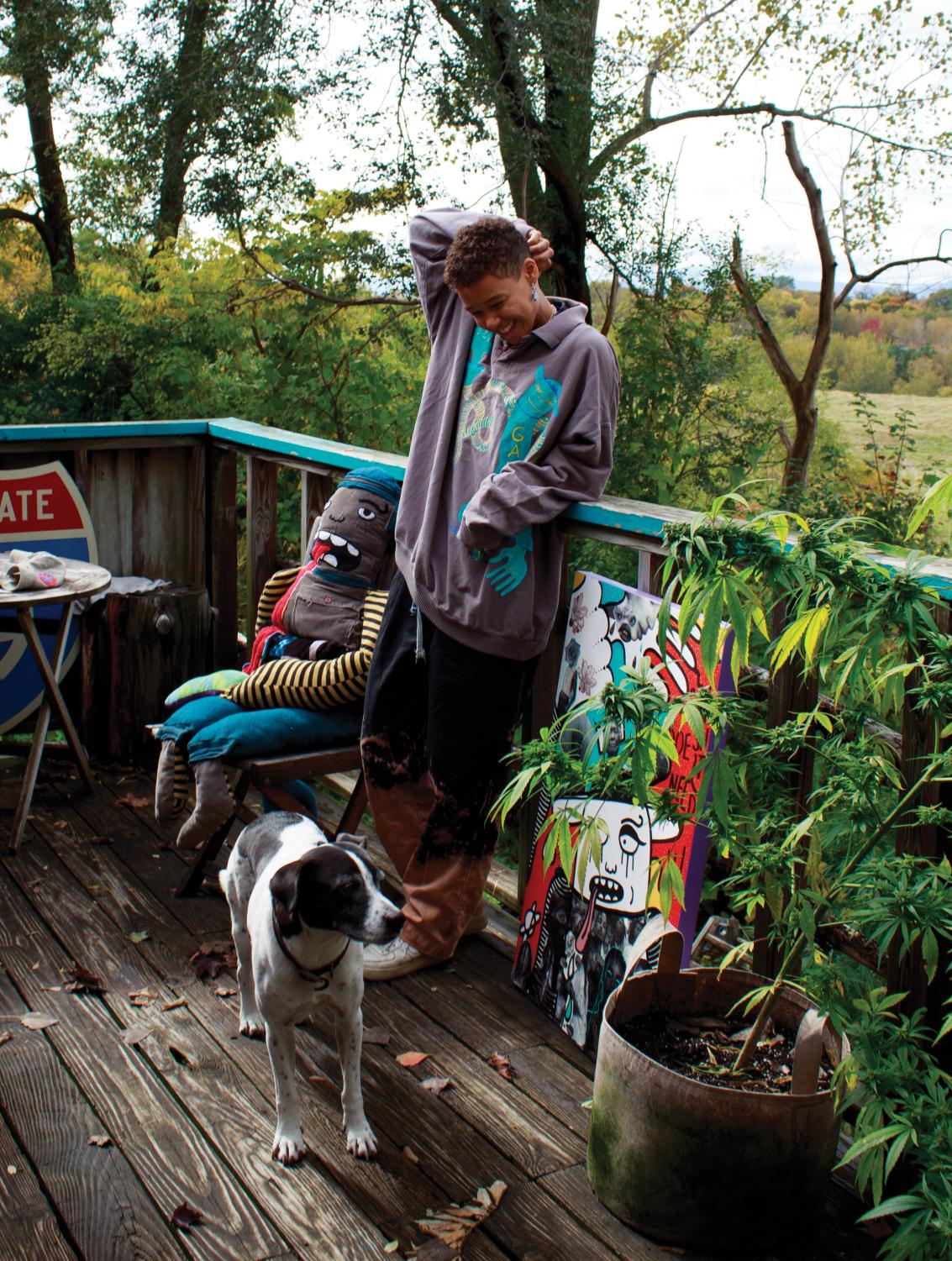 Rose knew their younger sibling was talented from a young age, they said. 
"Ever since they could hold a paintbrush or pencil, I knew they were gifted," Rose said. "I'm their number one fan. I see Liza's art hanging in art galleries in New York City in the future."
The next step for Phillip is to think bigger and collaborate with other artists.
"While I was at Burning Man Festival this past summer, I met a [group] that was actually Vermont-based and they want to make a Meow Wolf in Vermont," Phillip said.
Meow Wolf is an arts and entertainment company based in Santa Fe, N.M. that creates large-scale interactive museums, according to their website.
"I want to connect with them and then potentially have a room where you can experience and interact with my artwork, but that's thinking way ahead," Phillip said. 
As a young creative still finding their own voice, Phillip has a message for other young artists looking to expand their art.
"Do your artwork for you, first," Phillip said. "It's not really about if other people validate your work, it's more how you feel about it. Keep making art while people are deciding if they like it or not. As long as you like it, keep doing it and keep getting inspired."