'I'm simply stating the facts': Media adviser threatens to fire Cynic Editor-in-Chief
October 21, 2020
Cynic Editor-in-Chief Sawyer Loftus was interviewed as a source for this article. He had zero involvement in the editing process and has not read the article prior to publication.
The newly appointed student media advisor indicated that the Cynic's Editor-In-Chief could be fired or lose his stipend if he holds firm in his decision not to meet with her this semester. 
In light of recent changes made to the structure of student media at UVM, the Cynic's EIC, Sawyer Loftus, made a decision not to meet with the new advisor. He and other student media leaders have pushed back against the redesign and expressed concern about what is to come. 
In an Oct. 12 email to the EIC, the new student media advisor, Jenny Grosvenor, stated her intentions: to ask him to reconsider his refusal to meet with her. In this email, she quoted the language from his appointment letter. 
"Your appointment letter also states: 'In the case that the following responsibilities are not met, the compensation may be waived at the discretion of the signers of this contract,' she stated. 
Grosvenor also pointed out that according to the letter, Loftus could be terminated prior to the end date of his leadership role, at the sole discretion of the University. 
"Please know that this is in no way a threat to force a weekly meeting with you," Grosvenor stated in her email. "I am simply stating the facts." 
Tensions between the Cynic's EIC and their new advisor first surfaced when their former student media advisor, Chris Evans, left the University last spring. 
Wanting to align student media and other co-curricular activities more with academia, Provost Patty Prelock moved the student media advisor position from the Department of Student Life — where all SGA recognized clubs reside — to the College of Arts and Sciences. 
Prelock also has expressed a goal of creating a connection between independent student media organizations and a minor in CAS called Reporting and Documentary Storytelling, according to a Sept. 8 email from her assistant. 
The student media advisor now must teach courses for the RDS minor according to the position description and will report directly to the dean of the College of Arts and Sciences, moving the independent newspaper's oversight closer to top administrators. 
Loftus was told by the former media advisor in a July 19 email, that as the EIC of the Cynic, he would be on the hiring committee for their new advisor.
However, Loftus said he was left out of the hiring search process entirely. 
The Cynic spoke with Sommer Dean who is a Staff Attorney at the Student Press Law Center, a non-profit that aims to protect freedom of the press for student journalists. 
"That certainly gives rise to concern, that moves are being made to have more administrative oversight over the content of your student publications," Dean said. "These are the sorts of things that make you concerned that they are trying to rein you guys in as student media." 
Loftus was democratically elected by his organization and has been acting as EIC. However, he has yet to sign his official appointment letter, formally accepting the position in the eyes of SGA. 
Although Loftus is not carrying out the duty to meet with the advisor as outlined in his appointment letter, he does not believe Grosvenor actually has the power to withhold his pay or fire him, because his stipend comes from Cynic-raised ad revenue, not SGA. 
Loftus chose not to meet with Grosvenor, in part because his opinions were not considered during the student media redesign process, but additionally because he sees her unfit for the position. 
Leadership from other student media organizations are also concerned. Katie Masterson, the station manager of WRUV, shares many of the same sentiments as Loftus surrounding Grosvenor's qualifications. 
Masterson said she is concerned about Grosvenor's lack of knowledge on Federal Communications Commission legalities and copyright law in broadcasting, which she uses every day at the station. 
"Within the technological aspect of my station, Jenny has never had any experience in that department, and so, it is a very frightening thing to not have that resource that we used to." 
Grosvenor admitted in an Oct. 2019 email to the Cynic's former EIC Bridget Hidgdon that she was apprehensive to speak to the group about journalism because she had limited and dated experience working for any publication. 
"I shifted into advertising copywriting before getting a by-line at either magazine," Grosvenor stated in the email exchange. "Also, it's been decades since I worked in 'the business.'" 
Loftus said that there is a big debate over what constitutes experience with journalism, but that the Cynic draws a very hard line. 
"Advertising writing is not journalism, that 100% has to do with raising revenue for a specific organization and does not belong in the newsroom, and therefore it's not a journalistic experience," he said.
Loftus has also found Grosvenor's communication style to be unprofessional, he said. 
During the reporting process for one story this fall, Planned Parenthood wanted to verify a Cynic reporter's identity with a University official before participating in an interview. 
Although PP insisted on going through the advisor, Loftus felt that this line of communication and identity confirmation should lie with him as the EIC, he said, as he is the one with access to the staff roster. 
"Then she went over my head and emailed Jenny and then instead of looping me into the conversation,"  Loftus said. "Jenny went over my head and dealt with the source directly, which is completely inappropriate."
Even after the fact, Loftus and Grosvenor were unable to resolve the issue. 
"Jenny and I had a meeting that was over Microsoft Teams, and it was supposed to be a meeting that was just going over organizational stuff and it turned into her telling me that I mishandled the situation," he said. 
Grosvenor also emailed the reporter with some critiques, which Loftus said should have come from the EIC and not from the adviser, because the adviser doesn't run the organization.
"To her credit, afterward, she did send me a follow-up email that was said, 'you're right, I should be taking my lead from you,'" Loftus said. 
"And you'll notice that that's kind of a pattern throughout this whole relationship where she shoots from the hip and then apologizes afterward. And that doesn't really work for me." 
Grosvenor has felt equally frustrated with how things have been playing out. 
When the Cynic asked for an interview, Grosvenor sent back a 1,051-word email, copying Loftus and decrying the ways the EIC had iced her out. 
"What a frightening trickle-down reflection and microcosm, if you will, of the current political climate and leadership of bullying, hatred, and negative tactics Americans are confronted with daily," Grosvenor stated. "You can quote me on this fear related to current Cynic leadership; it's honest and becoming scarier."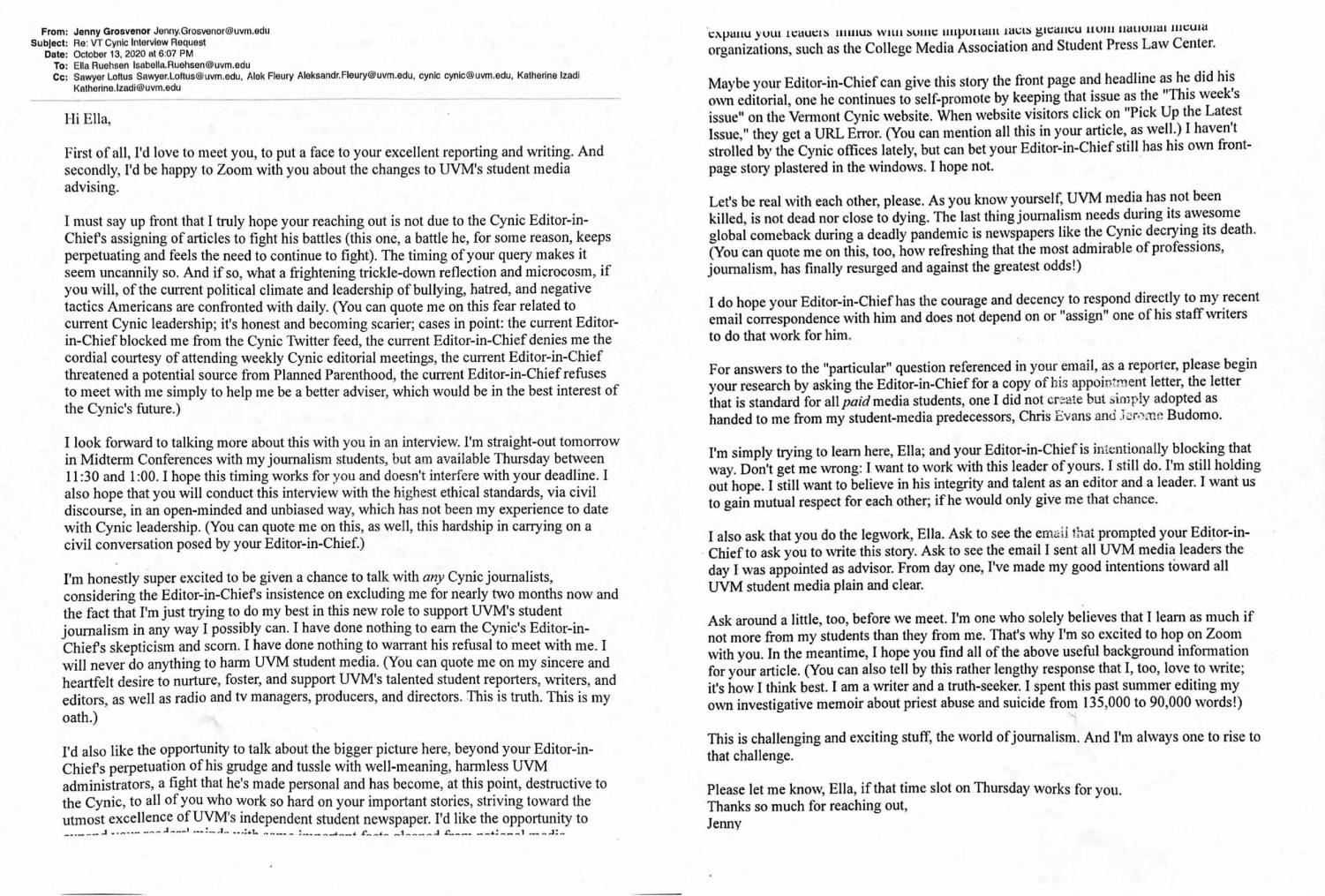 Grosvenor stated in this email that contrary to the concerns outlined by the EIC in his editorial, student journalism is not dead nor close to dying. 
"Let's be real with each other, please," she stated. "The last thing journalism needs during its awesome global comeback during a deadly pandemic is newspapers like the Cynic decrying its death." 
However, as a student media law attorney for SPLC, Dean said otherwise. 
"It seems to be, unfortunately, sort of a running theme that school officials think that the student, media publications belong to them as school officials, rather than to the actual students who are doing the work," Dean said. 
Grosvenor also expressed concerns when the Cynic reached out over the nature of this very article. 
"I do hope your Editor-in-Chief has the courage and decency to respond directly to my recent email correspondence with him and does not depend on or 'assign' one of his staff writers to do that work for him," she stated.
Loftus said that upon receiving this email from Grosvenor, he does not see a path forward from here. 
Though initially, she said she was "excited to be given a chance to talk with any Cynic journalists," in a follow-up Oct. 14 email, Grosvenor withdrew her agreement to an interview, backtracking on what she had said. 
"I never should have reacted so intensely," she stated in the email. 
Loftus is not alone in his disapproval of the redesign and appointment of the new advisor. All nine Cynic editors signed an unsent letter addressed to Grosvenor, stating that they do not recognize her as their advisor nor do they wish to meet with her. 
Masterson said that she feels that there is no clearly defined path forward for either organization which has been aggravating and difficult for her to navigate. 
"Sawyer has been much more vocal about his disapproval of the situation and the way things were handled and the communication levels between admin and student leadership," she said. "But I do agree with him." 
Masterson was also equally disappointed in the fact that student voices were not brought to the table in the decision-making process of the student media restructure. 
Before any students could give feedback, she found out that Grosvenor had already been hired. 
"The meeting wasn't about talking about restructuring and collaborating. Nor was it about meeting a candidate," she said. "It was about being introduced to our advisor who would operate in the capacity of this new position, that we do not have any say in, approve of, or get to collaborate on." 
Loftus said that although the Cynic has not yet had to deal with prior restraint being imposed on Cynic articles, he worries that the Cynic's independence may be put at risk of it in the near future. 
Prior restraint, illegal under VT law, is when an external institution reviews an organizations' content before it goes to print. 
"The point is you don't want to have to deal with the negative repercussions of a change like this after they happen, you want to prevent them from happening," Loftus said.  
Dean said that no developments as of yet seem to be illegal but that the future is unknown. 
"I think it's smart to be wary of this," she said. "As sort of a slippery slope into prior restraint."