'Joy and relief': Hundreds gather on Church Street to celebrate Biden victory
November 10, 2020
Moments after the news broke that Joe Biden would be the next president of the United States, a quiet morning in downtown Burlington transformed as community members marched downtown to celebrate the changing political tide. 
All day and night Saturday, Nov. 7, hundreds of community members took to their cars, some sitting out the window waving Biden-Harris and Black Lives Matter signs, others popping champagne out of sunroofs and cheering, while a sea of supporters flanking Main Street cheered them on. 
Standing on the outskirts of the crowd, Megan Steintrager cried as she watched community members celebrate Biden on Church Street. 
"I'm thrilled by the outcome today, and I hope we can have a peaceful transition and we can start bringing this country back together. It's been definitely the craziest election I've ever seen," Steintrager said. "The celebration reminds me of when Obama was elected."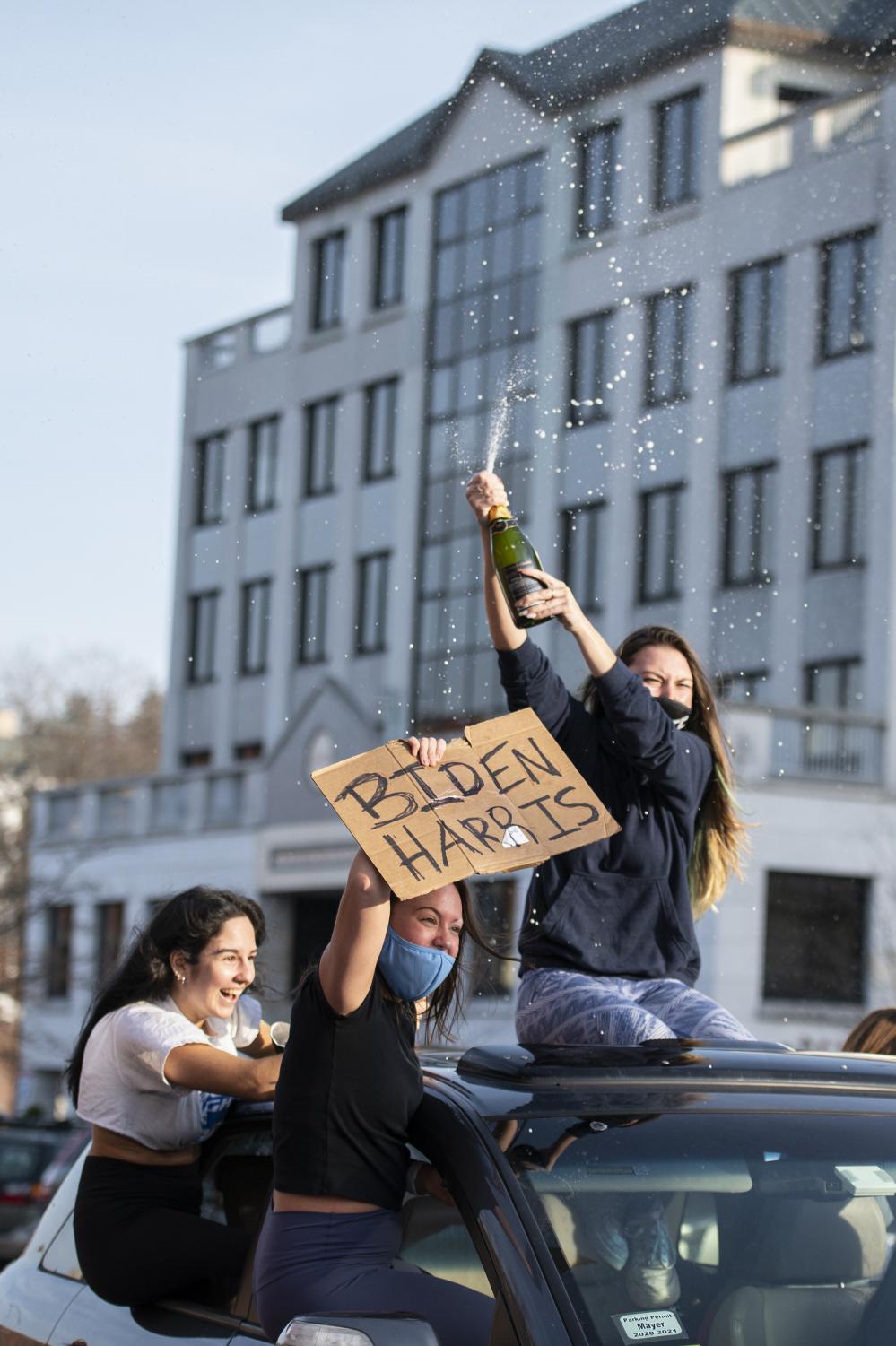 Raising a Biden-Harris sign above her head with pride, Maya Cornelius said she cried of joy when she found out Biden had won. 
"I was so happy, I cried in the middle of a Christmas tree shop when I found out the news," Cornelieus said. "Then I went to Walmart and some guy was really angry that Biden won, and I got in an argument with him while holding a giant candy cane and I felt very powerful."
As the parade of honking cars descended down Main Street, Cornelius said she was euphoric at the sight of so many people gathered together in support of the new president elect.  
"I really love it. It's great to see everyone and it's just like one big family," Cornelius exclaimed. "I know that's so cheesy but it really does feel like that, I love it."
Standing on the steps of City Hall, Mary Weith found herself overcome with happiness as she reflected on the Biden-Harris win.
"I'm deliriously happy and excited for a change," Weith said. "I'm feeling so positive."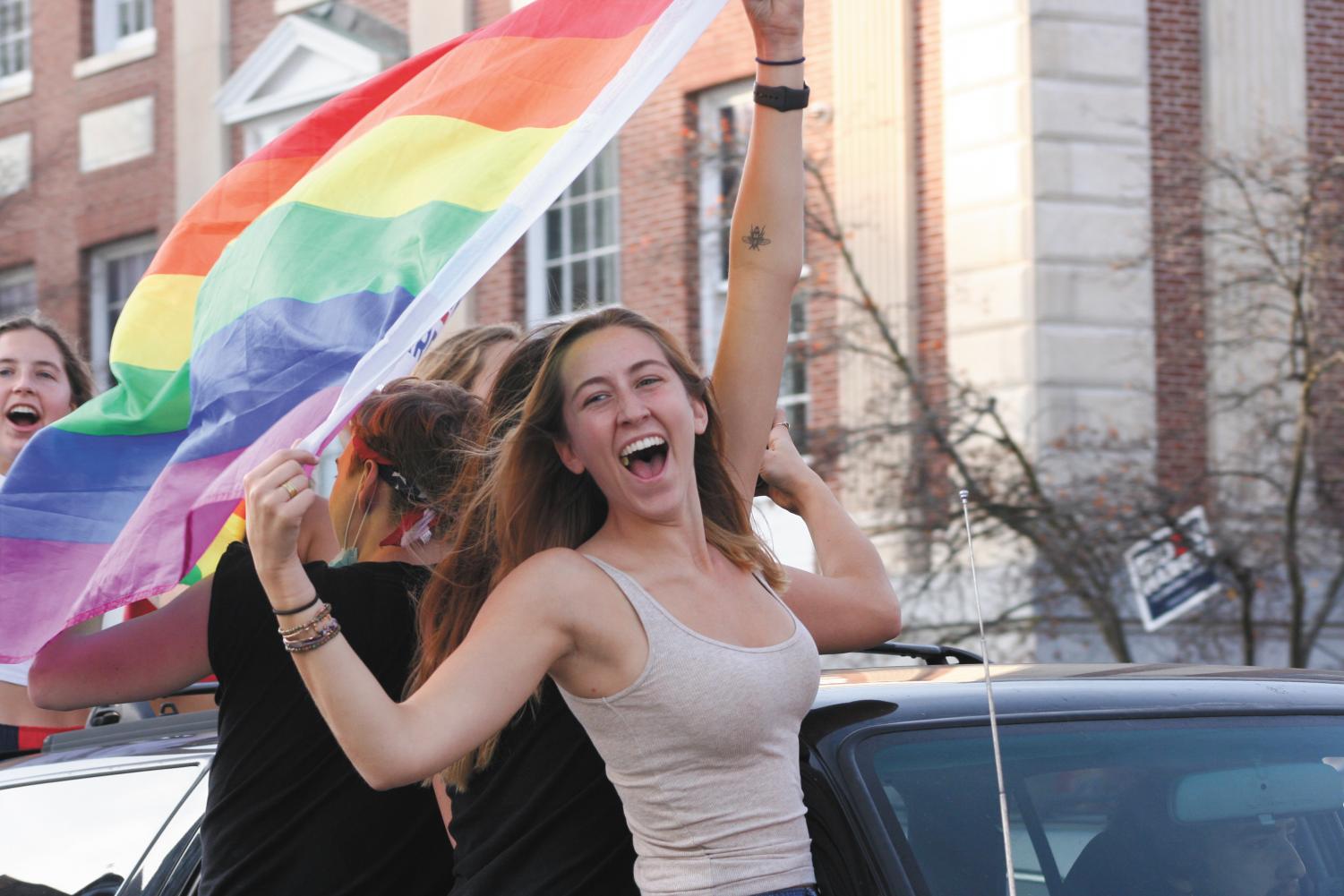 Although the sense of community was exciting to many that crowded the streets of Burlington waving pride flags and playing music out of portable speakers, others, like Calder Felty, were concerned to see so many people packed tightly in the middle of the pandemic. 
"I mean, it's kind of nice to see everyone gather in a community about this election, but it's dangerous during these COVID times," Felty said.
Others were skeptical about the next four years to come.
For an avid Bernie supporter like Megan Mathews, although Biden's election was a victory because it ended Trump's presidency, she said it doesn't mean real progressive change is going to happen. 
Matthews said she still has concerns about how progressive his political agenda really is given his policies in the past.
"I think if the Democrats don't push progressive legislation, we're gonna fall back in the same hole and someone in 2024 could very well be worse than Trump," Mathews said. "Or Trump again."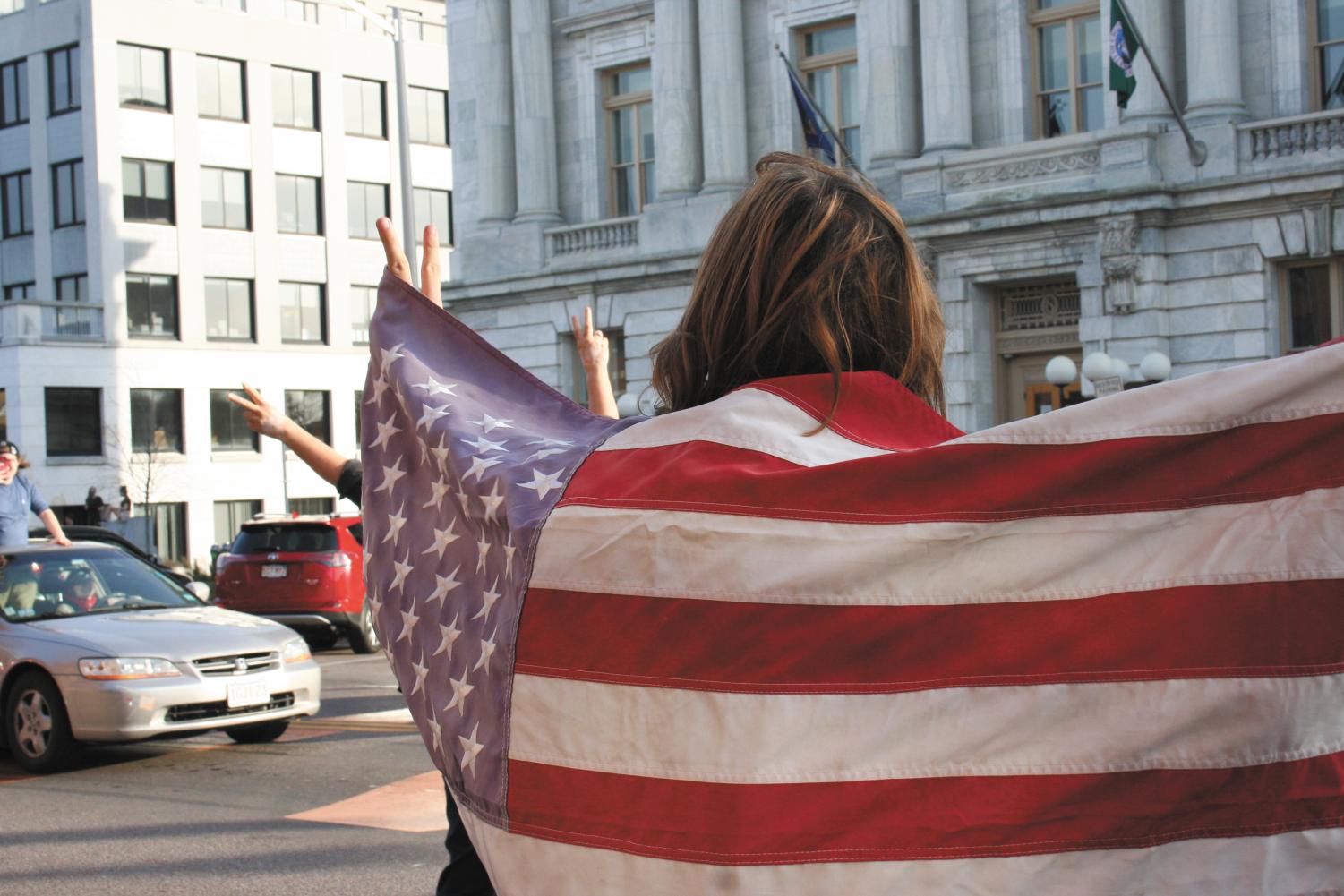 Matthews along with other protesters were optimistic about Kamala Harris's election as the first woman of color, let alone woman, to become Vice President.
"I think the door has been opened," Matthews said. "It's just so easily closed for women, especially women of color, but I think it's rapidly changing." 
Steintrager said she sees Harris's election as a step in the right direction, but knows there are people in other parts of the country that don't share that perspective.
"You know, in the last congressional election a lot of new women of color were in office, so I think we've had some steps back, but [Harris' election] shows a sign of us generally going in the right direction," Steintrager said. 
As the sun set over Burlington Saturday evening, honking cars continued to pass by church street and community members played music and danced on Church Street in celebration of a new political era.
Standing in the crowd, Patrick Smith said he was feeling "joy and relief, mostly relief, but admitted that "there's a long way to go."