'Kind of weird and nerve wracking': UVM students head to the polls on election day
UVM students and local residents alike made their way through the snowy streets of Burlington Nov. 3 to vote at the Fletcher Free Library, the Ward 8 polling location.
As voters trickled in to cast their ballots, the Cynic spoke with UVM students voting in-person and several student activists tabling outside the exit door. 
Here is what they had to say about their experiences voting and their feelings surrounding the election: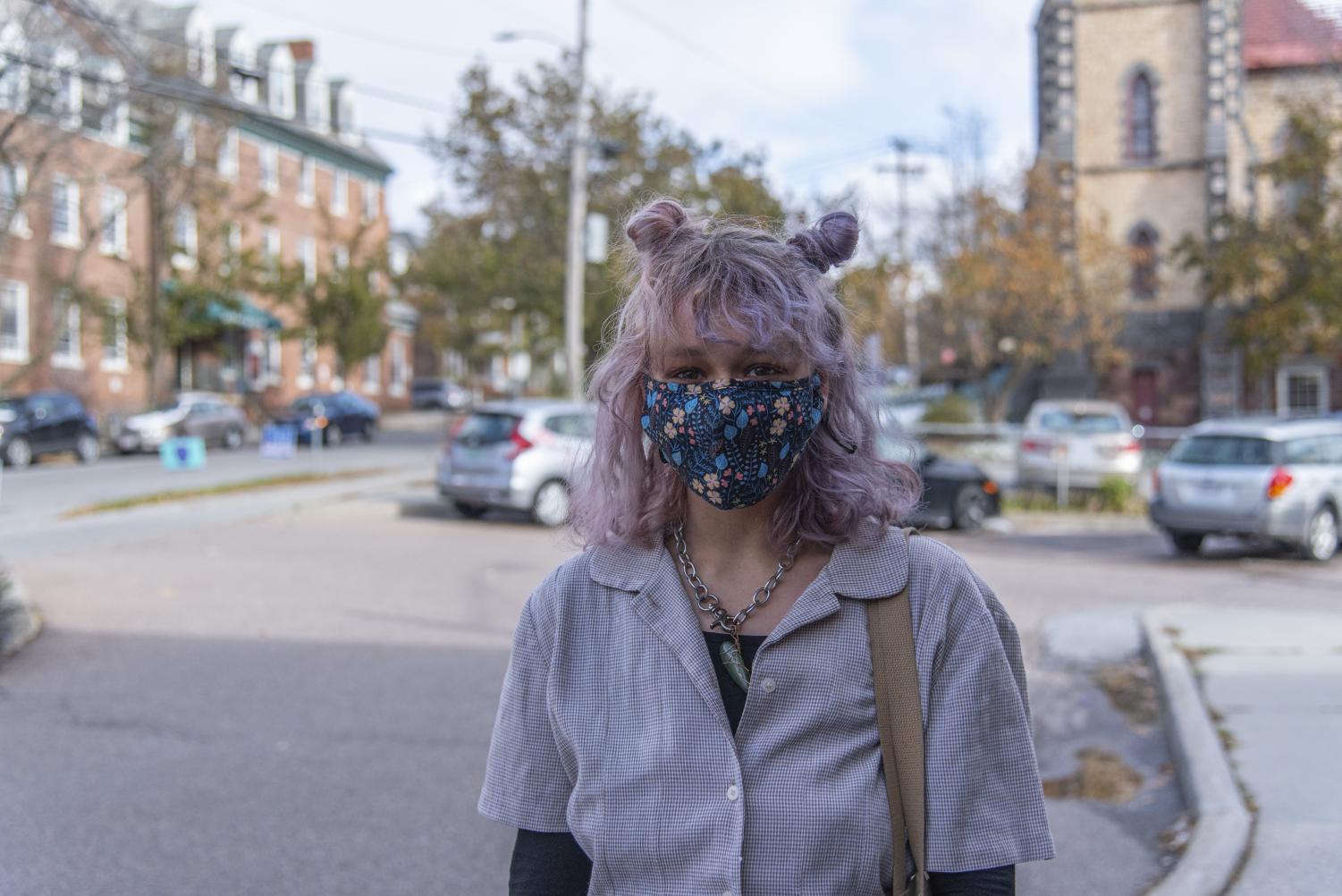 Junior Mackenzie Feeny 
On her way out the door after casting her vote for Joe Biden and Kamala Harris, Junior Mackenzie Feeny said hello to a friend who was tabling with UVM College Democrats. 
Feeny told the Cynic she was really nervous about what is to come in these next few days. 
"At least in my lifetime, this is the most stressful election I've seen," she said. "Even more so than the initial Trump election." 
Feeny said she is worried about how the public is going to react, regardless of the election's  outcome.
"There's definitely a lot of nervousness," she said. "I'm eager to get the results but also nervous for these upcoming days and I think people are gonna be angry. Either way, it's scary."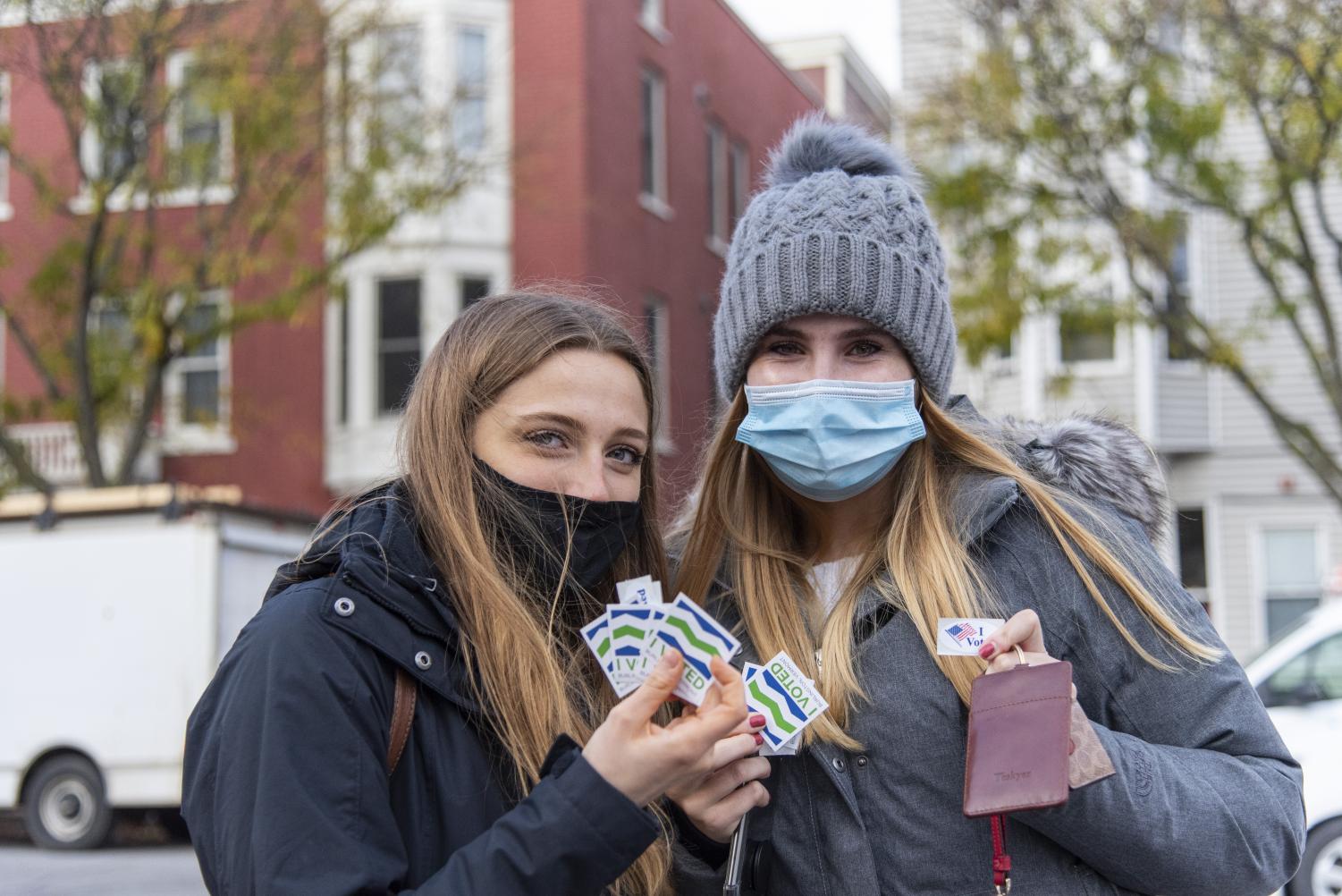 First-Years Elizabeth Manero and Kate Linn
First-year students Elizabeth Manero and Kate Linn exited the polling location chatting with one another. Both were first-time voters and cast their ballots for Joe Biden. 
"I feel empowered," Linn said. "It's really nice to have a voice." 
Manero said she was excited to have voted for the first time, but is anxiously awaiting the outcome. 
"I feel like it could go any way," Manero said. "In the last election, everything didn't really go as expected, so I feel like anything could happen. It's kind of weird and nerve-wracking." 
Linn said she felt similarly. 
"I honestly have so many mixed emotions," Linn said. "I'm nervous, anxious, but also excited."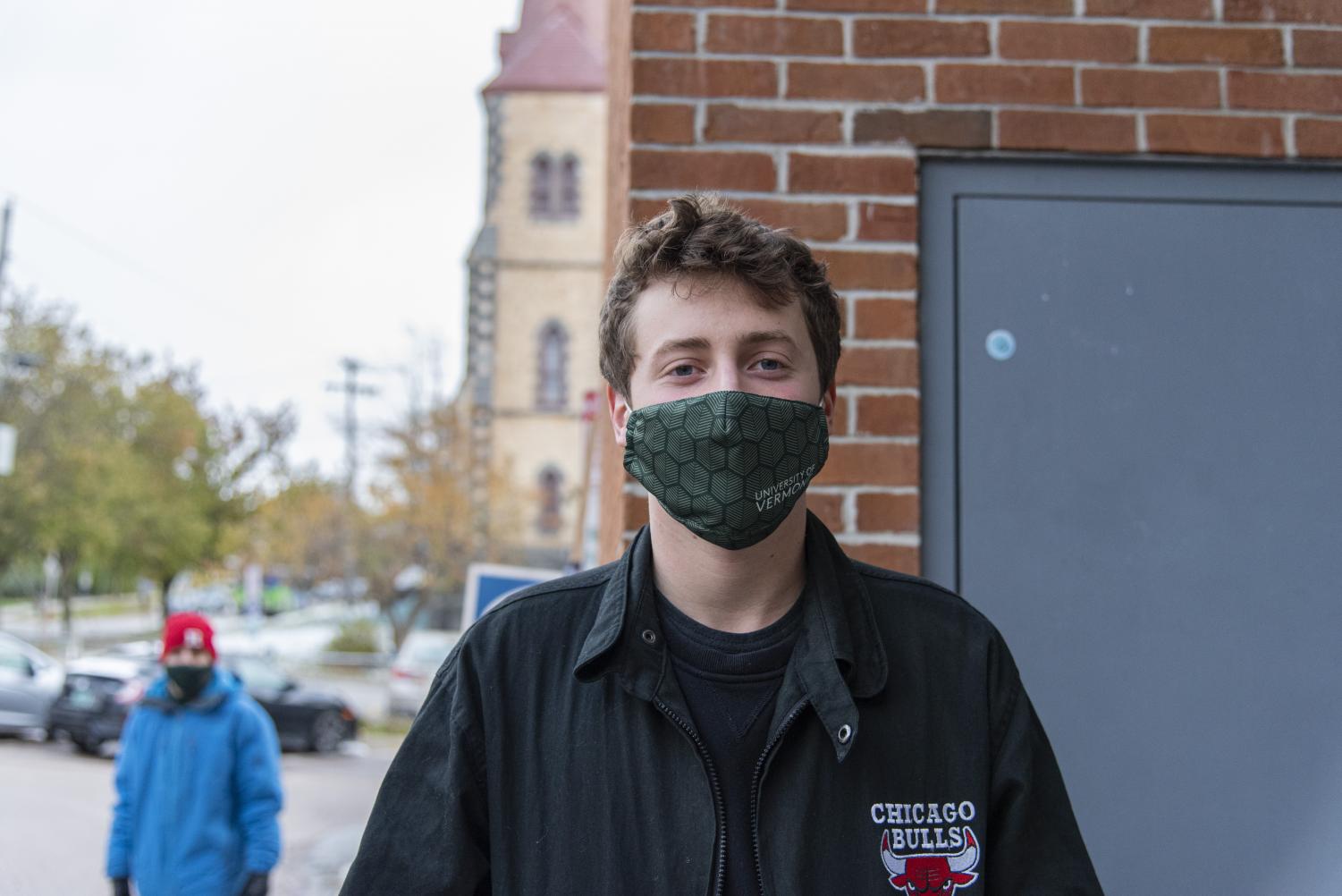 Senior Sam Disman-Eager
Walking out of the Fletcher Free Library at 12:45 p.m, Senior Sam Disman-Eager said it felt nice to vote in a Presidential election for the first time. 
Disman-Eager said he voted for Joe Biden and Kamala Harris, and was happy to cast his vote against Trump. 
However, he admitted the election is far from over because results may not be finalized for months. 
"It feels like today is the first half and the next two months are the second half," he said. "It doesn't feel like a done deal."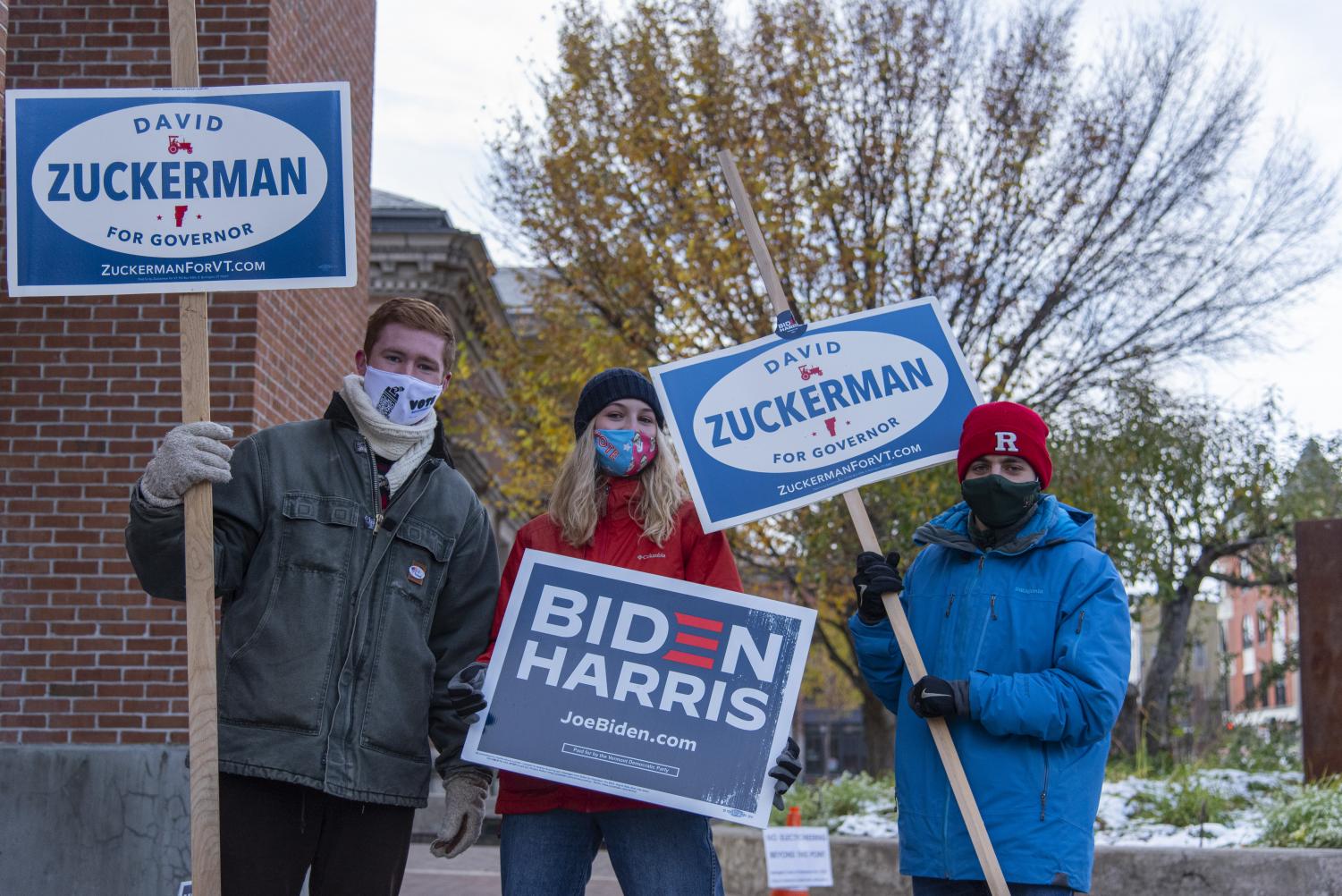 UVM activists thank students for voting
Holding signs and giving out stickers, members of UVM College Democrats stood in front of Fletcher Free Library, thanking students for showing up to vote. 
Senior Aidan Doherty, proudly holding a sign supporting David Zuckerman, Democratic candidate for governor, said he thinks Biden will win the election because people are done with Trump. 
"I have a theory that the person who seems like the best drinking buddy is gonna win the election… even though Trump doesn't drink," he said. "I think people at first thought that [Trump] would be a fun drinking buddy but now they realize he is a miserable drunk." 
Doherty said he predicts Trump is going to lose at Ward 8. He thinks that 2,200 or 2,400 people are going to show up to vote. 
"They call Ward 8 the heart of Vermont politics," he said. "I don't know who 'they' is, but I call it that, that's what the rest of us UVM Dems call it." 
Sporting a Ruth Bader Ginsburg voting mask, Freshman Marguerite Jouet told the Cynic she voted for Joe Biden and Kamala Harris in her home state of Kentucky. 
"I cast my ballot in the first week of October," she said. "I wanted to get Mitch McConnell out." 
She said Vermont is a safe space but she is less sure about how the election will turn out in Kentucky. 
"I'm nervous for my family," she said. "I think Joe [Biden] has a fighting chance but we'll have to see what happens." 
Jouet said she is worried about what is going to happen after the election results come out. 
"Being from where I'm from, it's like a blue circle in a red state, and interactions between Trump supporters and everyone else is very aggressive," she said. "I don't want it to break out in violence." 
Sophomore Michael Gutterman, another member of UVM College Democrats, said he is feeling cautiously optimistic about the election. 
"I think it could go either way but I think it's looking pretty good right now," he said. 
Gutterman said he has been phone banking for Joe Biden and Kamala Harris and local candidates such as Molly Gray, democratic candidate for Vermont Lieutenant Governor. 
Sophomore Christine Fleming, secretary of UVM Organize, a climate change mitigation advocacy club, was also tabling outside the polling location. 
Fleming, who cast her vote for Joe Biden and Kamala Harris, said she hopes people remind their friends to go out and vote today.
"Last election, I couldn't vote and it was really frustrating," she said. "But now I can, and it's really cool." 
Correction: An earlier version of this article featured a photo that incorrectly identified Aidan Doherty as a member of the UVM College Republicans. He is a member of the College Democrats.