Protest Day 1: Wednesday, Feb. 21
February 26, 2018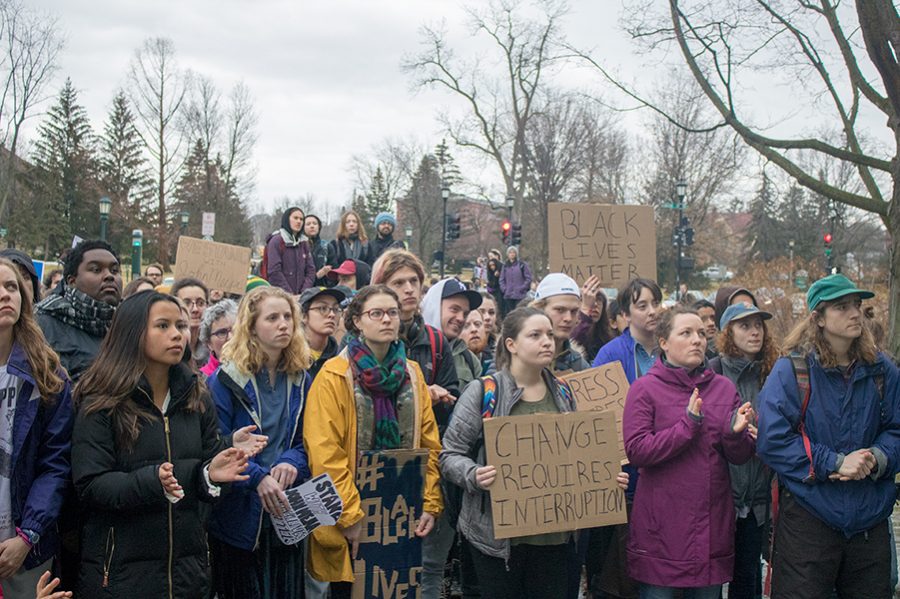 1:12 PM
Students gather outside Waterman Feb. 20, preparing to occupy the building. Sophomore Harmony Edowosman and UVM staffer John Mejia spoke on the front steps. "Whenever we have a rally such as this Tom Sullivan and the provost and the entire administration like to go home because they're scared," Edosomwan said.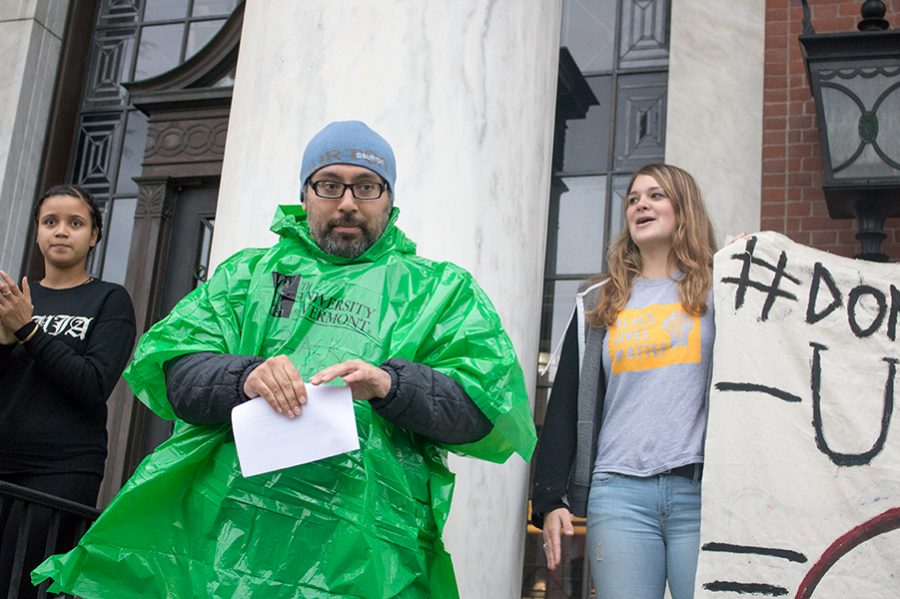 1:13 PM
Mejia, a student services professional in the Office of Student and Community Relations Feb. 16, addresses a crowd of protesters while on a hunger strike outside Waterman. When Mejia was asked about their timetable for when the demands must be met was, they said "Before I die — hopefully."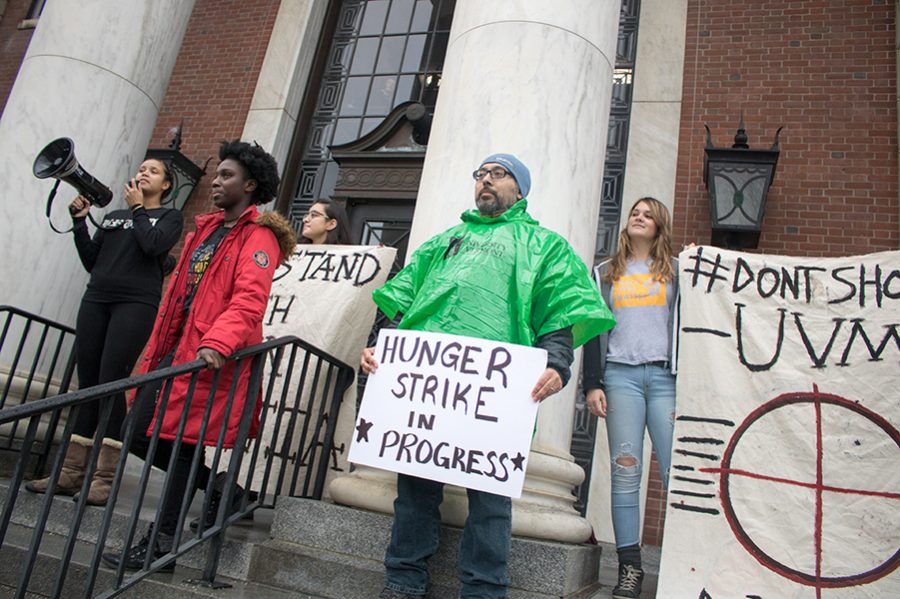 1:13 PM
Mejia planned to be on strike until his list of demands was met: all of the racial justice demands from activist group NoNames for Justice plus the addition of a fourth flagpole to fly the Black Lives Matter flag. "I reject [being called unprofessional] because the definition of professionalism at this institution is being comfortable with anti-black racism and supporting white supremacy," Mejia said.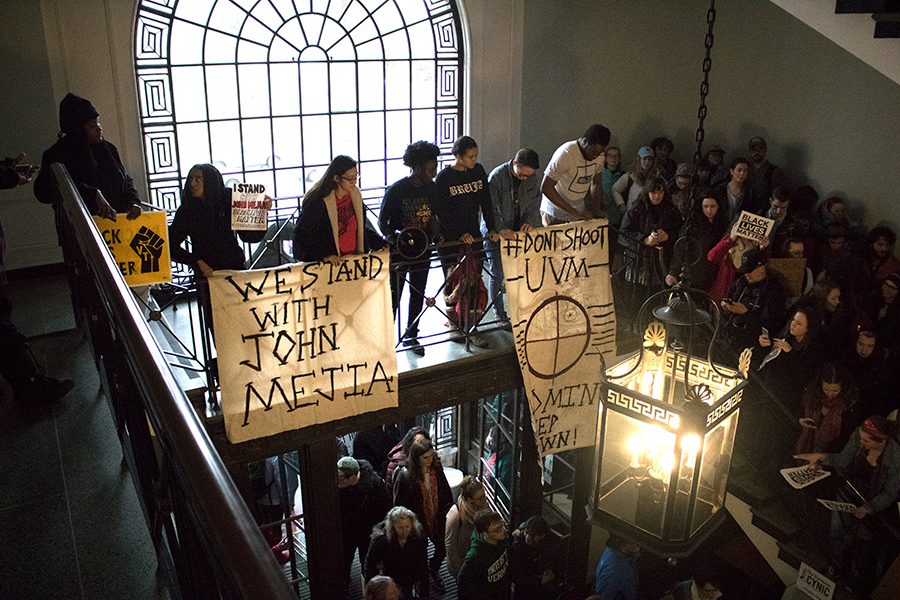 1:18 PM
Students and community members occupy Waterman, calling for the resignation of three administrators, including President Tom Sullivan. "If you can't do your job, you shouldn't have the job in the first place," Edosomwan said to the crowd of students in the Waterman lobby.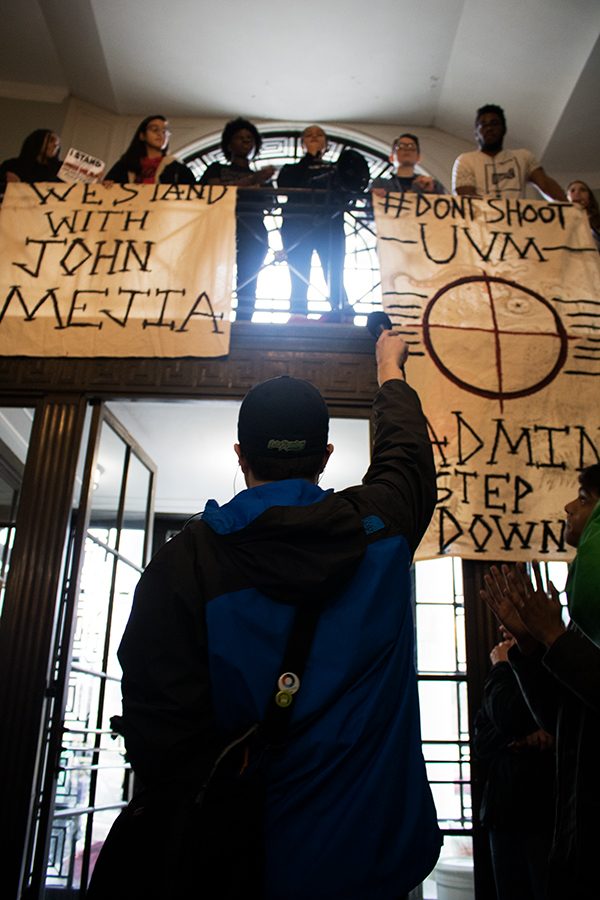 1:25 PM
Senior Angelica Crespo speaks to a crowd in Waterman about a court case involving Wes Richter, a former student accused of making threats against black students. "This is just a clear-cut case of Vermont, UVM, United States, white supremacy culture always getting pushed under the rug and nothing happening to people who do deliberate illegal things like threatening a whole group of people," Crespo said.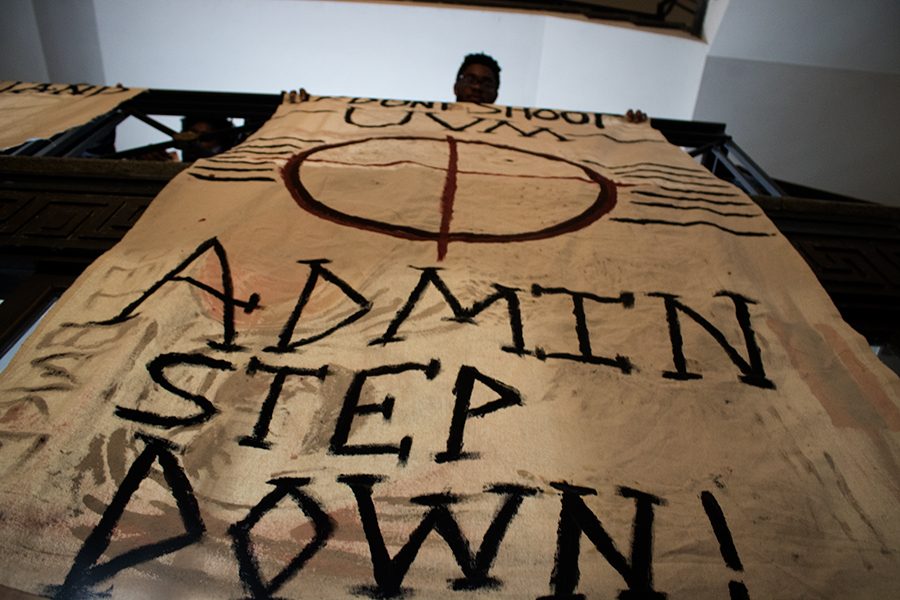 1:42 PM
The student activist group NoNames for Justice is protesting the University's handling of racial bias incidents. "I didn't want it to get the point of us calling for their resignations," Edosomwan said after the rally, "but if that's what's going to help them do their job, then that's what it takes."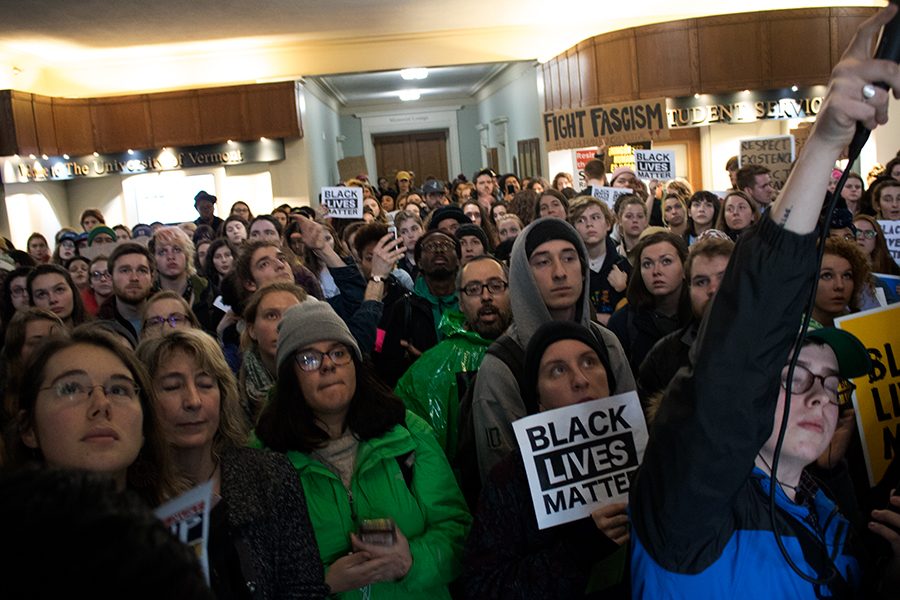 1:43 PM
In addition to President Sullivan, the protesters called for the resignation of Provost David Rosowsky and  Annie Stevens, vice provost for student affairs. NoNames led the crowd in chants such as, "hey hey, ho ho Tom Sullivan has got to go." The chant was repeated with Rosowsky's and then Stevens' names.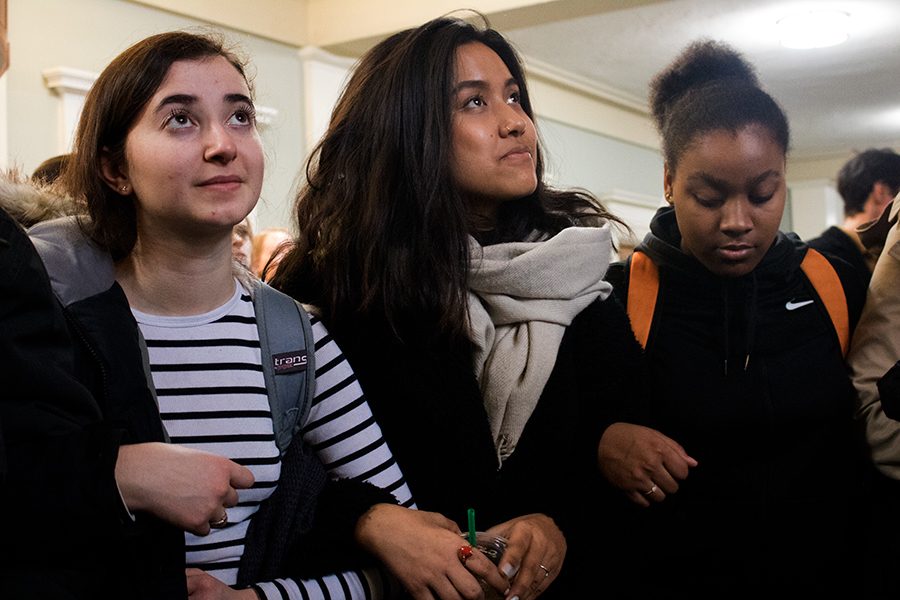 2:10 PM
The group linked arms and held hands to end the occupation. "Every single campus across the nation needs to join this movement of destroying white supremacy and racist culture on their campuses," Edosomwan said.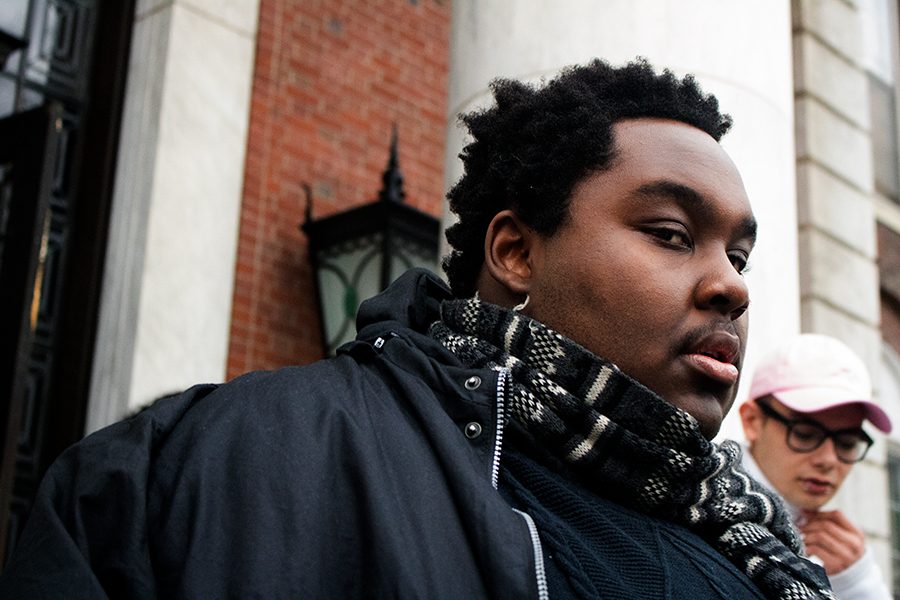 2:12 PM
Senior UVM student Jamal Neal leaves the protest at Waterman. "We are laying out the blueprint. We are doing work for them that they should be doing," said Angelica Crespo.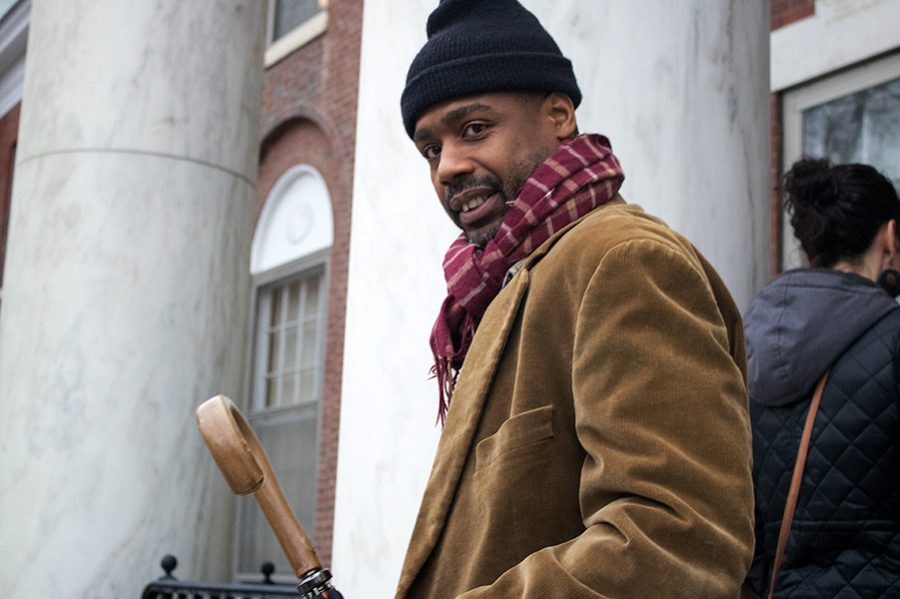 2:13 PM
Infinite Culcleasure, a current candidate in the Burlington mayoral race and UVM alum attended the occupation. '"Black Lives Matter' means equity," Culcleasure said: "When you make life equitable for the people who have the hardest time accessing things then you make it equitable for everyone."
Protest Day 2: Thursday, Feb. 22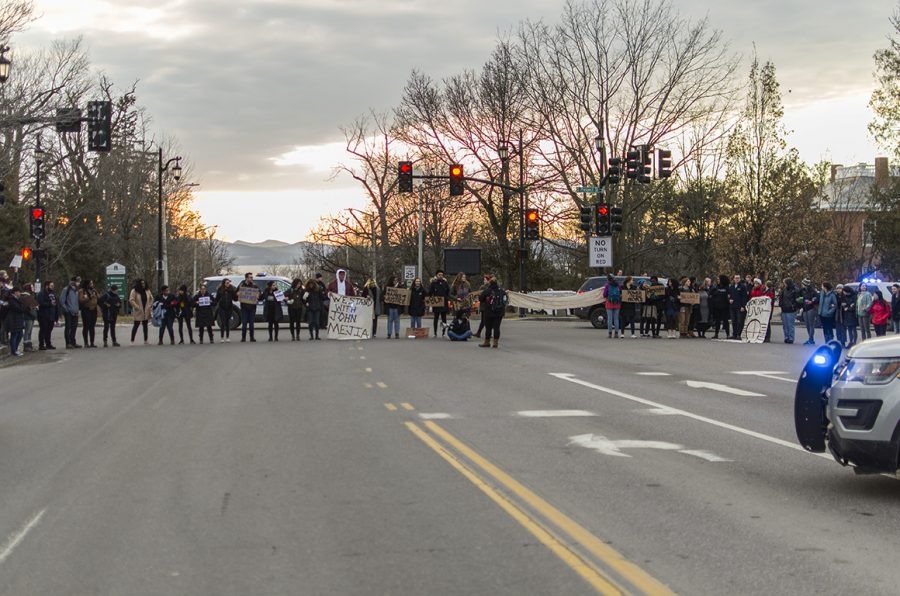 5:06 PM
The protesters blocking Main Street continue to block traffic as the sun sets. "We're standing in the street, until Tom comes to meet."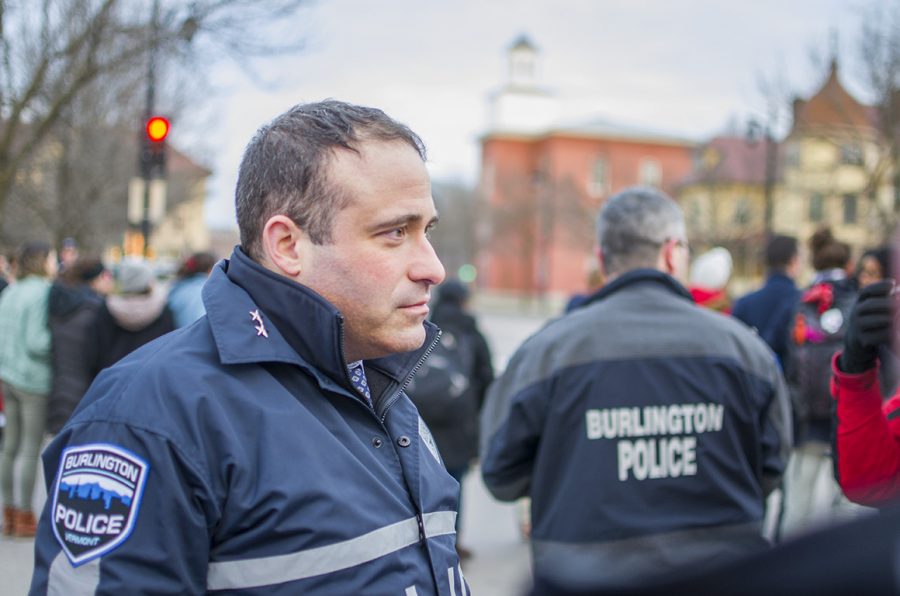 5:16 PM
Burlington Police Chief Brandon Del Pozo surveys the scene as NoNames for Justice protesters block Main Street. "The police department rejects the idea that it has an automatic obligation to put an end to any protest that employs civil disobedience."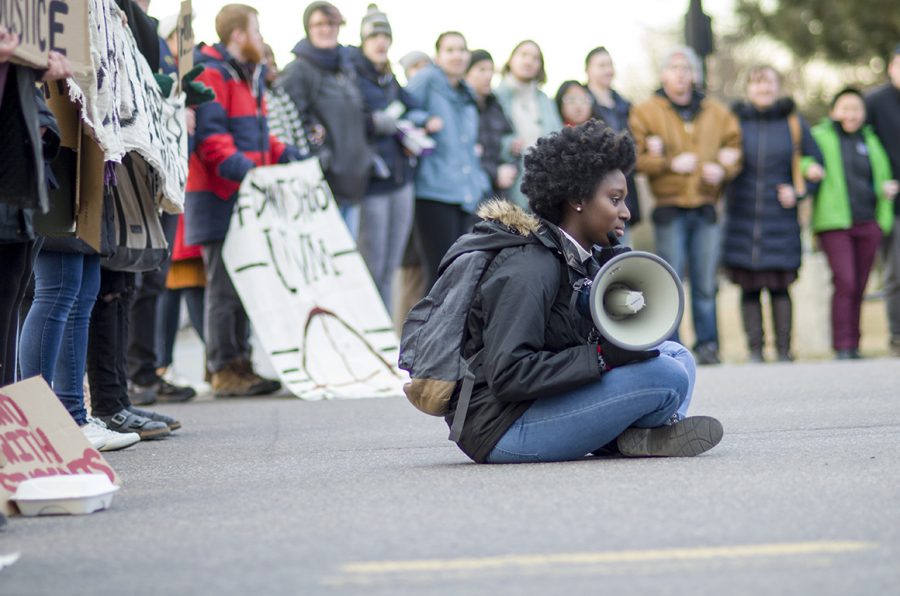 5:19 PM
NoNames for Justice form form a line blocking Main Street. They chant "students of color deserve respect; we're sick of the school's neglect."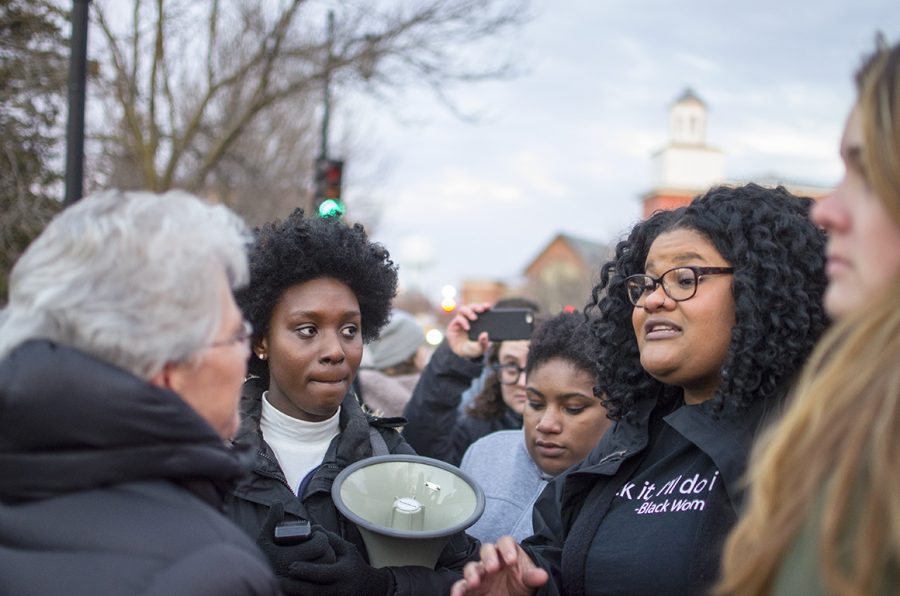 5:32 PM
Graduate student Doretha Benn (Right), one of the leaders of NoNames for Justice, speaks with Annie Stevens (Left), vice provost of student affairs. "If Tom doesn't want to address us that's because Tom is a racist" Brenn said. "This is not towards you, this is towards a white man who time and time again, don't want to come out here and don't want to confront people."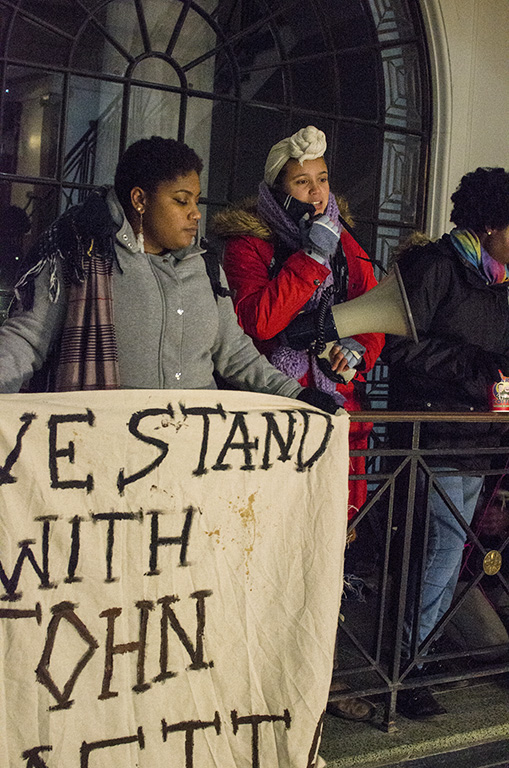 7:47 PM
After moving off of Main Street into the Waterman atrium, senior Diana Allos, events and programming chair of the Womyn of Color Coalition, addresses the protesters. "Tom Sullivan showed where his loyalties lie," she said. "It seems clear they're not with students of color on this campus."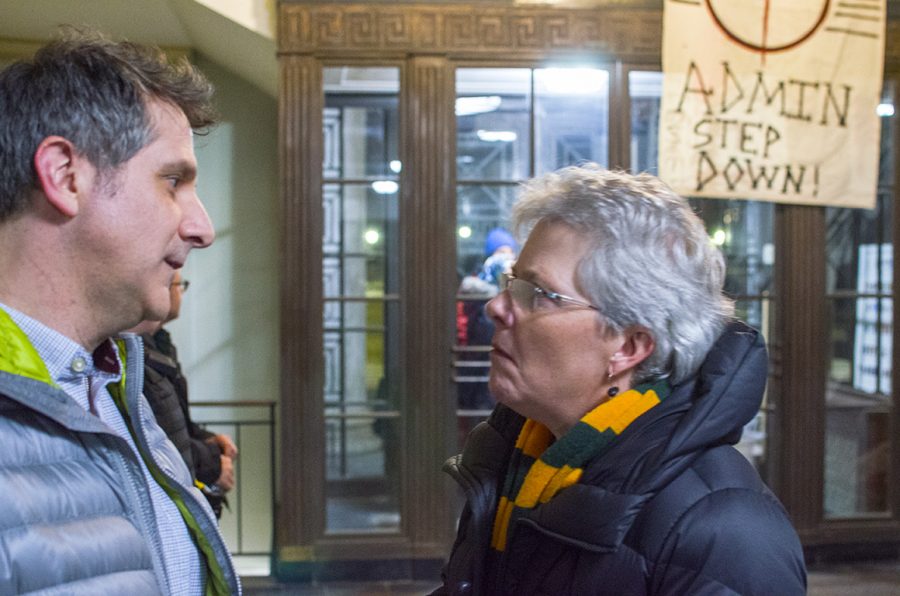 8:45 PM
Dennis P. DePaul, associate dean for student affairs, speaks with Stevens regarding theFeb. 22 protest . When asked where President Tom Sullivan was, DePaul answered "That'll be the question, I'm guessing, for a while," DePaul said. "What I heard Annie [Stevens] say is he offered to meet with them tomorrow, so I'm hoping that happens."
Protest Day 3: Friday, Feb. 23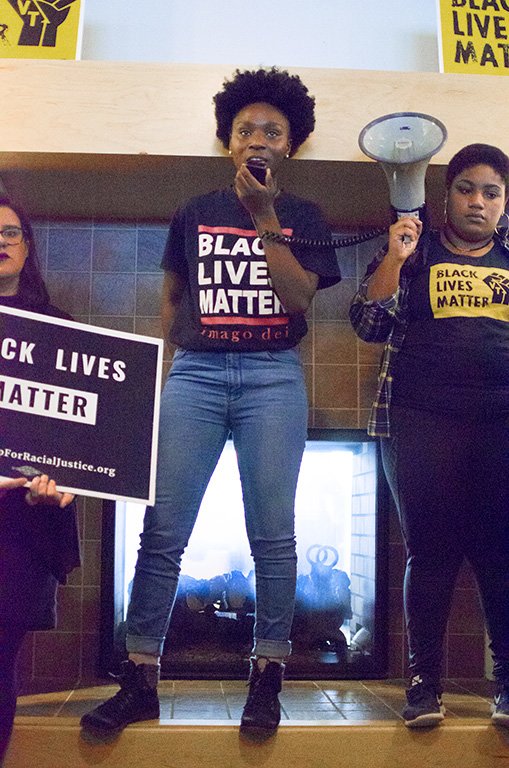 11:06 AM
NoNames for Justice leader Harmony Edosomwan, sophomore, addresses the crowd of protesters and admitted students gathered on the fourth floor of the Davis Center. "If you are a person of color, if you so happen to be queer, if you so happen be an identity who is marginalized, then you're going to have a tough time when you're here [at UVM]," she said. "The reason that we're doing this is to pave the way so that when you get here it's a better place."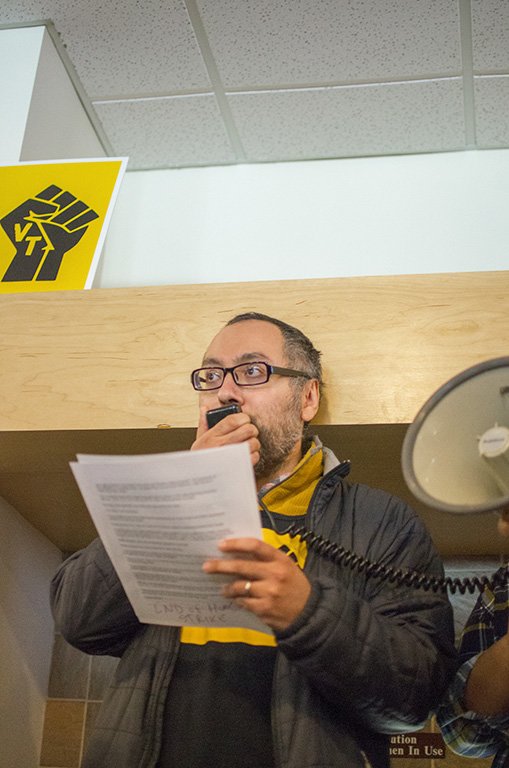 11:07 AM
Director of the Office of Student and Community Relations John Mejia announces they'll be ending the hunger strike. "I started this hunger strike because I wanted people who are supposedly our leaders to care," Mejia said. "I wanted them to stop for a second. They haven't."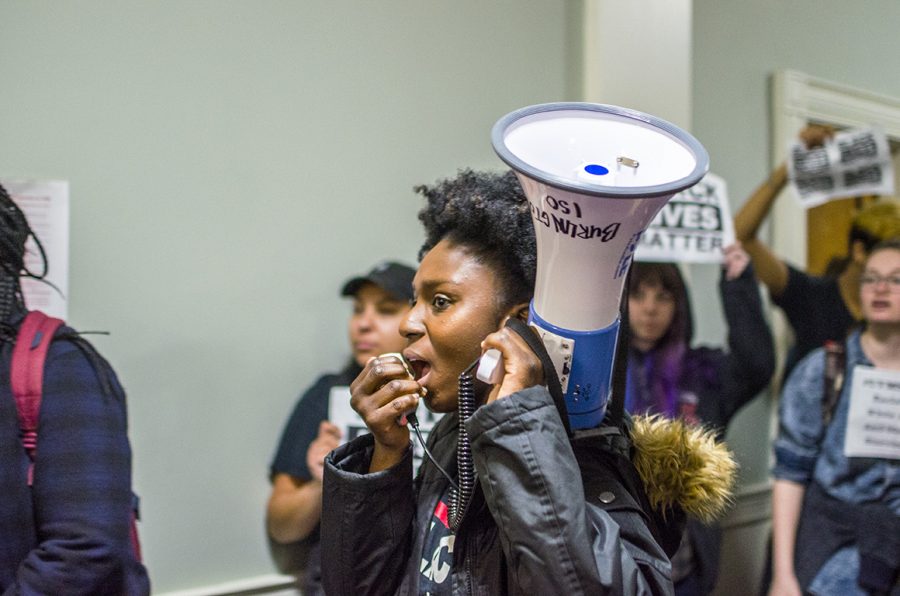 12:28 PM
After marching with protesters back to the Waterman building, Harmony Edosomwan speaks outside of the executive offices. "I don't want to hurt Tom. I'm not going to go to jail for Tom. I've already sacrificed so much because of Tom — I'm not going to go to jail too," Edosomwan said as the protesters tried to get the executive offices to open their doors.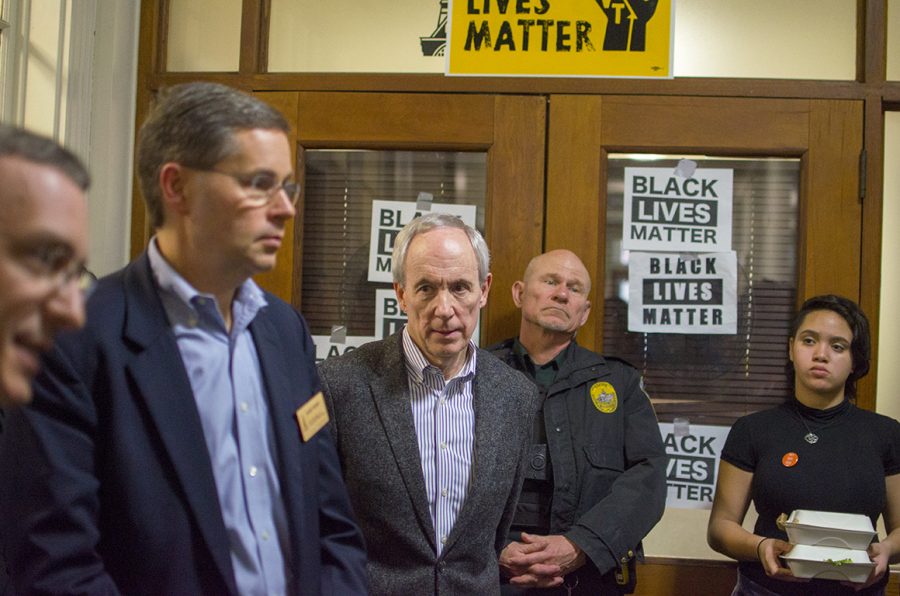 1:46 PM
President Tom Sullivan speaks to NoNames for Justice protesters. "I feel that same urgency and I sometimes have the same frustrations," he said. "Why do things take so long in our University community?"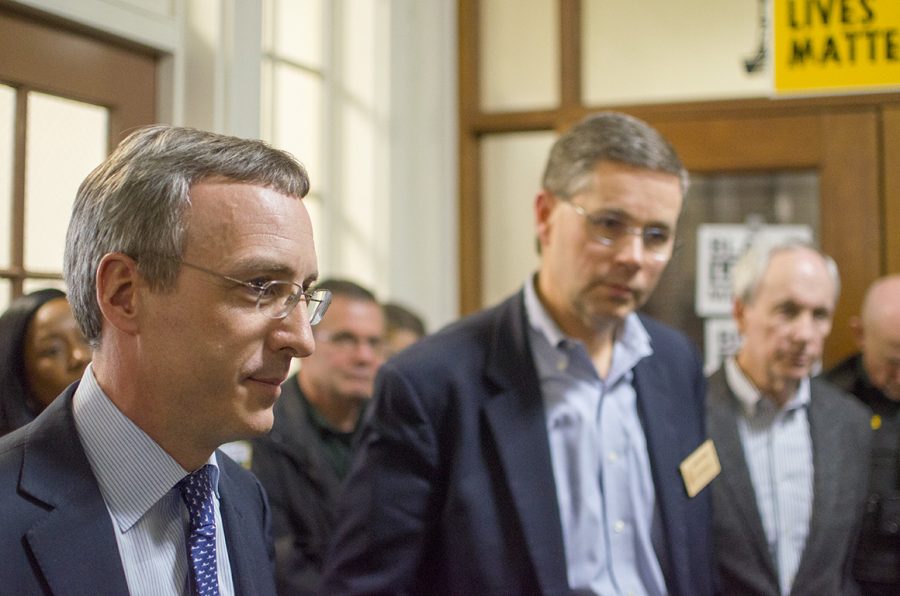 1:48 PM
David Daigle, chair of the UVM Board of Trustees speaks to NoNames for Justice protesters "I'm not part of any movement," Daigle said. "I will say, all of you are passionate and I think that's great. But I also ask you on behalf of the entire community to make your advocacy respectful."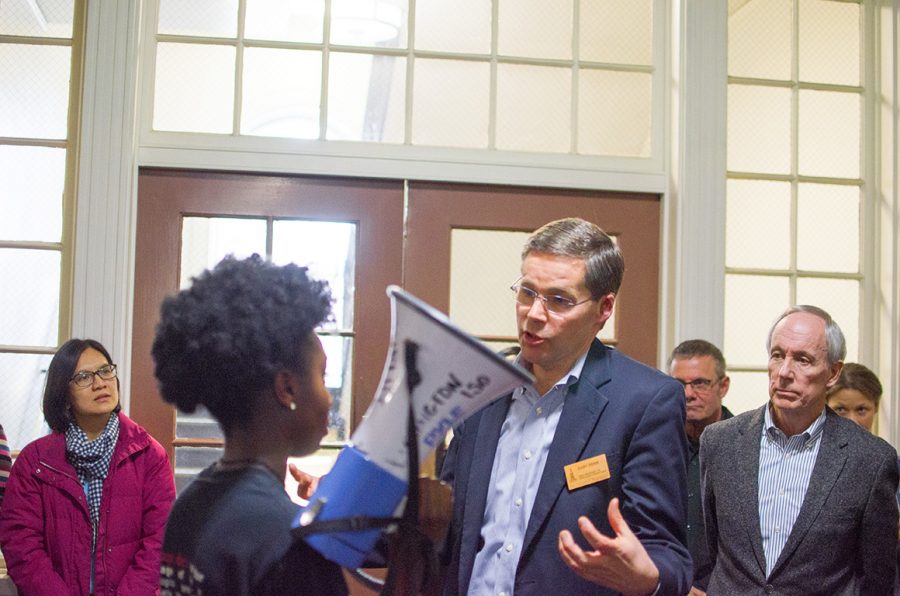 1:51 PM
Gary Derr, vice president for executive operations addresses NoNames for Justice leader Harmony Edosomwan outside the executive offices. "I'm happy to come to the table and work with you along with my colleagues on these issues, and I would be happy to join that if that's what would help," he said.
— Photo credits to Alek Fleury and Oliver J. Pomazi —