Quarantine meal delivery, no Cyber Cafe and other ways on-campus dining will look different this year
August 14, 2020
The atmosphere of a traditional dining hall has become another casualty to COVID-19 as UVM shifts to make dining halls a safer environment for its students.
UVM's four dining halls were once full of students from as early as 7:00 a.m. to 12:00 a.m., with groups of friends catching up on each other's days or club sports teams trying to fit around three tables. 
Now the dining halls work to serve one purpose: to feed students safely.
"UVM Dining has always prioritized the health and safety of our guests and staff. Keeping with recent changes, we are implementing new standards and technology," UVM's website states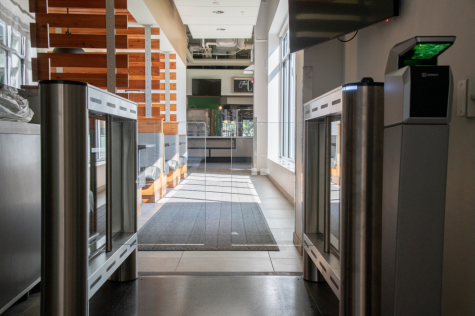 This plan adheres to the Vermont Department of Health regulations, the Green and Gold Promise and Our Common Ground according to UVM's website.
Underclassmen will arrive on campus on August 14 to begin their quarantine before school starts. From the 14th until the 25th the dining halls will not be open. Instead, all three meals will be delivered to each residence hall.
"Students will be charged $187.50 for the 30 meals from dinner on August 14 -25, 2020. This will be billed directly to your student account," UVM's Fall 2020 Dining Experience webpage states.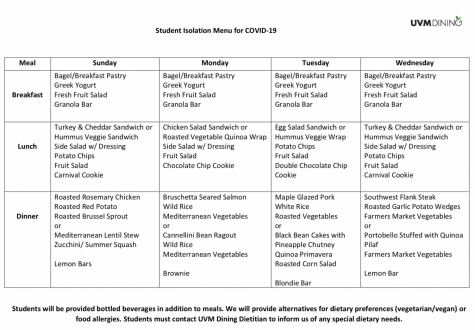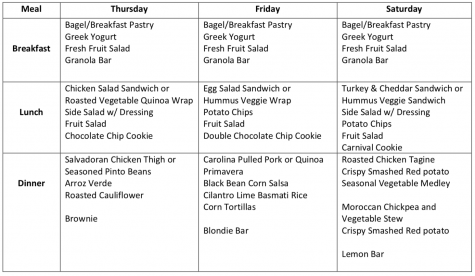 This meal-delivery process will be used for the duration of the semester for students who have been exposed to the virus.
The four traditional dining halls, Central Campus, Harris Millis, Redstone and Northside, will be open on Tuesday, August 25 along with select retail locations.
Though the dining halls will not be running as they did last year. UVM is implementing a variety of rules to keep students and dining hall workers safe during the pandemic. 
Students will be required to follow directional decals and to wear a mask until they sit down to eat, according to the website. The seating will also be reconfigured to follow social distancing requirements. 
Those who choose to eat in the dining halls will be asked to limit their time to 30 minutes to allow other students to utilize the space, according to the website.
"Only single-use cups can be used; no refilling of reusable mugs for coffee, hot water, fountain beverages or water in the dining halls," the website states.
Students who want to fill their reusable water bottles can do so at water fountain refilling stations located throughout campus, according to the website.
Along with four traditional dining halls, UVM has a variety of retail dining locations, including the University Marché. 
"The University Marché will feature three new stations serving burritos and tacos, Asian-inspired cuisine and sushi," the website states. "Visit fan favorites like the bagel station and Sprout, our dedicated vegan station."
Retail locations in the Davis Center such as Green Roof Deli, New World Tortilla and the entree station at The Marketplace will be mobile food ordering only. 
Other retail locations such as the Cyber Cafe, Brennan's and Waterman Manor will be closed due to occupancy needs and programming for the fall semester.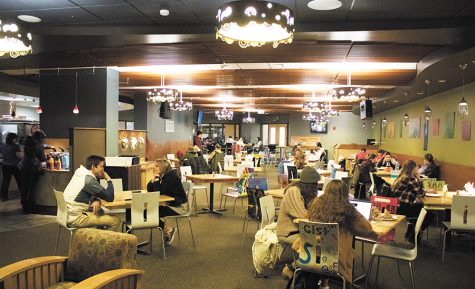 Students with special dietary needs will be expected to contact UVM Dining Dietician Nicole Reilly for accommodations. 
"MyZone, our gluten, peanut and tree nut-free pantry areas, will no longer be self-service, they will be served to you and available in all of our traditional dining halls," the website states. 
COVID-19 precautions require that many items be single-use. As UVM increases its take-out options to accommodate occupancy limits it recognized the amount of waste it would be contributing to.
To combat the use of plastic packaging UVM has heavily invested in its EcoWare carryout program by purchasing new reusable containers, expanding pick up locations for the containers and removing any barriers to participation, according to the website.
The EcoWare program began in 2011 and " aims to take a bite out of the environmental impact of take-out dining at UVM," UVM's EcoWare website states. 
The EcoWare container is made of sturdy polypropylene that is 100% BPA free, microwave and dishwasher safe, and can be used continuously.
In the past students had to buy their way into the program by paying an initial fee of $7.50. Now UVM has lifted that fee and opened the use of the containers to 7-days a week to encourage all students to participate in the program.
EcoWare is approved by the Department of Health and properly sanitized by UVM's dining hall workers. Students should return dirty containers promptly after use to any dining facility or designated drop off location.
"In order to keep this option available, we must have these containers returned regularly," the website states.
With students returning to campus today to begin their quarantine, UVM has 12 days to prepare for the official opening of the dining halls.